Delicious turkey white bean chili made with ground turkey, white beans and tomatoes. Ready in under 45-minutes, this recipe is perfect for a weeknight dinner. Recipe originally published on January 19, 2014 and updated on January 15, 2021. Hello to my favourite classic winter dish; chili. I just love it. I love how it gets more flavourful the ...
Five ingredients including ginger, miso paste and sugar snap peas, are all it takes for this flavourful and fast Japanese-inspired miso salmon in parchment. This recipe was originally published on February 3, 2015 and updated on January 5, 2021. I'm always trying to come up with new simple recipes and this miso salmon in parchment fits the ...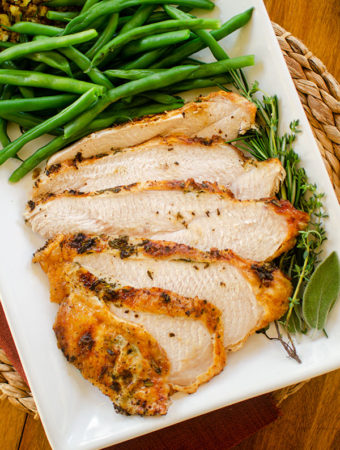 Make a delicious, juicy turkey breast in the air fryer for the perfect small holiday dinner! With a simple herb butter, the air fryer cooks the turkey quickly with a beautiful golden, crisp skin. This post is sponsored by Hamilton Beach. Making ...