You'll feel like you're in Italy with this prosciutto, mozzarella and pesto-marinated tomato sandwich.A good sandwich is totally underrated. It's probably because I've had so many mediocre and just plain bad sandwiches in my life that I'm always reticent to make or order one. When I was in Italy a couple of years ago, a friend of mine ...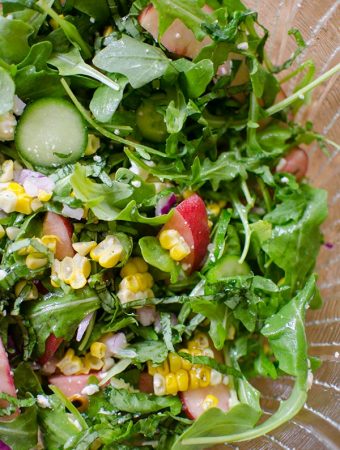 Charred corn and arugula salad with peaches is the perfect bright summer salad with basil and feta with a light lemon and olive oil dressing.I basically took all of my favourite summer ingredients and threw them together in this salad. Charred corn? Check. Peaches? Check. Basil? Check. Add some peppery arugula, the bite of red onion, crunch ...
The perfect summer breakfast recipe, blueberry lemon pancakes are a simple and delicious way to use in-season berries. The summer is here and I am ready to soak up all this season has to offer. The sunshine-soaked weekends, the stirring ...