Make a Vietnamese-inspired vermicelli noodle salad with spiralized zucchini and carrot for the perfect, refreshing summer cold noodle salad. This post is sponsored by Hamilton Beach Canada. This post contains affiliate links. Vietnamese food has always been one of my favourite cuisines--if I'm out for dinner, you'll probably find me at ...
Mediterranean Bean Salad with mixed beans, green pepper, cucumber, tomato, red onion and feta cheese with a simple oil and vinegar dressing is the perfect crunchy and sturdy salad to make this summer. This recipe is sponsored by Loblaws.Over the last few years I've been trying to eat and cook more vegetarian and plant-based recipes at home. ...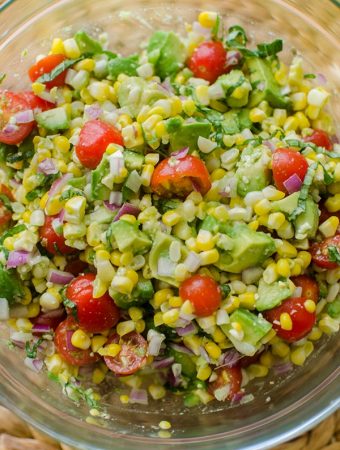 Avocado corn salad with fresh basil, tomatoes and feta is a refreshing summer salad. This post contains affiliate links. I throw together quick salads all the time for lunch, but I don't usually write down the recipes. In fact, a lot of ...