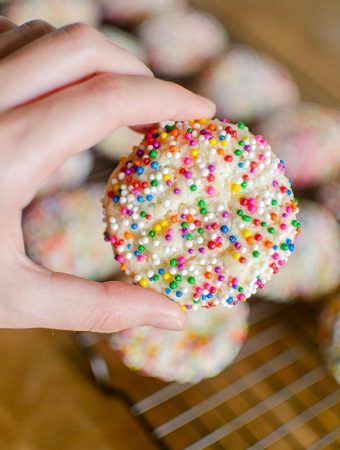 Soft, sugary and chewy; meet your new favourite sugar cookie recipe perfect for Christmas baking. Sugar cookies with sprinkles are a simple sugar cookie, rolled in your favourite sprinkles before baking. This post is sponsored by Burnbrae Farms. Learn more about their Cookie Eggchange Contest. I make sugar cookies every single year for ...
Turmeric rice with shrimp and kale is a simple, one pot dinner made with coconut milk and sesame oil.  I'm an avid reader of the New York Times and their cooking section is one of my favourite reads. I find so many incredible ideas for recipes and dishes to cook on their website and app. Most of the time, I'll cook them on my own for dinner (their ...
Inspired by Joey's restaurant and the complex spices and flavours of North Africa with coriander, cumin and cinnamon. The base of this soup is chicken with chickpeas and carrots. This recipe was originally  shared in 2013.  In our house, especially ...