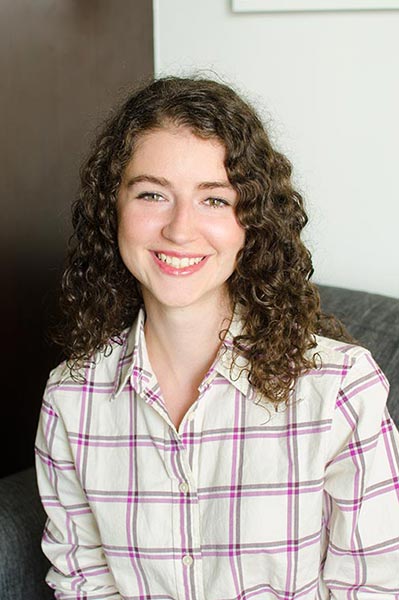 ABOUT LOU
Hi there, I'm Louisa Clements, but you can call me Lou and welcome to Living Lou. I'm 24 years old and am from Toronto, Ontario. I have been completely smitten with cooking and baking ever since getting my first Betty Crocker Kids Cookbook when I was about seven. To this day, I still use recipes from that wonderful book, and look to it for inspiration.
I am a passionate foodie. Flavour is my game and I'm passionate about leading a balanced lifestyle that celebrates all things food and inspiring others to follow suit by creating simple, fresh and flavourful recipes. My love for cooking is known by everyone. I'm always surprising friends with new recipes to try and test and I never show up empty handed to a party.
While I spend lots of time on Living Lou, it's not the only thing that I do. I have a degree in film and media production and work full time. You can also find me checking out the latest restaurants around Toronto, attending events with my favourite brands, freelance writing for various online media outlets and producing online video content.
If you have any questions, don't hesitate to get in touch with me at [email protected] – I love hearing from you!
ABOUT LIVINGLOU.COM
Living Lou was born in May 2010, two weeks after my 17th birthday as a fun and creative outlet for my passion for food. Living Lou is a journey and has presented me with many opportunities including partnering with some of my favourite brands, collaborating on a number of exciting campaigns and being involved in all things food from TV, to print to digital media. Living Lou was chosen as Hill & Knowlton's top 10 food blogs to follow as well as Jamie Oliver's Food Revolution Blog of the month. I have developed recipes for Chatelaine, Today's Parent and Walmart Live Better and have written for multiple media outlets including Chatelaine.com, Cityline.ca, Thekit.ca and The College Prepster. I have also worked with a number of brands such as Dairy Farmers of Canada, KitchenAid, Kraft Canada, Lavazza, and Mushrooms Canada.
WORK WITH ME
I've loved collaborating with many brands, companies and bloggers over the years and I'd love to work with you! Please don't hesitate to contact me at [email protected] to chat. Opportunities include recipe development, food photography, sponsored posts, brand ambassador/sponsorship, video work, TV appearances, events and conferences.
YOU CAN FIND ME…
YouTube: Living Lou Recipes
Twitter: @Living_Lou
Instagram: @LivingLou
Snapchat: LivingLou
Pinterest: LivingLou
HIGHLIGHTS…
Include both Louisa's personal accomplishments in the food industry and those of Living Lou.
Recommendations:
TV, video & appearances:
Facebook Live, watch segment here
Jr. ECTV, featured food expert, watch segment here
Breakfast Television, watch segment here, segment here and segment here
Rottman Women's Leadership Symposium, food panel, moderator
Taste of Toronto, Metro Masterclass
Ryerson Journalism school, and York University, guest speaker on personal branding
Media contributions:
Chatelaine, contributing blogger, Metro Kitchen Apprentice program, 2015
Cityline, contributing writer, Cityline.ca, 2013-2014, 2016, 2017
The College Prepster, food and recipe contributor, CollegePrepster.com
680news.com, How to Host a Canada Day Party, July 2013
Eat In Eat Out Magazine, Chocolate Ginger Mousse, February 20th, 2013, Summer 2012 Featured Blogger
Sweet Lemon Magazine, December Issue (2012), Valentine's Day Issue (2013)
Recipe featured on News Canada
Foodie Crush Magazine, recipe contributor, Foodie Crush Magazine
Lentils Canada recipe published, Recipe Revelations Ebook
CarrotLines, media sponsor and brand ambassador (2013), CarrottLines.com
The Zesty Digest, food writer
Sweet Potato Chronicles, weekly blogger, sweetpotatochronicles.com (2012)
The Kit Magazine, Health and Wellness Blogger, TheKit.ca, (2011)
Recent features & mentions: