Inspired by Joey's restaurant and the complex spices and flavours of Morocco, this Moroccan chicken soup uses a combination of chickpeas, chicken and carrots for a simple and deeply flavourful soup.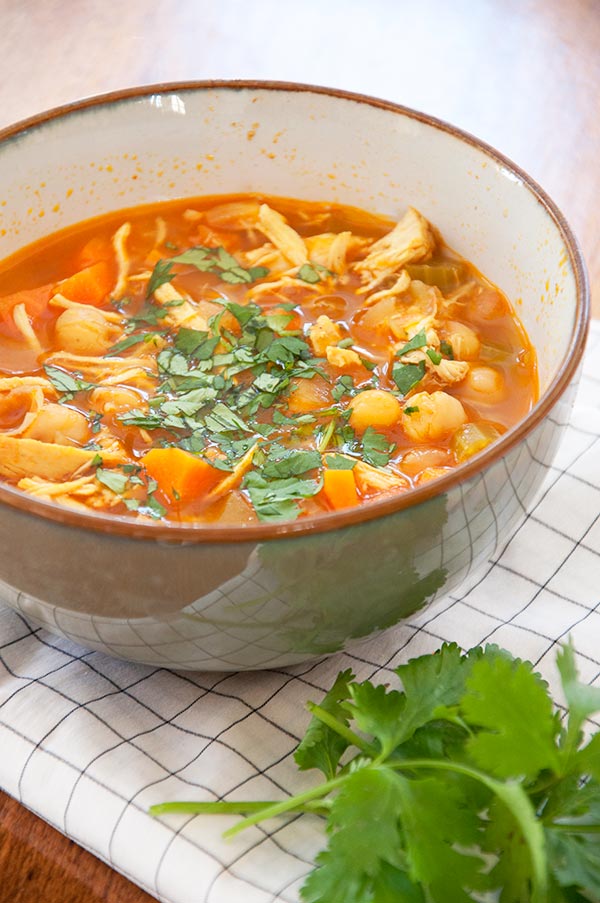 In our house, especially during the winter, there is always homemade soup in the fridge and my newest creation; Moroccan chicken soup got rave reviews from my soup-loving family. There is just something about soup, don't you think? It's so comforting and is the perfect recipe to make on a cool fall weekend.
What makes this Moroccan chicken soup so good?
This soup was inspired by a soup I had at a restaurant when I was doing some shopping with my mom and we stopped for a quick bite, I ordered the Moroccan soup and fell in love with the depth of flavour. The broth was delicately spiced, yet so flavourful. I knew that I wanted to learn more about Moroccan flavours and cuisine.
What is Moroccan cuisine?
I started to do some research, taking books out of the library like Morocco: A Culinary Journey by Jeff Koehler and The Food of Morocco by Paula Wolfert to learn more about the culinary traditions of Morocco. I wanted to learn everything I could!
Moroccan cuisine is a combination of influences from Arabic, Moroccan cuisine is typically a mix of Arabic, Spanish, and Mediterranean cuisines, which is what makes it so interesting to me.
For this Moroccan-inspired soup, I also leaned on classic techniques that I know and love. It begins in a more classically French way, building flavours a classic mirepoix, a combination of carrots, celery and onion. The spices are what you often find in Moroccan dishes, a combination of cumin, coriander, cinnamon and turmeric and they create a lightly spiced broth with a beautiful colour.
The chicken is poached in the liquid for the soup, so you don't need to worry about having pre-cooked chicken on hand. This also adds extra flavour to the broth. I'm using boneless, skinless chicken breasts in this recipe along with chickpeas.
If you're looking for other Moroccan dishes try these recipes:
This is a vegetarian version similar to this chicken soup, with sweet potatoes, carrots, chickpeas and kale.
Slow Cooker Moroccan Chicken Stew
Cooking this stew all day in the slow cooker amplifies the flavours and makes the chicken extra tender.
Louisa Clements
Yields 4 servings
Moroccan Chicken Soup
Moroccan chicken soup uses a combination of chickpeas, chicken and carrots for a simple and deeply flavourful soup.
15 minPrep Time
55 minCook Time
1 hr, 10 Total Time
4.5 based on 2 review(s)
Ingredients
2 tbsp olive oil
1 1/2 tsp salt, divided
1/4 tsp pepper
2 boneless, skinless chicken breasts
1 small onion, chopped
3 cloves garlic, minced
1 1/2 tsp ground cumin
1 1/2 tsp ground coriander
1/2 tsp cinnamon
3/4 tsp turmeric
1/4 tsp cayenne pepper
2 medium carrots, diced
2 ribs celery, diced
7 cups water
1/2 cup crushed tomatoes
1 15-19oz can of chickpeas, drained and rinsed
2 1/2 tbsp lemon juice
chopped cilantro, for serving
Instructions
In a large soup pot, heat olive oil over medium-high heat.
Season chicken breasts with 1/2 tsp salt and 1/4 tsp pepper. Cook for 3-4 minutes per side, remove from pot and set aside.
Add the onion, carrots and celery to the pot, stirring occasionally until soft and lightly browned, about 5 minutes.
Add garlic, spices and 1/2 tsp salt, stirring until fragrant, about 1-2 minutes. Add water and crushed tomatoes. Bring to a boil, season with remaining salt. Return chicken to pot, reduce heat and simmer, partially covered for 35-40 minutes or until chicken is fully cooked.
Remove chicken from soup and shred with two forks. Return chicken to pot. Add chickpeas and lemon juice. Serve with chopped cilantro.
7.8.1.2
150
https://www.livinglou.com/moroccan-chicken-soup/
We
loved
this Moroccan Chicken Soup and I hope you love it too, let me know if you try it in the comments.