This vegetarian broccoli cheddar quiche is the perfect brunch recipe with a homemade pastry crust, eggs, cream, cheddar and Parmesan cheese.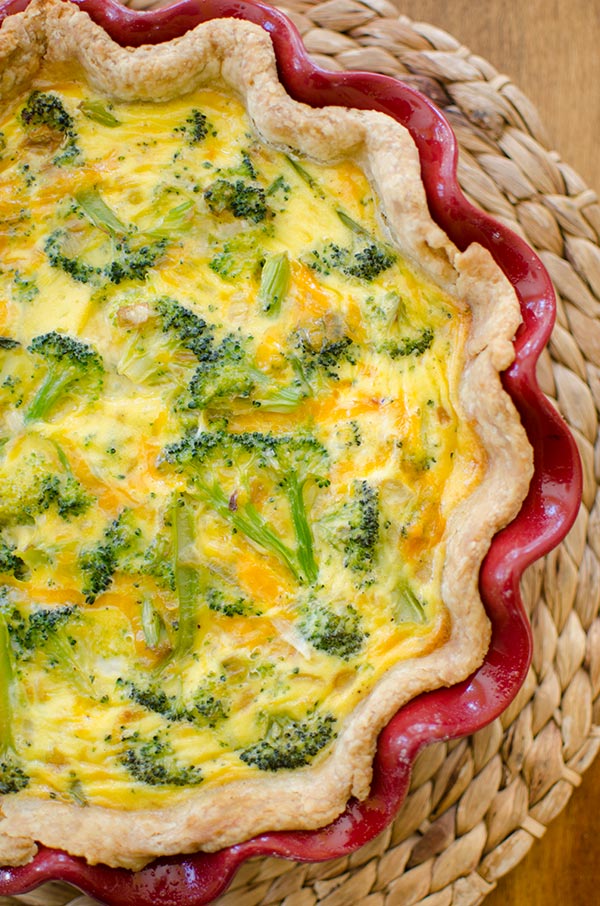 The first time I made a real quiche was to fulfill a promise I had made three years earlier. I know, it was delayed but I came through in the end! That's all what matters, isn't it?
I don't even remember how I got into this situation, but I had at some point promised two of my friends that I would make them a quiche. And they never let me forget it. At every opportunity they would joke about the quiche I promised. I'd bring freshly baked cookies to their place and they would ask about the quiche. I would sit next to them in class and they'd ask about the quiche. On a Saturday night, they'd ask about the quiche.
It turned into a running joke, but I knew that I would follow through with it at some point, the question was; when?
Well, university came and went. The final final exam happened, my thesis was handed in, we'd had our screening at the Lightbox in Toronto, walked across that stage during graduation, had the parties, the end-of-university bonfires, existential conversations and crises that come with the end of something important and the beginning of "The Rest of Your Life". And guess what, I had still not delivered on my promise. I think my friends were starting to give up on me.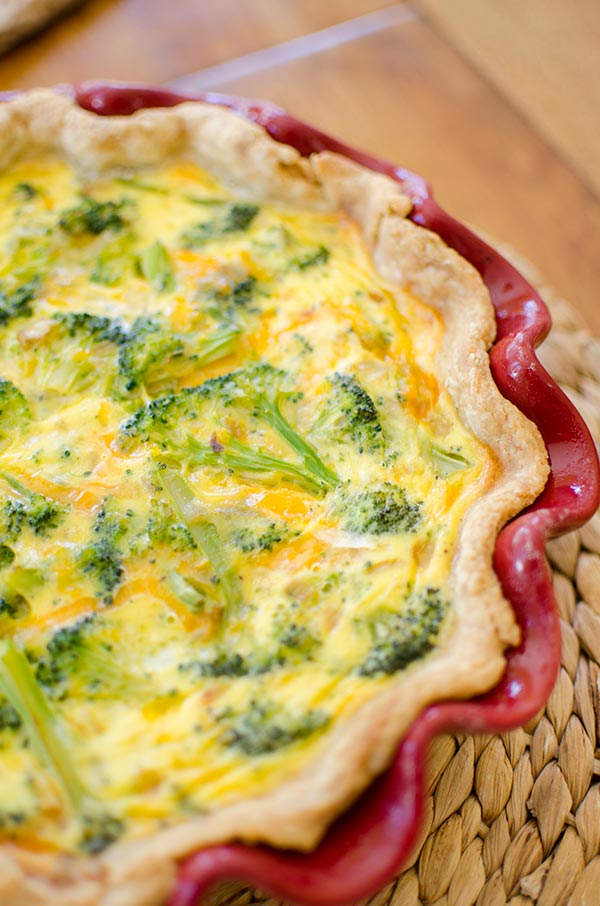 Well, as people tend to scatter at the end of university, one of my closest friends from my time in college, part of my GIRLS-watching-Saturday-night-dancing trio was getting ready to move to Vancouver, and a few of my other friends were hosting a goodbye party for her, and I knew 'This is my moment!' I would make the best quiche ever.
And then I made a quiche in a spring form pan, and the bottom fell out as I was pulling it out of the oven. Yay!!! Obviously this quiche was going to be eaten that night and I didn't have the time (or patience) to make a new one, so as every single person has done at some point (or will do at some point), I had to figure out a way to salvage this incredibly delicious and broken quiche.
Well, I somehow managed to pull it together and deliver on that three year old promise and I haven't made a quiche since! (Well until this broccoli cheddar quiche that is). And yes, you can see the broken, salvaged quiche in the photo above.
Every time I make quiche it reminds me of my silly promise from I guess almost five years ago now? So much so, that I wanted to deliver this quiche to my friends every time I was testing this recipe.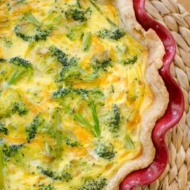 Broccoli Cheddar Quiche
This vegetarian broccoli cheddar quiche is the perfect brunch recipe with a homemade pastry crust, eggs, cream, cheddar and Parmesan cheese. 
Pin
Print
Ingredients
For crust:
1 ¼

cups

all-purpose flour

½

tsp

salt

½

cup

cold butter

,

cubed

2-3

tbsp

ice water
For filling:
1

tbsp

butter

1

onion

,

chopped

1

head broccoli florets

,

finely chopped (about ½ lb of florets)

7

eggs

¾

cup

35% cream

,

heavy cream

1

cup

grated old cheddar cheese

¼

cup

grated Parmesan

1

tsp

Dijon mustard
Instructions
For Pastry:
In a large bowl, stir together flour and salt. Using a pastry blender or your hands, cut in butter until coarse crumbs form. Using a fork, stir in ice water, 1 tbsp at a time until a soft dough can be formed into a ball. Shape dough into a disk and wrap in plastic wrap. Refrigerate for 45 minutes to an hour.

Preheat oven to 375F.

Roll out dough on a lightly floured surface into a 13" circle. Transfer dough to a 9" deep pie plate, trim the excess dough leaving ½" overhang. Fold the overhang underneath and use your knuckles and thumbs to pinch the dough around the rim to form a decorative edge.

Line the dough with a piece of parchment paper and fill with pie weights or dried beans. Bake for 18-20 minutes. Remove from oven and carefully remove parchment. Cool completely.
For filling:
In a large pan, heat butter over medium heat. Add onion, saute for 4 minutes. Add broccoli florets and cook for another 4 minutes or until softened and partially cooked. Set aside and cool completely.

In a large bowl, whisk eggs with cream, cheddar cheese, Parmesan and Dijon mustard. Stir in cooled onion and broccoli mixture. Pour filling into cooled shell and bake at 375 for another 40-45 minutes or until set.
Did you try this recipe?
Leave a comment + rating and let me know what you think!
Let me know if you give this broccoli cheddar quiche recipe a try, it's the perfect dish for Easter brunch.