This Broccoli Cauliflower Soup is creamy, cheesy and packed with veggies (and gluten free). This is the perfect recipe for a quick and easy lunch or dinner–it's ready in just 35 minutes! For an extra special touch top with fresh herbs, cheddar cheese or crispy bacon.
I make a big pot of soup every weekend during the cooler months, it's my version of "meal prep". It doesn't take much time, and it means that we always have something delicious and easy in the fridge–bonus, it's always packed with veggies!
Why this recipe works
This recipe takes the classic combination of broccoli and cauliflower to the next level, resulting in a soup that's both bright and savory. Grated sharp cheddar is melted in giving this a classic broccoli-cheddar flavor that is so well loved.
To enhance the color and add another vegetable, fresh spinach is blended in, adding a pop of brightness.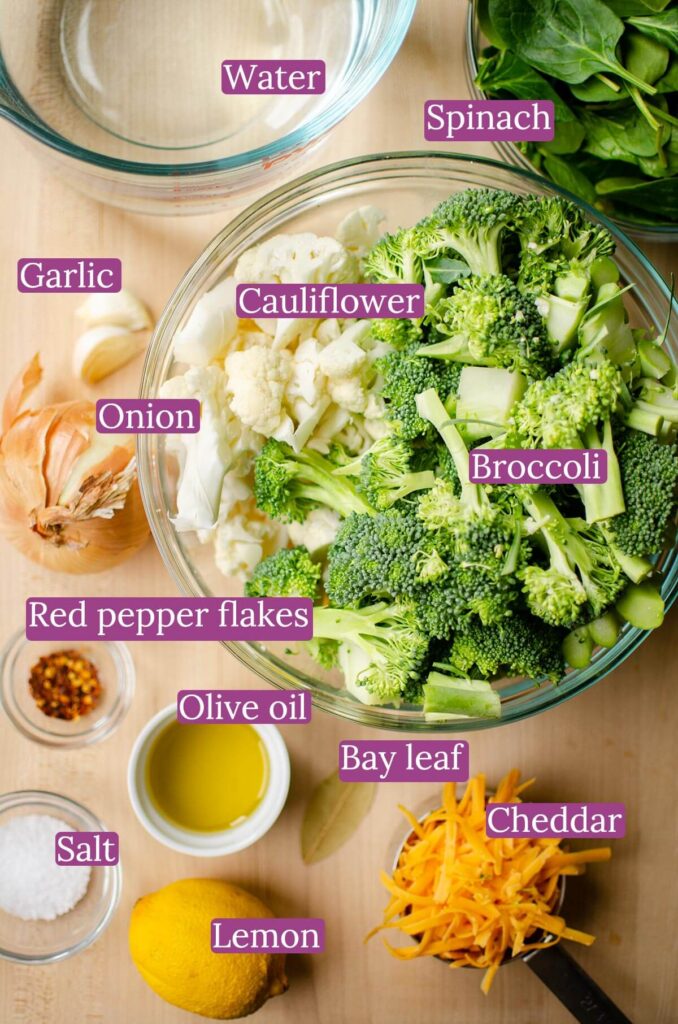 Ingredients you'll need:
For the vegetables this recipe uses cauliflower, broccoli and spinach. The spinach is blended in seamlessly and doesn't overpower the cauliflower broccoli flavor in the soup.
The soup's base is built by sautéing onions and garlic in olive oil. This adds a richness to the broth.
A pinch of red pepper flakes is added for a spicy kick that balances the overall taste, if you like something spicier, you can always add more.
I always add a bay leaf to a soup because it adds a layer of depth and complexity.
For the liquid, I like to use water in vegetable-based soups so that the broth doesn't overpower the flavor, but you could also use vegetable or chicken broth.
To finish, a touch of lemon juice adds brightness while grated sharp cheddar infuses the soup with rich and savory notes. If you don't have lemon juice, lime juice would also work.
Expert tips
For a richer, greener soup, I use broccoli crowns or florets rather than the broccoli stem. They hold more flavor and keep the color vibrant.
To give the soup a spicy kick, you can add more chili flakes or sauté some chopped jalapeño with the onions and garlic.
The cauliflower and cheese lend a creamy texture to the soup. However, for an even creamier version, you can add a splash of heavy cream.
Step by step instructions
Heat olive oil over medium heat in a large Dutch oven or heavy-bottomed pot. Add onion and saute for 5 minutes until golden brown. Add garlic and chili flakes, cook for another minute until very fragrant.
Add broccoli and cauliflower, followed by salt. Stir to combine. Cover with water, add bay leaf. Bring to a boil. Cover and reduce heat to low, simmer for 15 minutes until vegetables are fork tender.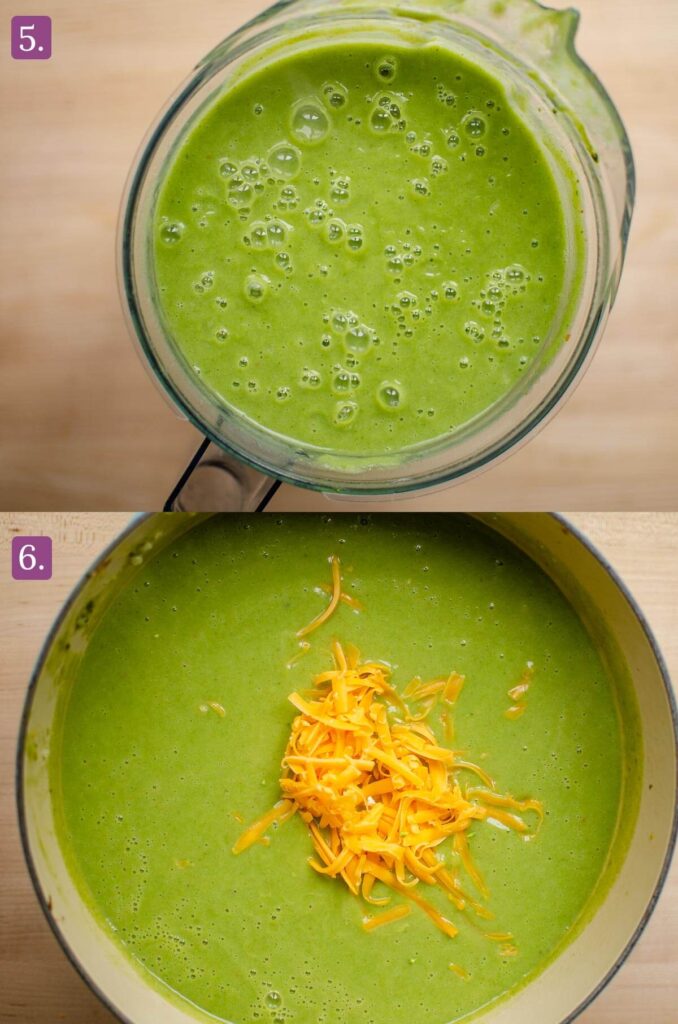 Remove bay leaf and add spinach, cook for a minute until spinach is just wilted.
Puree in a blender or with an immersion blender. Stir in cheese and lemon juice.
More soup recipes you might like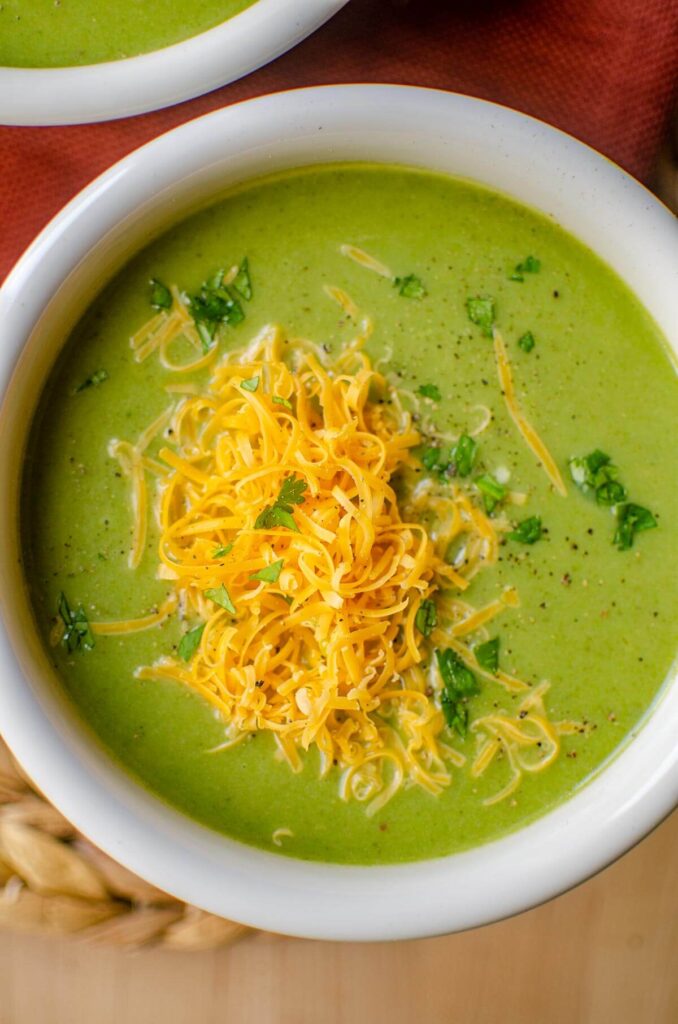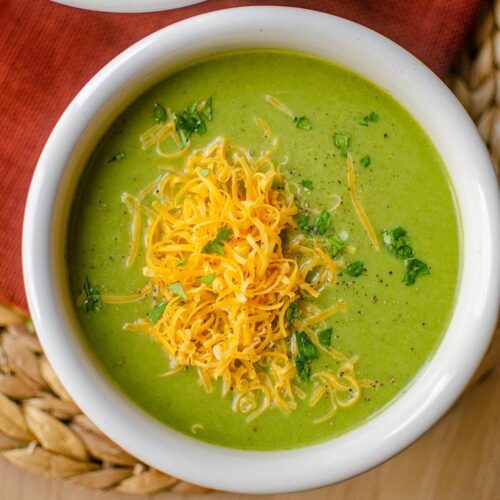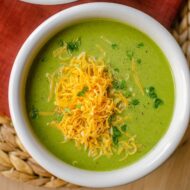 Broccoli and Cauliflower Soup
Creamy, cheesy and gluten-free, this cauliflower broccoli Soup is packed with veggies and perfect for a quick lunch or dinner. Ready in just 35 minutes, try topping it with fresh herbs, cheddar cheese or crispy bacon for an extra special touch.
Pin
Print
Ingredients
2

tbsp

olive oil

1

onion

,

diced

2

garlic cloves

,

minced

¼

tsp

red pepper flakes

,

to taste

2

broccoli crowns

,

cut into florets (about 6 cups)

1

head cauliflower

,

cut into florets (about 4 cups)

2

tsp

salt

8

cups

water

,

or vegetable/chicken broth

1

bay leaf

3

cups

packed fresh spinach

½

cup

grated sharp cheddar cheese

1

tbsp

lemon juice
Instructions
Heat the olive oil in a large pot or Duthch oven over medium heat. Add the onion, cook until softened and golden brown, about 5 minutes. Add garlic and chili flakes and cook for another minute until very fragrant.

Add the broccoli, cauliflower florets and salt. Cover with water and add the bay leaf. Bring to a boil, then reduce the heat and let simmer for 15 minutes or until the vegetables are tender.

Remove the bay leaf and add the spinach. Cook for an additional minute until the spinach has wilted.

Use an immersion blender or transfer the soup to a blender and blend until smooth.

Return the soup to the pot and stir in the cheddar cheese until melted and add lemon juice for a bit of tanginess.

Serve hot with additional toppings such as fresh herbs, cheddar cheese, or crispy bacon.
Notes
For a spicier kick, add extra chili flakes or sauté some chopped jalapeño with onions and garlic.
The soup's creaminess comes from the cauliflower and cheese, but you can make it even creamier by adding a splash of heavy cream.
Did you try this recipe?
Leave a comment + rating and let me know what you think!