A simple vegetarian recipe for pasta with cherry tomatoes and garlic with a quick homemade chili-garlic oil with lemon zest.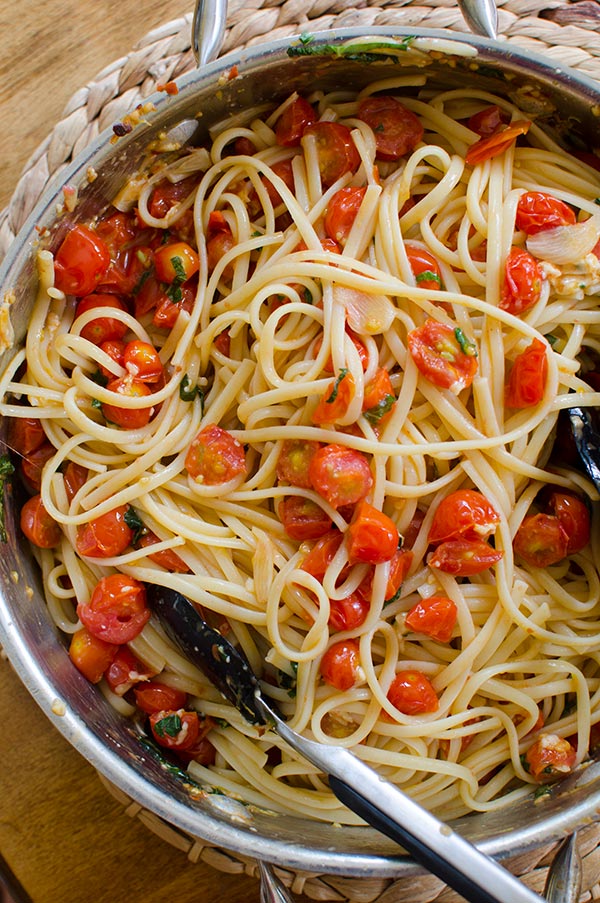 It's a Sunday night as I sit here to write this post. I'm feeling sleepy and grateful. I just ate a huge bowl of this simple and impossibly delicious pasta with cherry tomatoes and garlic. The same pasta I have been eating over and over again for practically an entire month. Some things just don't get old, and this pasta, with its deeply flavoured homemade chili-garlic oil is one of them.
I used to write most of my posts in the early hours of the morning. I'd wake up before class or work and write in the quiet of the morning with a steaming cup of coffee. A slow and quiet way to start my day. Things are different now, my alarm goes off between 5-5:30am and it's off to the races. No time for writing anymore, though I do miss it. I find my mind is at its clearest earlier in the day. But these changes are good changes. I'm starting to realize that while it may not seem like it at first, most changes are good changes.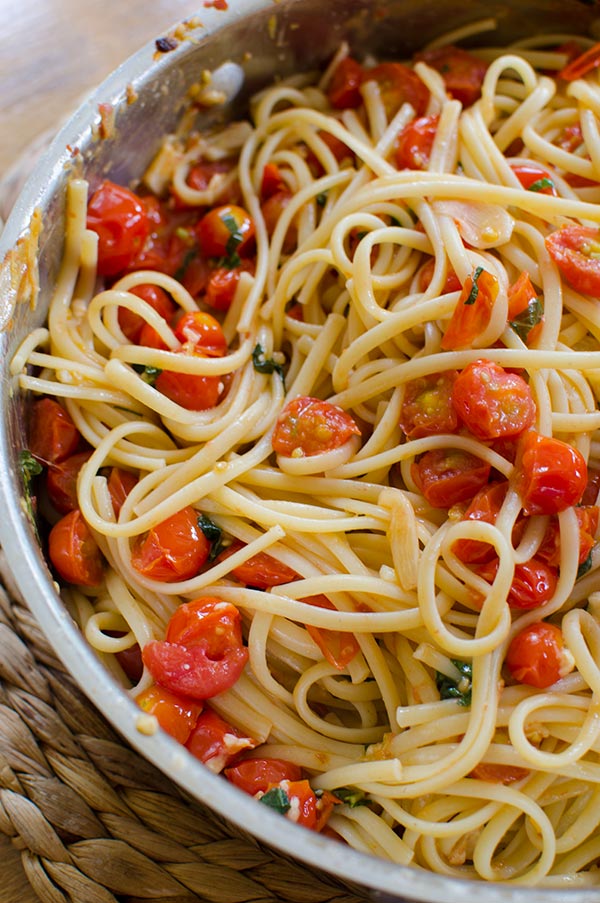 Why does change always seem so threatening when it's happening? I believe in the power of progress and small victories, and when you break this down, progress is really just a veil for change, isn't it? Change forces us outside of our comfort zone. If you know me, you know that I love my comfort zone. I thrive in my comfort zone. I love this life I am creating, it's comfortable and wonderful.
This summer was filled with experiences outside of my comfort zone, things I might have said no to at one point, but fully embraced this summer. I think this is going to be an ongoing theme for the next little while. There is still so much of 2016 left to live. I hate that feeling when suddenly time has flown by and you're left sitting there wondering what the heck you have been doing.
This pasta recipe is a quintessential Living Lou recipe. Simple ingredients, big flavour. A cooking technique that may seem a little more complicated, but that will elevate your everyday eats. I think we should all try to add a touch more sparkle and effort to our days. Let's start by making pasta.

Pasta with cherry tomatoes and garlic
Ingredients
3/4

lb

340g linguine

,

reserve 1 cup pasta cooking water

2

tbsp

olive oil

2

cloves

garlic

,

thinly sliced

1/2

tsp

chili flakes

1

lemon

,

zest only

2

pints

of cherry tomatoes

,

sliced in half

1/4

tsp

salt

1/4

cup

thinly sliced basil

1/4

cup

grated parmesan cheese
Instructions
Cook pasta according to package directions. Reserve 1 cup of pasta water.

Heat a large saute pan over medium heat, add olive oil, garlic, chili and half of lemon zest. Cook for about 4 minutes or until garlic starts to turn golden brown. Reduce heat to low, add cherry tomatoes and salt, cook for 6 minutes, stirring occasionally until tomatoes are blistered and have softened.

Add pasta to tomatoes, add reserved pasta water, 1/4 cup at a time until sauce coats the pasta (you may not need all the pasta water). Toss with remaining lemon zest, basil and parmesan cheese and serve.
Nutrition Facts
Pasta with cherry tomatoes and garlic
Amount Per Serving
Calories 451
Calories from Fat 90
% Daily Value*
Fat 10g15%
Cholesterol 6mg2%
Sodium 277mg12%
Potassium 705mg20%
Carbohydrates 74g25%
Protein 16g32%
Vitamin A 1364IU27%
Vitamin C 57mg69%
Calcium 119mg12%
Iron 3mg17%
* Percent Daily Values are based on a 2000 calorie diet. Nutrition information is an estimate and is provided for informational purposes only. If you have any specific dietary concerns, please consult with your healthcare practitioner.
Let me know if you give this recipe for pasta with cherry tomatoes and garlic a try in the comments below.