Savour the flavour of summer with this recipe for roasted cherry tomatoes with garlic and thyme. Slow roasting for 35 minutes leads to sweet and flavour-packed tomatoes.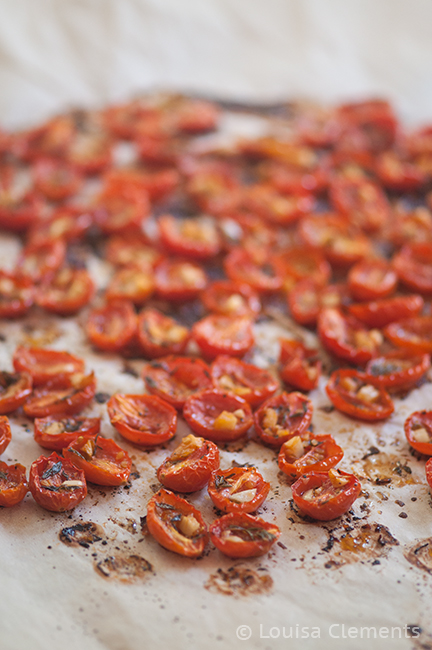 I wish I could bottle up summer and save it for those dreary midterm weeks in November and February. September is feeling much too close for my liking, it's impossible to avoid the "back-to-school fever", while getting back into a new school year can be somewhat exciting and feels like a bit of a "re-set", it also means that the summer is ending. I think September is the most bittersweet month that exists, because I do love the fall, but I also love the summer, so I have mixed feelings by the time this month rolls around.
If there's one thing I miss in the winter other than the weather, it's the freedom that comes with summer. A spontaneous cottage getaway? Yes. Spending all weekend in the kitchen? Yes. Sleeping in until whenever your heart desires? Yes. These Roasted Cherry Tomatoes with Garlic and Thyme taste like summer in a bite. Roasting tomatoes in the oven will take even the flavourless tomatoes of February to a little piece of heaven.
There aren't many flavour combinations that rival garlic, thyme and tomatoes, and the sweetness the tomatoes get from roasting in the oven makes them taste like candy. This is one of my favourite ways to prepare cherry tomatoes because you can eat them as-is, or on a piece of toast with some goat cheese, or toss them in a pasta with a bit of oil and parmesan cheese. They are so versatile and also seem somewhat fancy, so serving them to friends and guests is ideal.
I think if you were to make these in the dead of winter, it will bring you right back to summer. At least, that's what I'm hoping happens when I need a little sunshine-y pick-me-up come the freezing weather.

Roasted Cherry Tomatoes with Garlic & Thyme
Slow roasted cherry tomatoes with garlic and thyme. leads to sweet and flavour-packed tomatoes.
Ingredients
1

pint

cherry tomatoes

,

halved

1

tbsp

olive oil

4

cloves

garlic

,

finely minced

5

springs of fresh thyme

,

leaves only

1/4

tsp

each salt and pepper
Instructions
Preheat oven to 375F and line a baking sheet with parchment paper.

In a medium sized bowl, toss tomatoes with olive oil, garlic, thyme and salt and pepper.

Pour onto baking sheet and roast for 30-35 minutes.
Nutrition Facts
Roasted Cherry Tomatoes with Garlic & Thyme
Amount Per Serving
Calories 58
Calories from Fat 36
% Daily Value*
Fat 4g6%
Sodium 159mg7%
Potassium 270mg8%
Carbohydrates 6g2%
Protein 1g2%
Vitamin A 638IU13%
Vitamin C 30mg36%
Calcium 24mg2%
Iron 1mg6%
* Percent Daily Values are based on a 2000 calorie diet. Nutrition information is an estimate and is provided for informational purposes only. If you have any specific dietary concerns, please consult with your healthcare practitioner.
Instead of bottling up the weather, the fun or the spontaneity of Summer, I'm bottling up the flavour. They say a smell can take you right back to a specific moment, so here's hoping the smell of cherry tomatoes roasting in the winter will bring you back to that glorious summer afternoon.