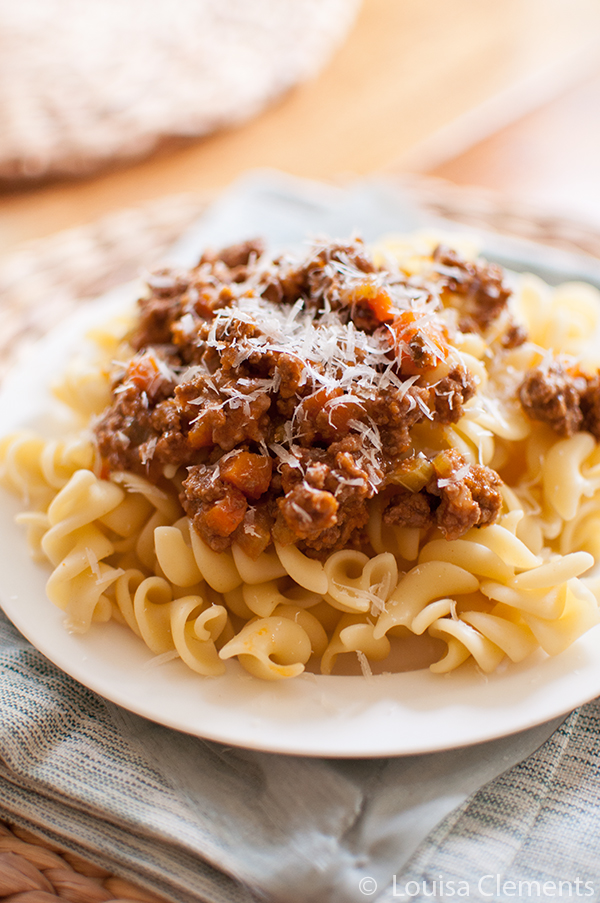 If you've been reading for a little while, it will come as no surprise that I'm a student. And you know what that means; great tasting meals on a budget are an important part of my life. I've lived at home through my university career, but from what I've heard from my friends one of the things they struggle with the most in terms of living on their own is cooking, and on a student budget no less. To prepare for this post, I conducted a very scientific survey (I asked around to my peers) what was the one meal they miss the most that their mom (or dad) makes at home. I got quite a variety of responses but the two big ones were spaghetti Bolognese and macaroni and cheese (pasta is the clear favourite in my circle).
I've always been a savvy grocery shopper, but I'm even more careful now that I'm constantly developing new recipes. With their commitment to low prices, my Dad has always done his grocery shopping at No Frills and we would often go together when I was a little girl.  As I've started doing my own grocery shopping, I've followed his frugal lead and it's continued to be my go-to store. Now that PC Plus is available at No Frills, you can earn points and thus save money while grocery shopping. And remember that pasta dilemma I had earlier, the fact that my PC Plus had an offer that was "200 points for every $1 spent on fresh meat" meant that the Bolognese sauce was meant to be. Just with that once purchase I earned 3,000 points.
A very old photo from my Instagram (2012!) shopping at No Frills
If you're not familiar with PC Plus, let me break it down for you, it's a free rewards program offered at many Loblaw owned grocery stores such No Frills, Loblaws, Zehrs and many other stores across Canada (find a store close to you). You can download the app to your smartphone (or pickup a trusty card in-store), and start earning points based on personalized offers. Once you have a minimum of 20,000 points, you can redeem them on your grocery bill.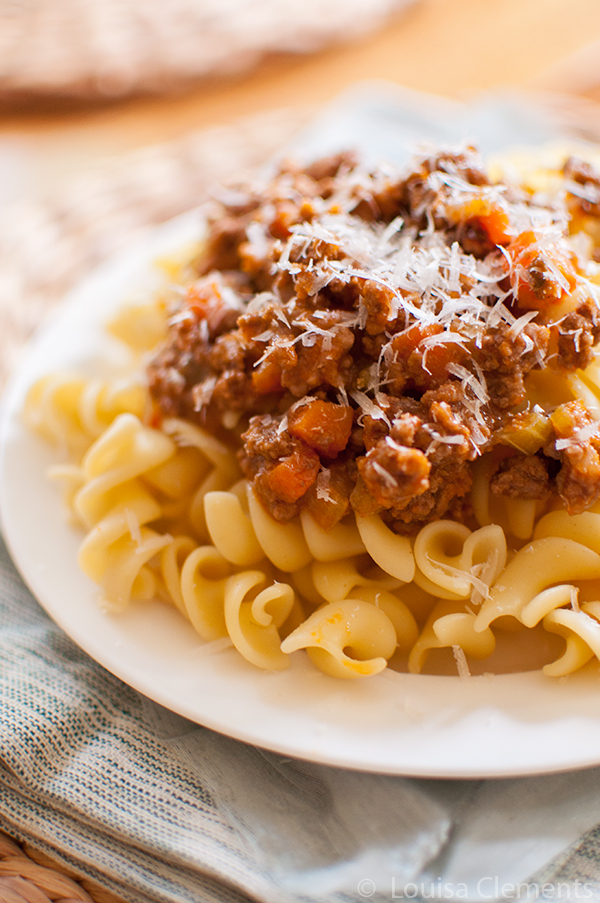 As for the recipe, this is a budget friendly twist on your favourite Bolognese sauce. I left out the red wine and opted for beef broth as a liquid. The spices in this sauce are minimal so it gets its flavor from a long cooking process, which is perfect for a Sunday afternoon spent studying. I was able to finish writing an essay while this sauce was simmering away on the stove, and it makes a large batch for lunches and dinners throughout the week.
Homemade Bolognese Pasta Sauce
A budget-friendly take on Mom's classic bolognese sauce!
10 minPrep Time
2 hr, 25 Cook Time
5 based on 3 review(s)
Ingredients
2 tbsp olive oil
3 lbs lean ground beef
2 carrots, diced
2 stalks of celery, diced
1 onion, diced
2 cloves garlic, minced
½ tsp dried oregano
¼ tsp ground fennel
3 tbsp tomato paste
½ cup crushed tomatoes
½ cup milk
2 cups beef broth
1 tbsp white wine vinegar
sugar to taste
salt & pepper to taste
Instructions
In a large pot, heat olive oil over medium heat. Add carrots, celery and onion. Cook until very soft, about 7-8 minutes.
Add garlic, oregano and fennel. Cook for another 1-2 minutes.
Add in ground beef, cook and crumble until fully cooked, about 15 minutes. This is a long process, but it helps build flavour.
Stir in tomato paste, crushed tomatoes, milk, beef broth and white wine vinegar. Bring to a simmer and allow sauce to simmer, partially covered for 2 hours, stirring occasionally.
Season with sugar, and salt and pepper to taste.
Notes
Recipe by Louisa Clements
7.8.1.2
86
https://www.livinglou.com/homemade-bolognese-pasta-sauce/
Disclosure: I was compensated to write this post. All experiences and opinions are 100% my own. Thank you for supporting Living Lou!