Use frozen puff pastry in place of pizza dough for these cute and kid-friendly puff pastry pizza bites. 
It doesn't get much easier than these puff pastry pizza bites for a quick, party-ready appetizer. Using frozen, store-bought puff pastry is a simple way to throw together a quick, gamy day appetizer. Alright, so, clearly you know that tomorrow is The Super Bowl. Have you figured out everything you're going to serve yet? Nope? Same. Well, I have a bit of an idea, and these puff pastry pizza bites are definitely on the menu and then I'll probably whip up a quick Avocado Feta Dip. I'm not throwing a party or anything, just hanging out with my family, but we always need to have some sort of game day watching spread.
Let's start this with a quick question – is there anything better than pizza? Considering I had it for lunch three times last week (yes, pizza 3x per week is probably not the best idea, but at the same time, it really is), I think the answer is no. When I was trying to come up with a last-minute game day appetizer, all I could think of was pizza, but how can you make pizza into a simple and quick appetizer? The answer? Frozen puff pastry – ding, ding, ding! I think that if you're going to be throwing together any sort of last minute appetizer, puff pastry is always the answer. You can make breadsticks and more breadsticks. These little guys use puff pastry as the base of the pizza crust and because of this little trick, they come together so quickly. Just add a spoonful of pizza sauce (homemade pizza sauce if you have the time) and a sprinkling of mozzarella cheese plus your favourite pizza toppings (I went for pepperoni, mushrooms, green peppers and olives). What are your toppings of choice? Really, no matter the toppings, you can't go wrong with crowd-pleasing pizza. You can even make the highly controversial Hawaiian pizza.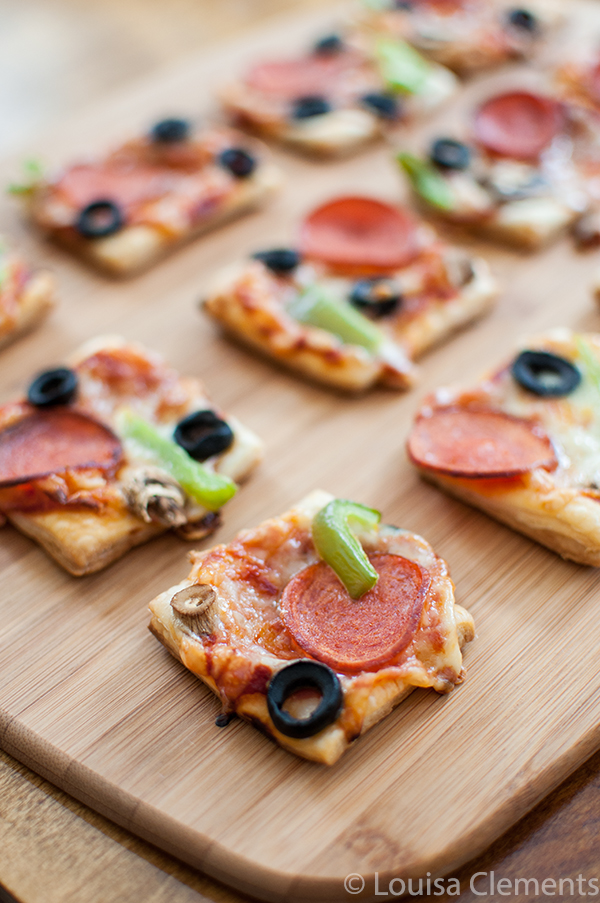 For me, the Super Bowl is definitely more about the snacks and the halftime show than the actual football. I think many people are the same way when it comes to the big game. For some reason, football has just never been a sport that really pulled me in, I think it's too much starting and stopping that I end up kind of losing interest. I'd much rather watch hockey or soccer, even golf (ha, I know). I know many people enjoy the commercials also, but we don't really get any of the great commercials up here in Canada, it's a serious disappointment, but I do end up watching many of them online anyways or dissecting them in class.
Back to the puff pastry pizza bites, I decided to cut the puff pastry into squares before adding the toppings and baking the pizza bites, but I'm sure you could also try cutting it into squares once it's cooled. I think this appetizer would also be a really fun activity to make with kids, everyone could personalize their own pizza bites – talk about fun.

Puff Pastry Pizza Bites
A quick, last-minute game day appetizer! These crowd-pleasing puff pastry pizza bites use frozen puff pastry instead of pizza dough.
Pin
Print
Ingredients
1

sheet frozen puff pastry

,

thawed

⅓

cup

pizza sauce

1

cup

shredded mozzarella cheese

¼

cup

pepperoni slices

2/4

cup

sliced mushrooms

¼

green pepper

,

sliced

2

tbsp

sliced black olives
Instructions
Preheat oven to 450F. Cut puff pastry into 16 even squares.

Spread each square with a spoonful of pizza sauce, sprinkle with mozzarella cheese and chosen toppings.

Bake for 13-15 minutes or until cheese is melted and puff pastry is cooked.
Notes
Recipe by Louisa Clements
Did you try this recipe?
Leave a comment + rating and let me know what you think!
Get ready for the Super Bowl with this simple appetizer for puff pastry pizza bites.