Don't settle for store-bought anymore and make your own homemade pizza sauce at home with just a few simple ingredients.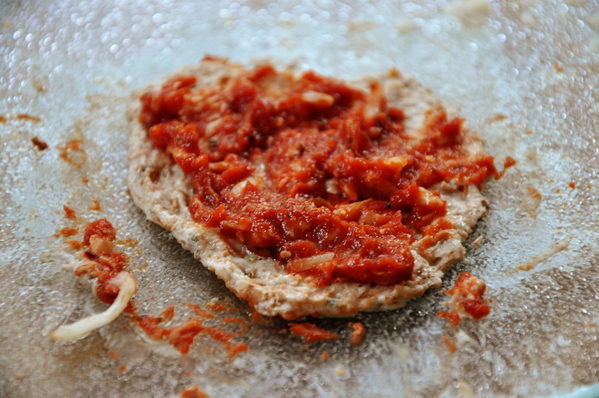 There are certain kinds of foods and recipes that I like to make myself at home and homemade pizza sauce is one of them. I love making my own whole wheat pizza dough, so why stop there and buy pizza sauce at the store? Often store-bought pizza sauce is loaded with sugar and other weird ingredients that have no place in pizza sauce. I love making a batch of pizza sauce and freezing it for whenever a pizza craving hits – which is pretty often in my house. Pizza is one of those universal foods loved by so many, especially kids. Ask any kid, they'll tell you their favourite food is pizza. Pizza is to a cook, what a blank canvas is to an artist. You can do whatever you want to your pizza! Throw some brussels sprouts on there, why not? Thinly slices potatoes, yes. Caramelized onions? Sign me up. But no matter what the toppings, the first step in creating a delicious pizza (beyond the dough) is making pizza sauce. None of this store bought junk, homemade pizza sauce is as easy as one, two, three.
I'm always looking for ways to get more vegetarian and vegan meals into my diet, and I find that pizza is one of the best ways to do that. You can make a pizza without any cheese and plenty of roasted vegetables for a vegan option, or just leave out the meat for something veggie friendly. I find that throwing a pizza party is kind of the ultimate party, so if you're having a lot of people over, I recommend doubling this recipe to make a huge batch of homemade pizza sauce – you won't regret it. If you aren't in the mood to make your own pizza dough, it's pretty easy to find dough in the grocery store these days, so head out and buy yourself some dough and make tonight a pizza night. Stock up on mushrooms, mozarella cheese, red and green peppers, onions, pineapple, and really whatever vegetables suit your fancy.
The best part about this pizza sauce is that it's pretty much usable for any special diet, it's gluten-free, dairy-free and completely vegan. This leaves room for everyone to enjoy depending on the toppings you provide.

Louisa Clements
Homemade Pizza Sauce
5 minPrep Time
10 minCook Time
15 minTotal Time
5 based on 1 review(s)
Ingredients
1 tsp olive oil
1 clove garlic, crushed
1 can (5.5 oz) tomato paste
1 cup crushed tomatoes
¼ tsp dried oregano
¼ tsp granulated sugar
¼ tsp dried parsley
¼ tsp salt
Instructions
Heat a medium pot over medium heat, add olive oil and garlic. Cook for one minute or until fragrant.
Stir in tomato paste, crushed tomatoes, oregano, sugar, parsley and salt. Bring to a boil, and reduce heat and simmer, covered for 8-10 minutes, stirring frequently.
7.8.1.2
123
https://www.livinglou.com/homemade-pizza-sauce/
Whip up a healthier pizza this week with this recipe for homemade pizza sauce, let me know if you give it a try in the comments below.