A simple zucchini tart made with puff pastry, ricotta, lemon and chili flakes.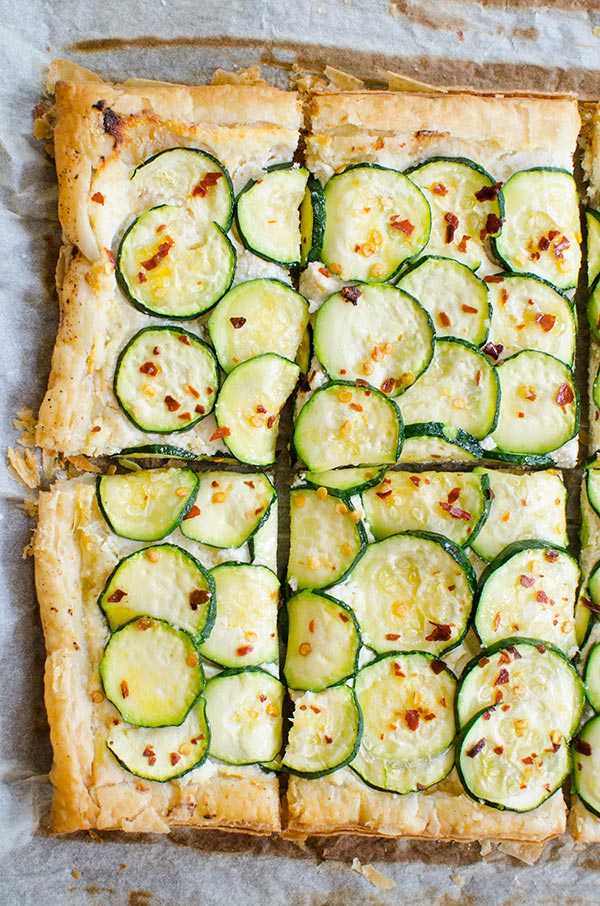 Blogging has changed so much from when I first started six years ago. So much. There was no Pinterest, algorithms weren't the complicated beasts they are today and running your blog as a business was far from the minds of most. With all of these changes I feel like it's even more important to know your site and your readers and the reasons you are blogging.
For me it's always been because I love to cook, I love to take photos and I love writing. Simply stated, I love to create. I hope this comes through in my work. That's what keeps me going. I'm not going to lie and pretend I don't look at the numbers, because I do, you have to. Yes there is strategy involved, I always want to know the 'why', this challenge has become part of the fun.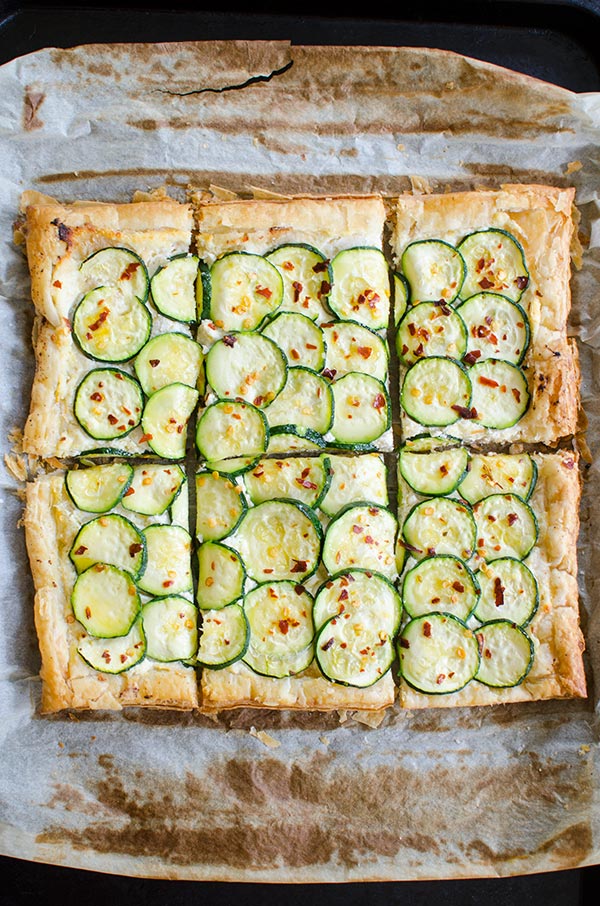 When my contract ended at my last job, I had so many people ask me if I was going to blog full time. This is an insanely flattering question, but the truth is, even if I did make enough money to sustain my lifestyle in Toronto (this city is expensive), I don't think I would want to do it. I love this blog. I think I love it too much for it to become my full time job, my career. Does that make sense? It's a ton of work to run a blog while having a pretty busy job, there are all of the recipes to test and photograph, posts to write, social media to keep up with, endless emails, and exciting campaigns and clients to work with. Ask any blogger and they'll say that it's like having two jobs, but I've been writing Living Lou since I was seventeen years old. This blog is so much a part of who I am that it's impossible to imagine not doing it.
 My style has definitely evolved and changed over the years, but I think now everything is a complete reflection of who I am. From the recipes I post (yes, I love puff pastry tarts as much as you do) to my style of photography, to the colour scheme, logo and fonts I use. These are things that I have touched and guided. I think when you're creating something that is 100% your own, there aren't all the questions you typically have, just answers – I know what I like and what is Living Lou and what isn't. I'm not scared to say no, or turn down opportunities if they aren't the right fit. I've gone from 17 to 23 and while my life is rife with chaos, questions and uncertainties, this space is not one of them.
Puff pastry zucchini tart recipe breakdown
A simple tart for entertaining, this puff pastry zucchini tart uses frozen puff pastry, a layer of ricotta cheese with hints of lemon, thinly sliced zucchini, olive oil and chili flakes for the perfect end-of-summer appetizer or light dinner.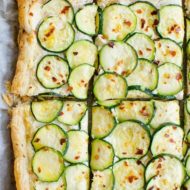 Puff Pastry Zucchini Tart
A simple zucchini tart made with puff pastry, ricotta, lemon and chili flakes.
Pin
Print
Ingredients
1

sheet frozen puff pastry

,

thawed

2-3

small zucchinis

,

thinly sliced

¾

cup

ricotta

2

tbsp

grated Parmesan cheese

2

tsp

lemon zest

2

tsp

olive oil

¼

tsp

hot chili flakes

¼

tsp

salt
Instructions
Preheat oven to 400F. Score a ¼ inch border around edges of pastry, prick all over with a fork. Bake for 10 minutes, pressing down with the back of a spoon if the pastry puffs up.

Meanwhile, in a small bowl, stir ricotta with parmesan and lemon zest.

Spread ricotta mixture on warm, partly baked pastry. Top with zucchini, overlapping slices slightly. Brush with olive oil and sprinkle with chili flakes and salt.

Bake for another 20 minutes, until zucchini are cooked through and pastry has browned.

Cut into six slices and serve.
Did you try this recipe?
Leave a comment + rating and let me know what you think!
Let me know if you give this puff pastry zucchini tart a try in the comments below.