Learn how to cook a tender and juicy turkey breast in the slow cooker. Flavoured with sage and lemon and served with a delicious homemade white wine gravy. This is the perfect way to make turkey for a small gathering that saves space in your oven for stuffing or Brussels sprouts.
Thanksgiving is my favourite holiday because it's all about the food! And whether it's your first time or fifteenth time hosting, the most important thing you can do is to start planning your menu, step one is always to lock down your holiday recipes.
While you're planning your menu, you'll inevitably run into the challenge of oven space. Enter the crockpot and your new go-to turkey recipe. If you don't have a slow cooker, you could also make a turkey breast in the air fryer.
Now I'll be upfront, if you're having a large group over, you'll likely still want to roast a whole bird, but if you've got a small crew coming, doing a breast in the slow cooker might be the best decision you make.
Why this recipe works
There are a few simple techniques that take this turkey breast to the next level. A slow cooker is generally more of a moist-cooking vessel and with this recipe, as the turkey cooks it will let off steam.
The steam is essentially locked inside the pot, making this an almost a self-basting turkey which means that it will be extra juicy.
Ingredients you'll need
4-6 lb bone-in, skin-on turkey breast is the hero of this recipe. I always recommend skin-on because the skin is where the flavour lives! Especially when you're working with a lean meat like turkey.
Sage gets placed under the skin which is what adds tons of fall flavour the meat while it cooks! If you're not a fan of sage, you could also use rosemary.
Salt is a must for all recipes, especially with lean meats.
White wine is added to the slow cooker insert, it helps to flavour the meat as it cooks and also provides a base for the homemade gravy.
Chicken broth is combined with the wine to help add moisture to the dish and also create a base for the gravy.
Butter adds fat and moisture to the recipe.
Expert tips
Don't skip the step of searing the meat before adding it to the slow cooker. Not only does this add flavour, but it also leads to a beautiful turkey breast that will impress at the table. If you're cooking a recipe that doesn't require you to sear the meat first, it's not going to look great, so I'd skip those recipes.
It's kind of old school, but I love using an electric knife (15,000 4.5 star reviews!) and find it to be the easiest and best way to thinly slice turkey breast. It's literally worth having for the few times a year that I make turkey.
What to serve this with
There are a few classic side dishes to serve at Thanksgiving, Brussels sprouts with bacon, small batch stuffing recipe perfect for a small crowd and a Thanksgiving chopped salad make for a pretty well rounded dinner.
I always like to add something that's a bit of surprise, so these mashed sweet potatoes with buttermilk and blue cheese are a fun twist on a classic side.
Ideas for leftovers
If you do end up with any turkey leftovers, I love to make turkey pot pie with puff pastry, or a leftover turkey and rice soup.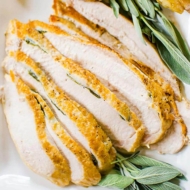 Slow Cooker Turkey Breast
Learn how to cook turkey breast in crock pot so that it's tender and juicy! Flavoured with sage and lemon and served with a delicious homemade white wine gravy. This is the perfect way to make turkey for a small gathering.
Pin
Print
Ingredients
2

tbsp

canola oil

6

lb

bone-in turkey breast

,

anywhere between 4-6lbs will work

6-8

fresh sage leaves

2

tsp

salt

,

Use 1 ½ tsp if doing a 4lb turkey breast

½

cup

no-salt chicken broth

2

tbsp

white wine

2

tbsp

butter

,

cubed
For white wine gravy
drippings from slow cooker

½

cup

no-salt chicken broth

¼

cup

white wine

¼

tsp

salt

1

tbsp

corn starch

1

tbsp

water
Instructions
Loosen skin of turkey breast: slide fingers underneath, careful not to tear the skin and arrange sage leaves. Season all over with salt and pepper.

Heat canola oil in a large frying pan over medium-high heat. Sear turkey, skin side down for 2-3 minutes per side, until skin is a light golden colour. Transfer to slow cooker insert.

Reduce heat to low, add chicken broth and white wine, scraping brown bits off the bottom of the pan with a wooden spoon. Cook for 2 minutes. Pour broth mixture over turkey. Arrange cubed butter over turkey. Cover and cook on low for 5-6 hours or until an instant read thermometer reaches 165F. 5 hours for a smaller, 4lb turkey breast, 6 hours for a larger breast.

Remove and let rest for 10 minutes, then thinly slice. (Reserve the bones and reserve for homemade turkey broth).
To make a simple gravy:
Strain liquid from the slow cooker and add to a small pot. Add another ½ cup of broth and ¼ cup of white wine. Bring to a boil in a small saucepan and boil for 1-2 minutes to allow the alcohol to cook off.

Combine water with corn starch to make a slurry. Reduce heat to a simmer and whisk into the gravy mixture, season with salt and continue to cook until desired consistency is reached, about 5-8 minutes.
Notes
This recipe can be scaled down, I've made this recipe with a 2lb turkey breast for 4-5 hours on low, alter amounts of sage (3-4 leaves) and salt (¾ tsp to 1 tsp).
I'm using a 6 quart slow cooker for this recipe, but I've also done a smaller (2 lb) turkey breast in a 4 quart slow cooker. 
Did you try this recipe?
Leave a comment + rating and let me know what you think!