Use the crockpot this Thanksgiving with this recipe for slow cooker turkey breast made with sage, lemon and white wine for a perfectly moist turkey breast and homemade gravy.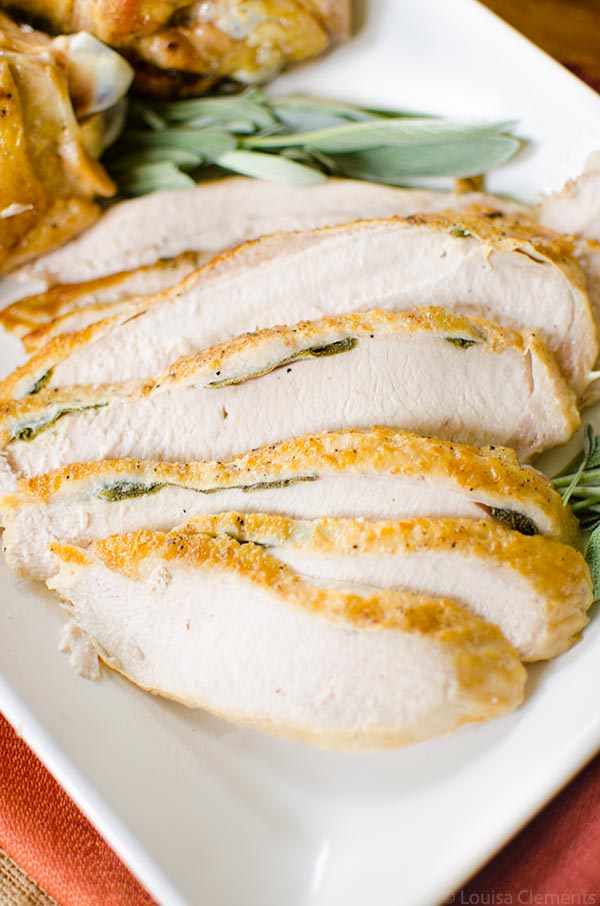 Thanksgiving is my favourite holiday, and we all know that oven space is at an absolute premium. So if you're having a smaller gathering this year and not cooking a whole turkey, this recipe is the best possible solution to you; make your Thanksgiving turkey in the slow cooker.
You'll still get that delicious turkey flavour and gravy, but without it taking up your entire oven for hours and hours.
Then you can use your oven for the best Thanksgiving stuffing recipe with sausage, or a simple vegetarian stuffing option.
Making turkey in the slow cooker is the best option for serving a smaller crowd of 2-4 people. Because the crockpot can't fit an entire turkey, I like to use a bone-in turkey breast.
Why should I use a bone-in turkey breast in the slow cooker?
Bone-in turkey breast will end up being much juicier and more flavourful. Plus you'll have the leftover bones to make delicious turkey stock and leftover turkey soup the next day.
It depends on the size of your slow cooker, but you should be looking for something around a 4-6lb turkey breast for a 6-quart slow cooker and a small holiday gathering.
How to make turkey more flavourful
I like to use fresh herbs to add flavour to my turkey. Loosen the skin and stuff fresh herbs (sage, rosemary or thyme) underneath for maximum flavour. The breast will be infused with the slightly woodsy taste from the herbs, but it won't overwhelm the flavour of the turkey.
For this recipe I've stuffed about eight leaves or so between the skin and meat.
I've also seasoned the turkey liberally with lots of salt and pepper and added chicken broth and white wine to the slow cooker.
For beautiful slow cooker turkey and gravy, sear the turkey breast before cooking
It's important to sear the turkey breast on the stove top to get that beautiful, crisp golden skin and delicious gravy. This is something that you can do ahead of time as the turkey will cook for six hours.
Plus this step will not only make the turkey more flavourful, but it will also look much better on your Thanksgiving table–which is pretty important if you ask me.
Slow Cooker Turkey Breast
Use the crockpot this Thanksgiving with this recipe for slow cooker turkey breast made with sage, lemon and white wine for a perfectly moist turkey breast.
Pin
Print
Ingredients
2

tbsp

canola oil

6

lb

bone-in turkey breast

,

anywhere between 4-6lbs will work.

6-8

fresh sage leaves

2

tsp

salt

,

Use 1 ½ tsp if doing a 4lb turkey breast

½

cup

no-salt chicken broth

2

tbsp

white wine

2

tbsp

butter

,

cubed
Instructions
Loosen skin of turkey breast: slide fingers underneath, careful not to tear the skin and arrange sage leaves. Season all over with salt and pepper.

Heat canola oil in a large frying pan over medium-high heat. Sear turkey, skin side down for 2-3 minutes per side, until skin is a light golden colour. Transfer to slow cooker insert.

Reduce heat to low, add chicken broth and white wine, scraping brown bits off the bottom of the pan with a wooden spoon. Cook for 2 minutes. Pour broth mixture over turkey. Arrange cubed butter over turkey. Cover and cook on low for 5-6 hours or until an instant read thermometer reaches 165F. 5 hours for a smaller, 4lb turkey breast, 6 hours for a larger breast.

Remove and let rest for 10 minutes, then thinly slice. (Reserve the bones and reserve for homemade turkey broth).
To make a simple pan sauce/gravy:
Strain liquid form the slow cooker, boil in a small saucepan until reaching desired thickness, about 12-15 minutes.
Notes
This recipe can be scaled down, I've made this recipe with a 2lb turkey breast for 4-5 hours on low, alter amounts of sage (3-4 leaves) and salt (¾ tsp to 1 tsp).
If you want to make a more traditional (i.e. thicker) gravy instead of a thinner pan sauce, you can thicken with a cornstarch slurry (use equal parts cornstarch and chicken broth–start with 1 tbsp of each–and whisk into the boiling liquid when making the sauce). Add more chicken broth and white wine as needed, depending on the amount of gravy you are looking for. 
Did you try this recipe?
Leave a comment + rating and let me know what you think!
Enjoy this slow cooker turkey breast, let me know if you give it a try.