Thanksgiving chopped salad with a maple-shallot vinaigrette has arugula, apples, walnuts, pepitas, and brussels spouts in it for the perfect fall salad.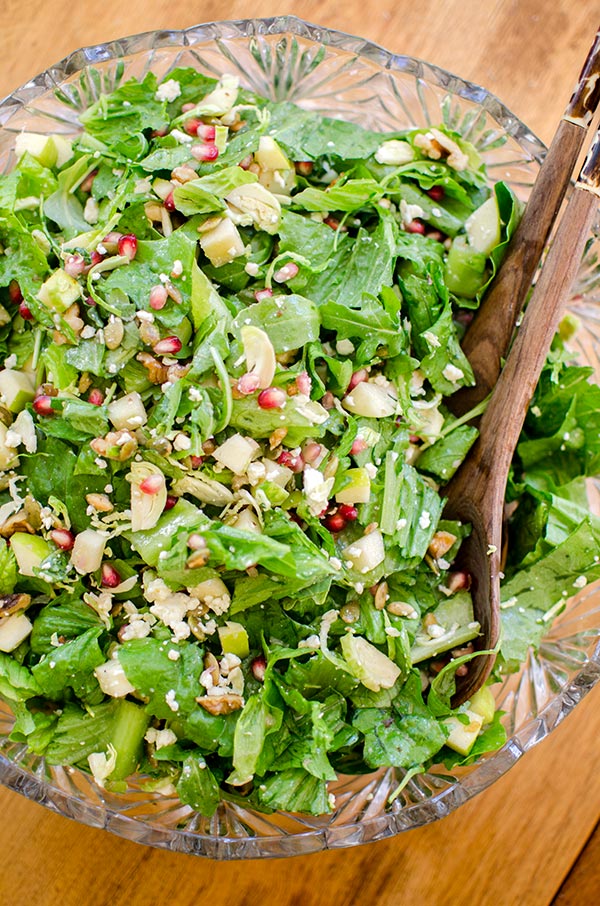 I am so not ready for Thanksgiving, I literally cannot believe that it is this weekend. It just feels so early! I think it's because the weather has been insanely warm, and also the fact that I haven't really had a moment or two to breathe and actually think about Thanksgiving. I do not like this.
Thanksgiving is without a doubt my favourite holiday and I feel like it's just going to be over before it even starts! Last year, I even dedicated an entire week to Thanksgiving with three Thanksgiving-themed recipes: my slow cooker turkey breast, layered pumpkin-pecan pie (which will blow your mind), and my sourdough Thanksgiving stuffing (which you are absolutely l-o-v-i-n-g this year).
I feel like I haven't prepared much at all, and am seriously lacking in new Thanksgiving recipes. I'm sorry! I have a few more up my sleeve that I'll share closer to American Thanksgiving, but for now, I figured there was a void in your life for a fancier Thanksgiving salad. I actually think this may be the only underserved Thanksgiving recipe market, you know?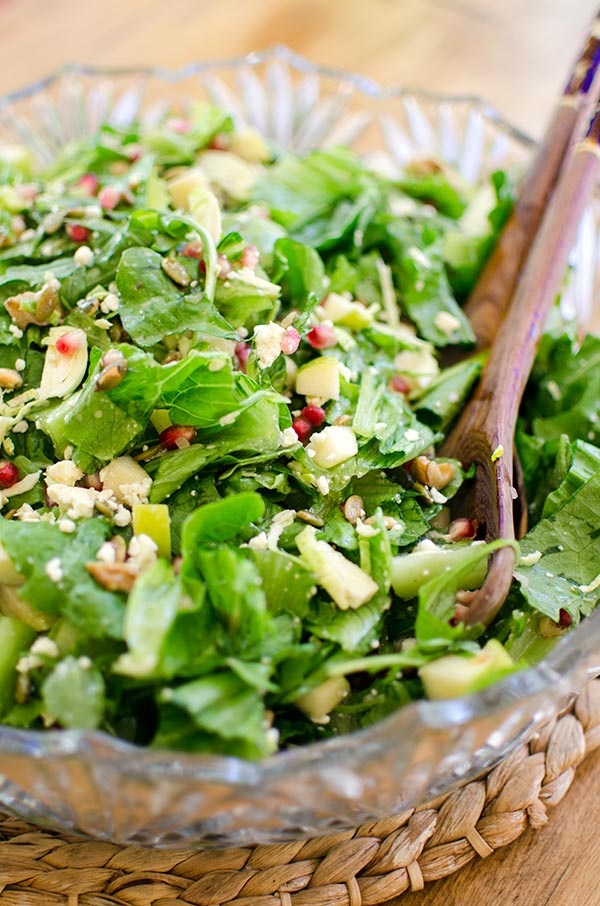 This is the salad for those times when someone says to you "Oh, just bring a salad." and you're like, oh great, just a salad. What does that even mean? Why does a salad always have to be qualified with a "just"? What if I don't want to just bring any old salad? I actually think bringing a salad for Thanksgiving is super important (clearly, this is something I have actually put a lot of thought into).
You can't just bring a bagged salad to Thanksgiving dinner, so today, I've got the answer to your prayers, a Thanksgiving chopped salad. This is a fancier salad made with romaine, arugula and brussels sprouts (because does Thanksgiving even exist without B. sprouts?), green apple, pomegranate seeds, toasted walnuts, pepitas and feta, with an incredible maple-shallot vinaigrette.
A few more Thanksgiving recipes to get you started:
Roasted spiced acorn squash soup
This isn't a revolutionary salad, but it's something that you will, without a doubt, be proud to serve to your family and friends this holiday season (because this Thanksgiving chopped salad can also be *gasp* served at Christmas!).
This salad is a little bit different from your typical fall salads because there is no butternut squash or roasted vegetables in this recipe because I wanted it to be more of a fresh salad that won't be competing with the other side dishes come dinner time. If you wanted, you could definitely toss in some roasted delicata squash or cauliflower for something extra.
Louisa Clements
Yields 6-8 servings
Thanksgiving chopped salad
30 minPrep Time
30 minTotal Time
Ingredients
For salad:

1 head romaine lettuce, chopped
½ 142g pkg. of arugula, about 2 ½ cups
2 cups shredded brussels sprouts
1 Granny Smith apple, diced
1 pomegranate, seeds only
½ cup toasted walnuts
⅓ cup crumbled feta
¼ cup pepitas

For dressing:

¼ cup olive oil
1 tbsp maple syrup
1 shallot, minced
2 tsp apple cider vinegar
1 tsp lemon juice
1 tsp DIjon mustard
½ tsp salt
Instructions
In an extra large bowl, whisk together ingredients for dressing. Add salad ingredients and toss, serve immediately.
Nutrition
Nutrition Facts
Amount Per Serving

Calories

193

% Daily Value*



Total Fat:

15 g

23.08%

Saturated Fat:

3 g

15%

Cholesterol:

0 mg

0%

Sodium:

1367 mg

56.96%

Potassium:

185 mg

5.29%

Total Carbohydrate:

7 g

%

Sugar:

1 g

Protein:

11 g

Vitamin A:

57.06%

Calcium:

107 mg

10.7%

Iron:

3 mg

16.67%
7.8.1.2
251
https://www.livinglou.com/thanksgiving-chopped-salad/
Let me know if you give this Thanksgiving chopped salad a try in the comments below.