Let your slow cooker do all the work with this flavourful recipe for balsamic jalapeno chicken legs. Loaded with the perfect balance of spicy and sweet this recipe will be a family favourite.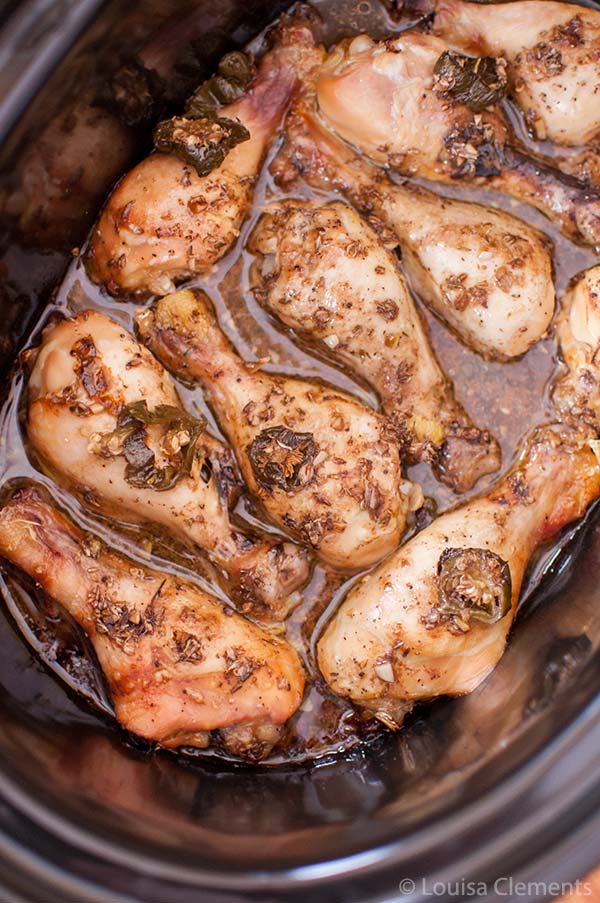 I'm really not kidding when I say that I love my slow cooker. I've been developing slow cooker recipes on here for years and they are some of my favourites and clearly, some of yours also. Without fail, my slow cooker recipes out-preform practically all of my other recipes on here, which is fine by me because they are so easy and packed with flavour. What I love about slow cookers is that when it comes to following a recipe, it's usually safe to assume that if it's a good one, things will go according to plan. And if you can rely on one thing in this unpredictable life thing we're all doing, it's knowing that with 10 minutes of prep in the morning you can come home to dinner that's ready to go, I'm in. And when I say ready to go, I mean that once these chicken legs are finished cooking, you can literally stand over your kitchen counter and eat them right out of the slow cooker. Which I may or may have not done on a few occasions.
I've typically used chicken breasts in my slow cooker recipes before, they lend themselves well to any sort of shredded chicken, but for this jalapeno-infused recipe, I wanted to change things up and opted for drumsticks instead. They are juicy, fun to eat and often, much more budget friendly than other cuts of chicken. That said, I may be a bit biased since I am already quite a fan of drumsticks, I have a slow cooker recipe for chicken legs with sun-dried tomatoes.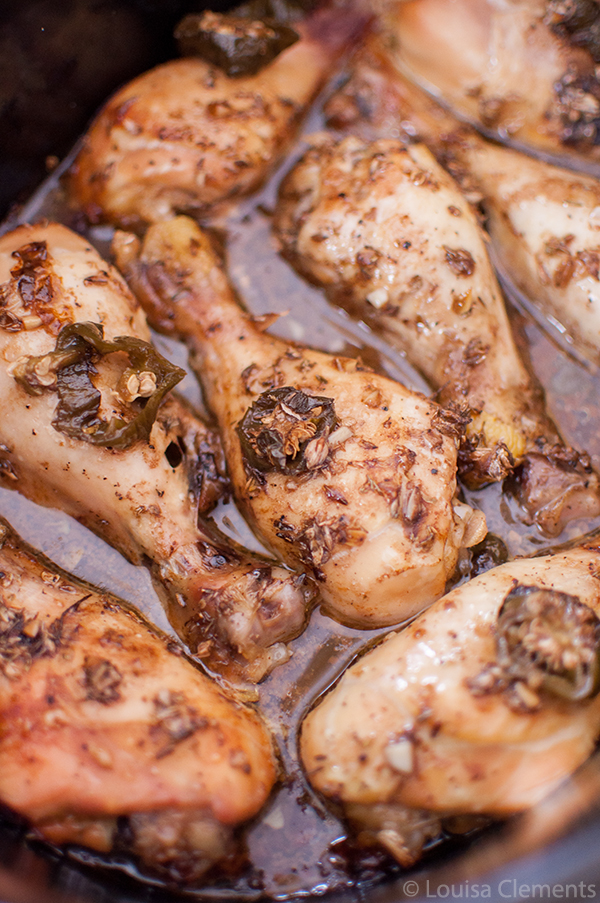 Something I find frustrating about some slow cooker recipes is that they require quite a bit of prep before you can actually turn on your slow cooker and walk away. Which is fine, I'm definitely guilty of developing some more complicated recipes for this appliance (yes, as annoying as it can be to brown meat before adding it, I guarantee it adds more flavour). For this recipe though, I just wanted a few simple ingredients you could throw in, walk away and come home to dinner that is ready to go. Basically, easy recipes like this one is the reason I went out and bought a slow cooker in the first place.
The flavour combination found in this recipe was inspired by a roast chicken my Dad has perfected over the years. I have to give him credit for this genius balsamic and jalapeño combination we have going on here. Jalapeños are a more mild chile, which works perfectly to give these drumsticks just enough of a kick and the sweetness from the balsamic really balances the kick from the jalapeños. I opted to leave the seeds and membrane in the jalapeños, but if you like your spices on more of a milder side, you can definitely remove the seeds and membrane before adding to the dish. Since the chicken cooks in its own juices and a little chicken broth or water, this cooking liquid creates the most delicious saucy, gravy imaginable.
I like to  serve these balsamic jalapeño chicken legs with some rice or quinoa and a vegetable, like broccoli. The final step is drizzling the sauce over everything and you've got yourself the easiest weeknight supper you can dream of.
Slow cooker jalapeño chicken legs recipe breakdown
Just toss all of the ingredients in the slow cooker and come home to a delicious meal that is ready to go. Flavoured with jalapeños and balsamic, these slightly spicy and sweet slow cooker jalapeño chicken legs will become a family favourite. Leave out the seeds and membranes from the jalapeño for a milder dish.
Quick Video Tip
Watch the video below for a quick tip for reducing excess liquid in the slow cooker:
Slow Cooker Balsamic Jalapeno Chicken Legs
Pin
Print
Ingredients
10

skin-on chicken legs

1

jalapeno pepper

,

sliced

2

cloves

garlic

,

crushed

2

tbsp

olive oil

1

tbsp

balsamic vinegar

1 ½

tsp

dried thyme

1

tsp

Dijon mustard

1

tsp

honey

½

tsp

salt

¼

cup

water or chicken broth
Instructions
Arrange chicken legs in 1 layer in a slow cooker.

Whisk together jalapeno, garlic, olive oil, vinegar, thyme, mustard, honey and salt.

Pour balsamic mixture overtop of chicken legs.

Add ¼ cup of water or chicken broth.

Cook on high for 4 hours.
Notes
Reserve liquid from slow cooker to use as a gravy
Recipe by Louisa Clements
Did you try this recipe?
Leave a comment + rating and let me know what you think!