A house salad is the perfect fresh way to start your meal. Loaded with crisp vegetables and served with your favorite dressing (balsamic is our go-to salad dressing) having this recipe in your back pocket means you can whip up an easy salad in no time.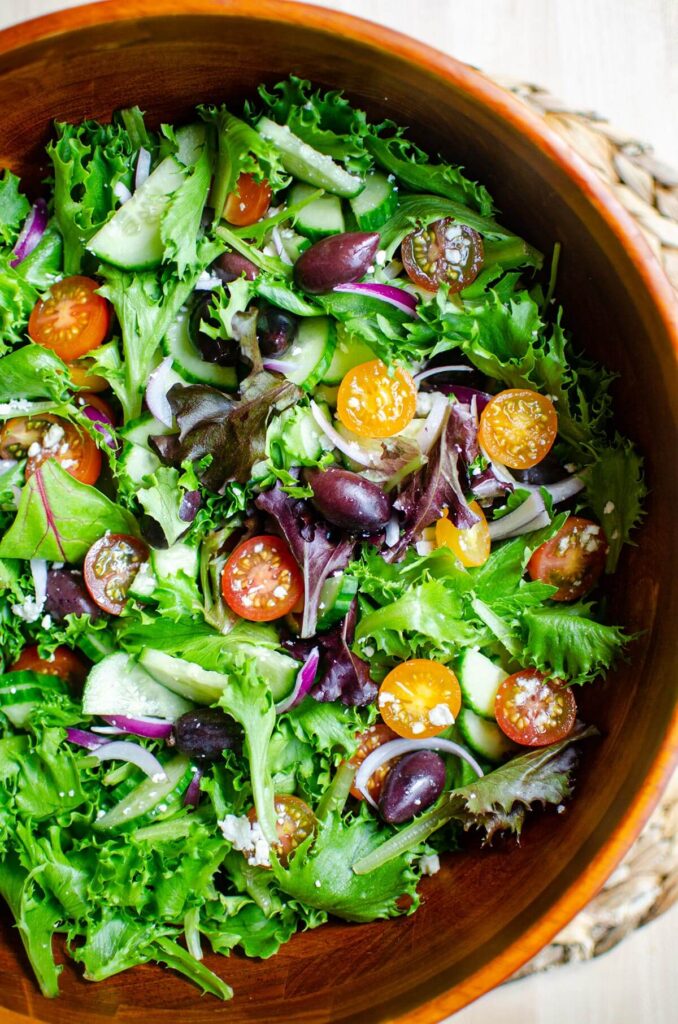 Growing up, every meal was always served with a salad on the side. This is something that I've tried to emulate in my own home and we call it our "house salad"–like a restaurant would. It just makes it more fun, don't you think?
Plus once you know generally what you like in a salad, it's so easy to come up with a ton of basic salad variations so you can change up your house salad from time to time.
Why this recipe works
The trick with a house salad recipe is that you don't want it to have tons of ingredients (save those for when the entire meal is a salad like kale, white bean and tuna salad or pasta salad with lemon herb vinaigrette)!
Start with a simple base and add about five other ingredients you always have in your fridge, or base the ingredients on what is in-season.
Ingredients you'll need
The goal with any salad is the balace flavors. Aim to include sweet, salty, tangy and bitter ingredients to hit a well-rounded flavor profile.
It all starts with a base of greens and one of the easiest ways to make a salad is to grab a clamshell of spring mix for an easy green salad.
For the vegetables, I like a combination of veggie that add crunch, sweetness and a little bit of a bite. Cucumber, cherry tomatoes and red onion are always in my house salads.
For something tangy and salty I like to add Kalamata olives and feta cheese.
For the dressing, I always have a batch of balsamic vinaigrette, white balsamic vinaigrette or apple cider vinegar dressing on hand so I tend to alternate between these on a weekly basis.
Salad variations
Depending on the season and what's on sale, you can always change up the base of greens. I like to switch between spring mix, arugula or baby spinach.
Like the salad greens, it's fun to swap up the vegetables. Try adding bell peppers or shredded carrots.
You can also add fruits for a little bit of a different take, sliced apples or pears are great in the fall and fresh berries add a burst of freshness in the summer.
Nuts are also a great addition for crunch to a salad, toasted walnuts, pecans or almonds are all great options.
You can also try different types of cheese, shards of Parmesan, crumbled goat cheese or crumbled blue cheese all add tang and a savory bite to the salad.
Expert tips
For a simple dressing, use oil and vinegar. Look, I don't always feel like whipping up a salad dressing, but you can always simply drizzle on some good quality olive oil and vinegar of your choice (balsamic, white wine vinegar or red wine vinegar).
Dress your salad just before serving. This stops your salad from becoming soggy. Just before serving, toss the ingredients with the dressing thoroughly (be careful not to over-dress, this can also lead to a soggy salad!). The general rule is to make sure every ingredient is coated evenly.
Make sure to wash and dry your salad greens. Wet and soggy lettuce won't be able to hold any of the dressing. I like to use a salad spinner to dry the greens quickly.
More salad ideas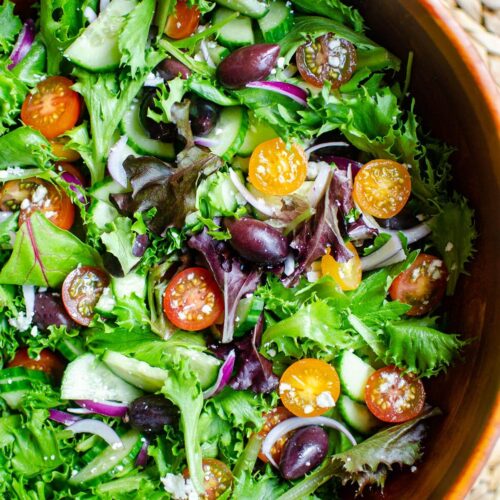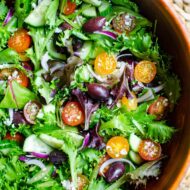 House Salad
The house salad is a refreshing and delicious choice to kickstart your meal. Packed with crunchy vegetables and paired with your preferred dressing (my personal favorite is balsamic), having this recipe handy means you can effortlessly create a delicious salad in ten minutes.
Pin
Print
Ingredients
1

package spring mix about 5 oz

1

cup

cherry tomatoes

,

halved

½

cucumber

,

sliced into half moons

⅓

cup

thinly sliced red onions

⅓

cup

kalamata olives

⅓

cup

crumbled feta
For the balsamic dressing:
1

tbsp

balsamic vinegar

¼

tsp

Dijon mustard

¼

tsp

honey

pinch

salt and pepper

2

tbsp

olive oil
Instructions
In a small bowl or jar, whisk together vinegar, Dijon mustard, honey, salt and pepper.

Next, while continuously whisking, pour in olive oil in a light, steady stream. Continue to whisk until the olive oil is incorporated into vinegar and the dressing has thickened about 30 seconds.

Toss all of the salad ingredients together, drizzle with dressing, and toss again. Serve immediately.
Notes
For a quick and effortless dressing, you can't go wrong with a drizzle of oil and vinegar. Just toss your salad in some high-quality olive oil and your preferred vinegar (such as balsamic, white wine vinegar, or red wine vinegar). 
Did you try this recipe?
Leave a comment + rating and let me know what you think!