Kale white bean salad with tuna makes for a delicious lunch with a homemade creamy tahini dressing. This recipe was update in 2020 and originally posted on August 15, 2013.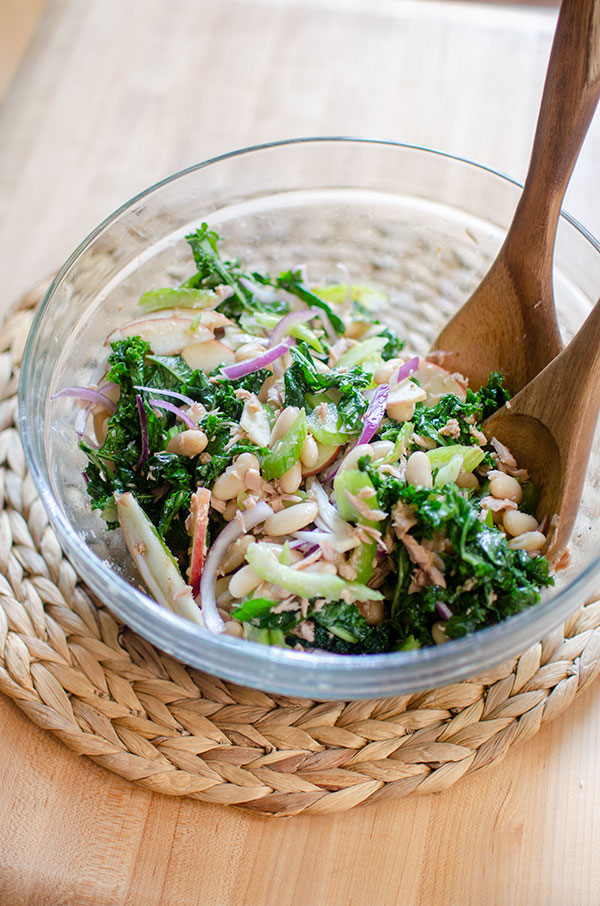 When I create salad recipes, I want them to be hearty and sturdy. Something that's more of a meal or a lunch than a side dish. That's exactly what this kale white bean salad is. 
My inspiration for this salad comes from a classic tuna salad sandwich–minus the mayo. I've got my favourite tuna salad components; some celery for crunch an apples for sweetness and more crunch. What makes this a salad comes from the white beans and kale. 
To balance out the salad and add a bit of creaminess I opt for a simple tahini dressing here. Tahini is sesame paste and could easily be swapped for peanut butter or almond butter, if you don't have tahini on hand.
How to balance the bitterness in tahini dressing
Tahini tends to be a little bit bitter, so I use maple syrup as the sweetener in this recipe to add rich, sweet caramel notes to the dressing. Though this salad would be equally good with a simple white balsamic vinaigrette.
Generally speaking, balancing tahini with acidity (either citrus or vinegar) and a sweetener (honey, maple syrup or sugar) is the simplest way to counter some of the bitter notes.  
Tahini is an ingredient that is a staple in North African, Middle Eastern and Mediterranean cuisines.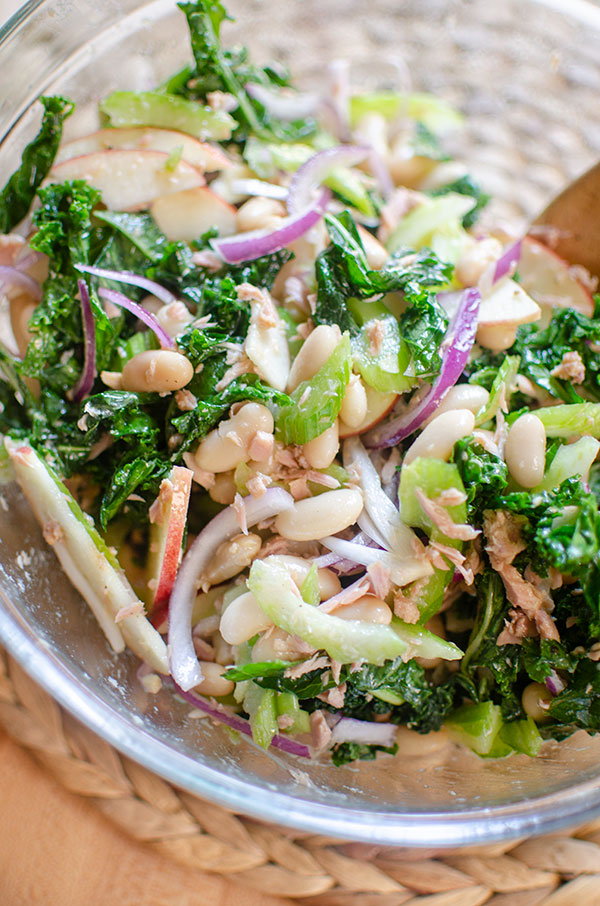 The trick to making a homemade kale salad taste as good as the ones you get in restaurants? Massage your kale! I know, it sounds crazy, but hear me out. It's an important step to kale salad success. 
Why do I need to massage kale? 
Massaging kale helps break down the cell structure and gives kale a softer texture so it will be tender to eat and not as chewy. Once you've removed the stems, hit the kale with a bit of lemon juice (or vinegar) and a pinch of salt and start to crunch the leaves in your hands. 
Be careful not to over-massage as you don't want to end up with mushy kale. Once it starts to soften and turn a darker green colour, it's done. Bon Appetit's Basically has a good explanation about how to massage kale properly.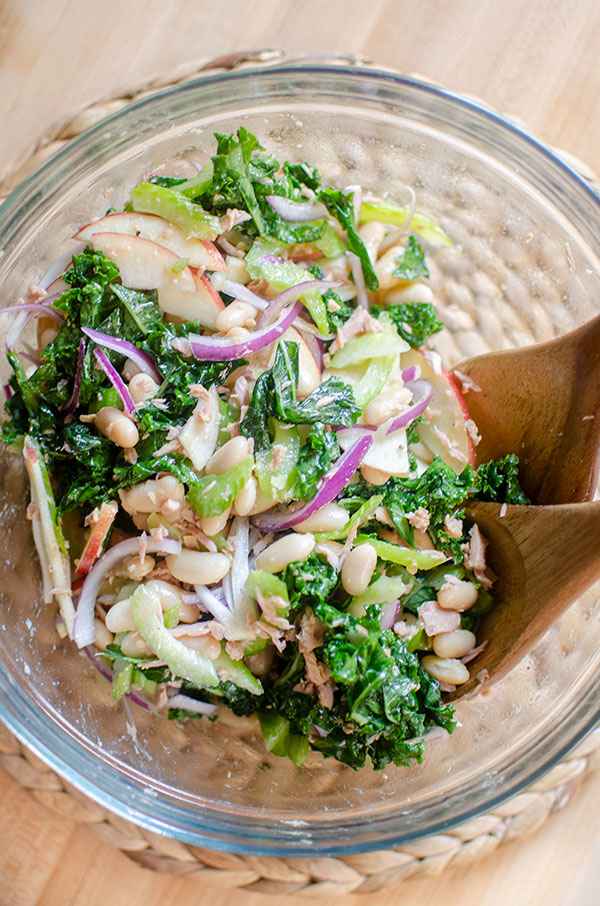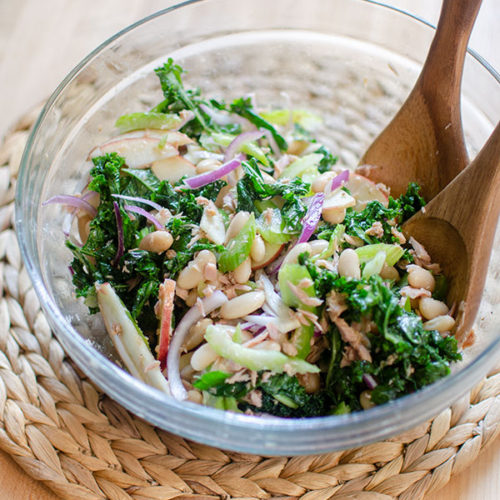 Kale White Bean Salad with Tuna
Kale white bean salad with tuna is a fresh and vibrant salad with apple, celery and a simple, creamy tahini dressing.
Pin
Print
Ingredients
6

cups

chopped kale

1

tbsp

lemon juice

¼

tsp

salt

19

oz

can white beans

,

drained and rinsed

7

oz

can of tuna

,

packed in oil

2

ribs of

celery

,

thinly sliced

1

small apple

,

thinly sliced

¼

red onion

,

thinly sliced
For tahini dressing
2

tbsp

tahini

2

tbsp

lemon juice

1

clove garlic

,

grated

2

tsp

maple syrup

⅛

tsp

salt

1

tbsp

olive oil
Instructions
In a large bowl, toss kale with 1 tbsp of lemon juice and ¼ tsp of salt. Massage kale with your hands, crunching between your fingers until kale becomes darker green and tender, about 1-2 minutes.

Toss massaged kale with white beans, tuna (and its oil), celery, apple and red onion.

In a small bowl or measuring cup, whisk tahini with lemon juice, garlic, maple syrup, and salt, mixture should look creamy but not smooth. In a steady stream while whisking, pour in olive oil. Continue whisking until dressing looks smooth and shiny and has emulsified.

Pour dressing over salad; begin by pouring half the dressing, then toss–you may not need all of the dressing.
Did you try this recipe?
Leave a comment + rating and let me know what you think!
Let me know if you give this kale white bean salad recipe a try in the comments below.