Raspberry overnight oats are the perfect breakfast to make in the summer for a simple and easy breakfast on the go.
Breakfast is the hardest meal, in my opinion. I'm never hungry before I head off to work, but find myself getting hungry around 9:30/10ish. Which means any kind of warm breakfast is out of the question (other than oatmeal, which I love in the winter). Overnight oats become my jam in the summer. It's something you can prep the night before and grab out of the fridge as you run to the office after realizing you have a 9am meeting and are cutting it pretty close.
No problem, because you're prepared! Both for breakfast and for the meeting.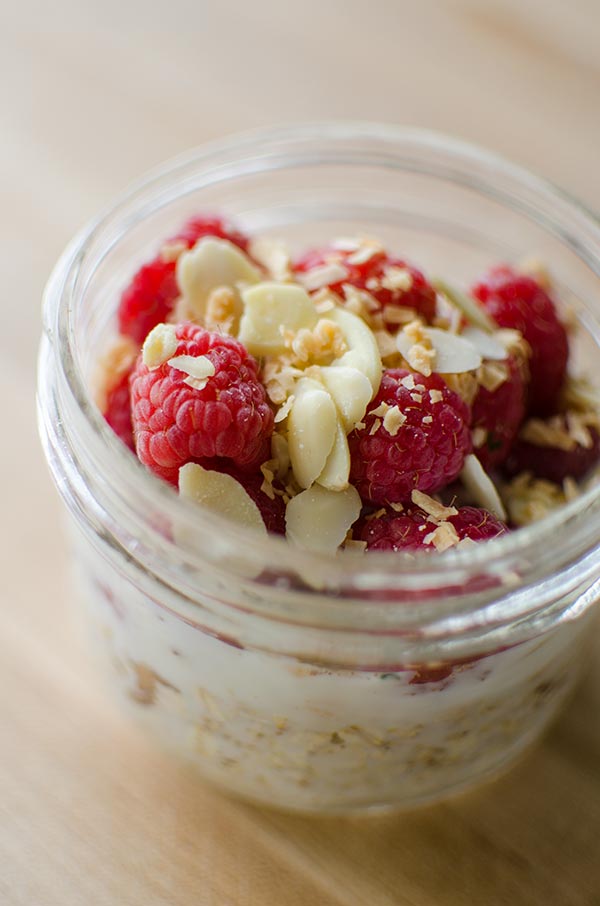 For this breakfast recipe, I'm using raspberries because they are my favourite berry (if blueberries are your favourite, blueberry overnight oats are for you), with toasted almonds and peanut butter for extra protein, toasted coconut and cinnamon for sweetness (I get toasted coconut in the bulk bins at my local grocery store, I am definitely not toasting coconut to make a simple grab-and-go breakfast). It's kind of the perfect combination, and it doesn't require a lot of work or effort and it's totally worth the payoff.
To be honest, my overnight oats don't look anything like this picture by the time I'm eating them. You want to mix everything around so all the flavours get distributed and your raspberries start to break down a bit (this is the flavour bomb).
Are overnight oats revolutionary? By all means, no! But are they good? Yes. I actually think this dish is kind of genius and I'm a little embarrassed by how long it's taken me to realize this.
Raspberry Overnight Oats
Raspberry overnight oats are the perfect breakfast to make in the summer for a simple and easy breakfast on the go.
Ingredients
1/2

cup

whole oats

1/2

cup

raspberries

1

cup

milk

1

tbsp

creamy peanut butter

1

tbsp

chopped almonds

1

tbsp

toasted coconut

1/4

tsp

cinnamon

1/8

tsp

vanilla extract
Instructions
In a jar, combine all ingredients. Cover and refrigerate overnight.
Nutrition Facts
Raspberry Overnight Oats
Amount Per Serving
Calories 490
Calories from Fat 216
% Daily Value*
Fat 24g37%
Cholesterol 19mg6%
Sodium 189mg8%
Potassium 742mg21%
Carbohydrates 53g18%
Protein 20g40%
Vitamin A 241IU5%
Vitamin C 16mg19%
Calcium 346mg35%
Iron 3mg17%
* Percent Daily Values are based on a 2000 calorie diet. Nutrition information is an estimate and is provided for informational purposes only. If you have any specific dietary concerns, please consult with your healthcare practitioner.
Let me know if you give these raspberry overnight oats a try in the comments below.