Change the breakfast game with this healthy recipe for blueberry overnight oats that is vegan and can be made the night before for a quick grab-and-go breakfast.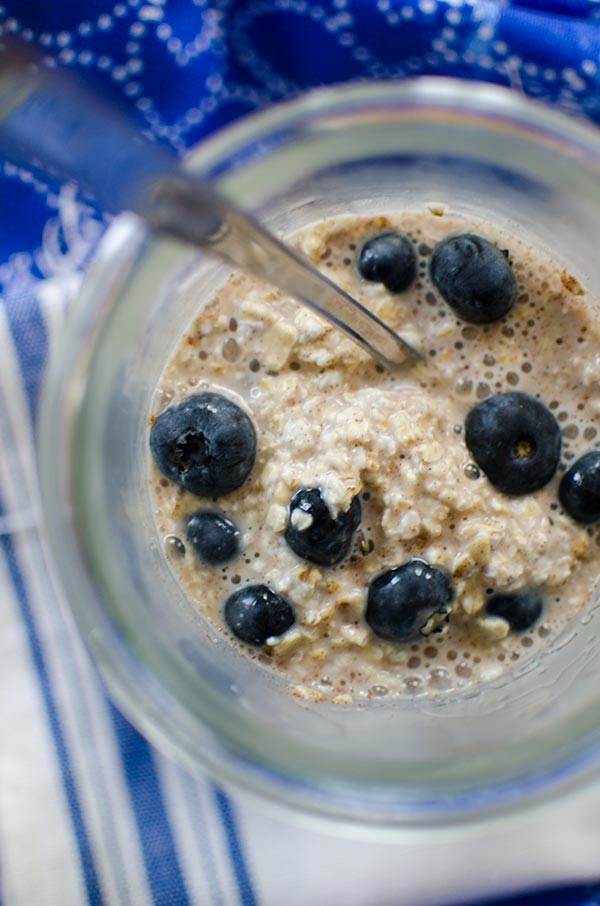 I am so bad at eating breakfast. I eat breakfast maybe once a week (if I'm lucky), but most of the time, it's just a big, steaming cup of black coffee. Sure, weekends have decadent chocolate chip pancakes, but my everyday life does not usually include breakfast. My everyday life is also a lot less glamorous and isn't filled with quite as many Instagram-worthy meals as you would think. But that's real life, as much as everyone's Instagram may portray lives that are filled with perfectly packaged (read: curated) moments, we all know that life isn't exactly made up of filtered, shareable moments.
Yes there are definitely some magical laugh-until-you-cry, smile-so-big-your-cheeks-hurt moments, I think there are more things that happen that just make you pause and think 'wait, did that really just happen?'. Also, sometimes I just like to sit on my couch and watch five episodes of UnREAL while eating not-so-healthy microwave popcorn – which is not Instagram-worthy at all.
Anyway, I can't really remember where I was going with all of that, but let's just say that my days start pretty early, usually between 5 and 5:30am – not by choice. And these early mornings do not include Instagram coffee photo-ops (of which I actually love) because I'm not one of those over-achievers who wakes up at 5am to "seize the day".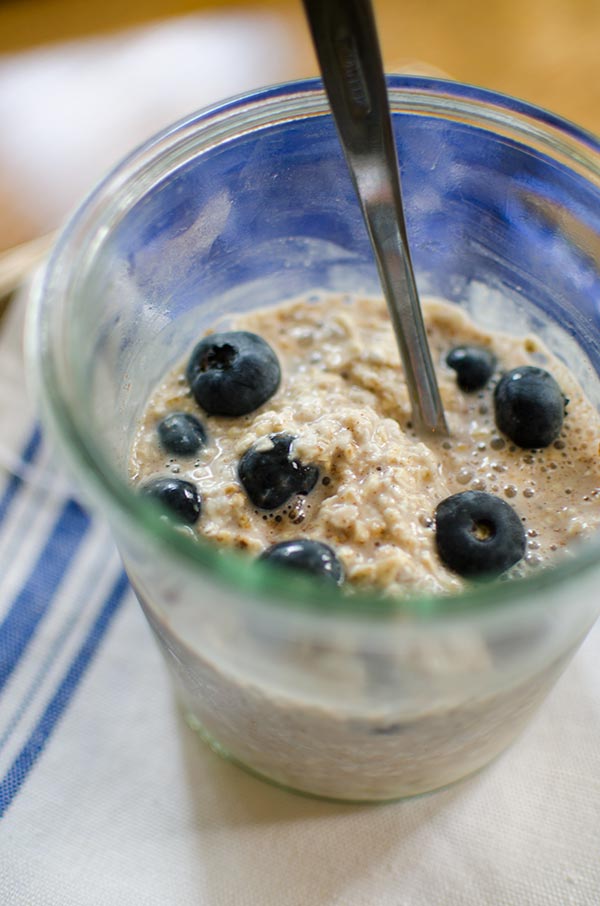 Most days I start work between 6:30 and 7am. So, I'm sure you can understand why I'll gladly take a couple extra hours of sleep when I can, thank you very much. But, this recipe for blueberry overnight oats has kind of changed the breakfast game for me.  I still don't tend to eat these overnight oats right when I wake up, but I'll bring this to work with me for breakfast, and stash it in the fridge until I'm hungry.
So what's the premise behind overnight oats? Basically, you combine the ingredients in the fridge and leave them overnight. The oats become creamy and all the flavours blend together for a satisfying, quick and healthy breakfast. I like to use blueberries in this recipes because a) they are in season and b) they hold up well in the fridge overnight (read: they don't become soggy or mushy). I also don't like to add any sugar to this recipe and instead I like using natural flavour enhancers instead like cinnamon (which is inherently sweet) and pure vanilla extract.

Blueberry overnight oats
Ingredients
1/3

cup

whole oats

1/3

cup

blueberries

3/4

cup

almond milk

1-2

tbsp

chopped nuts

,

almonds, walnuts etc.

1/4

tsp

cinnamon

1/8

tsp

vanilla extract
Instructions
In a jar, combine all ingredients. Cover and refrigerate overnight.
Let me know if you give these blueberry overnight oats a try in the comments below!