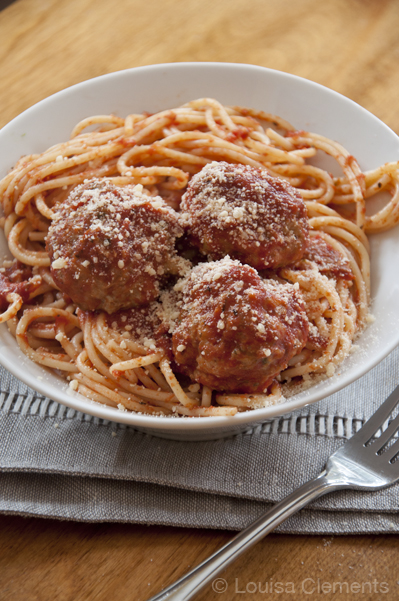 I know, calling this recipe World's Best Meatballs is a huge statement. But guys, these are actually the absolute best. And I mean that for a couple of reasons. Now, I know that all the "best cookies EVER", "ultimate green smoothie" and the like are pretty big, sweeping statements, especially in this internet ether where Google search is literally littered with things that are apparently the "best" or the "only" recipe you'll ever need. And I do try to stay away from using those words in my titles because once they are over-used, they kind of lose their meaning. Don't you think? Well, I just had to use "world's best meatballs" as my title here because these meatballs are just that, the world's best. And whip up my simple tomato sauce and you've got yourself a delicious dinner.
I think the reason these meatballs are so good is the addition of a little sausage meat. The fat in the sausage adds a ton of flavour. Or maybe it's the Italian spices or Parmesan cheese, or a combination of these three things. But whatever it is, it just works. The first time I made these meatballs was during my final year of high school, I had a double free-period every other day in the afternoon and I would do a lot of cooking during this time (I was meant to be doing homework or studying…oh well). It was during one of those free periods where I whipped up a batch of these world's best meatballs right before I played a soccer game. My friend Claire came over before and we ate, probably 5 or 6 of these giant meatballs on our way to the game. Needless to say, we were a little slower than usual.
Let's talk comfort food for a minute because to me, spaghetti and meatballs is probably my favourite comfort food, and I could definitely go for a little comfort right now. I'm in a bit of a rut right now. Maybe it's because it's mid March and it. is. still. snowing. Or maybe it's because I'm less than a month away from my twentieth birthday, which is a scary thought. Maybe it's because since January I have been burning the candle from both ends. Or maybe it's because I have five finals and seven assignments due within the next three weeks. If this was a multiple choice question, the answer would be D. All of the above. So how does one get themselves out of said rut? I've been trying to spend more time doing things I love, like watching 2 hours of Dance Moms. I've also been trying to get back into the kitchen, my happy place. The past couple of months have been a little slow and my oven is feeling a little lonely. These meatballs are the kind of dish that will get you excited to get into the kitchen because they are so delicious – you'll never go back to your old meatball recipe again!
Yields 24 med/large meatballs

World's Best Meatballs is a pretty big statement, but these really are the best in the world!

30 minCook Time

5 based on 2 review(s)

Ingredients
1 lb ground turkey
1 lb hot Italian sausage meat
1 egg
¼ cup flour (can easily substitute a gluten free flour here - I've used rice flour before.)
¼ cup chopped fresh parsley
2 tbsp milk
2 tbsp Parmesan cheese
2 cloves garlic, crushed
½ tsp dried oregano
½ tsp dried basil
½ tsp black pepper
½ tsp salt
Instructions
Preheat oven to 375 degrees and lightly grease a baking dish with olive oil.
In a large bowl, combine all ingredients. I like to use my hands for this, it's easier than with a spoon. Shape into 24 meatballs and place on the baking sheet.
Bake in the oven for 25-30 minutes or until fully cooked.
Notes

Recipe by Louisa Clements To make gluten free, sub flour for rice flour.

7.8.1.2

23

https://www.livinglou.com/worlds-best-meatballs/
To make a quick, easy and delicious weeknight dinner, I like to serve my World's Best Meatballs meatballs with spaghetti sauce.