Make a restaurant worthy homemade marinara sauce in just twenty minutes with passata, tomato paste, onion, garlic and basil.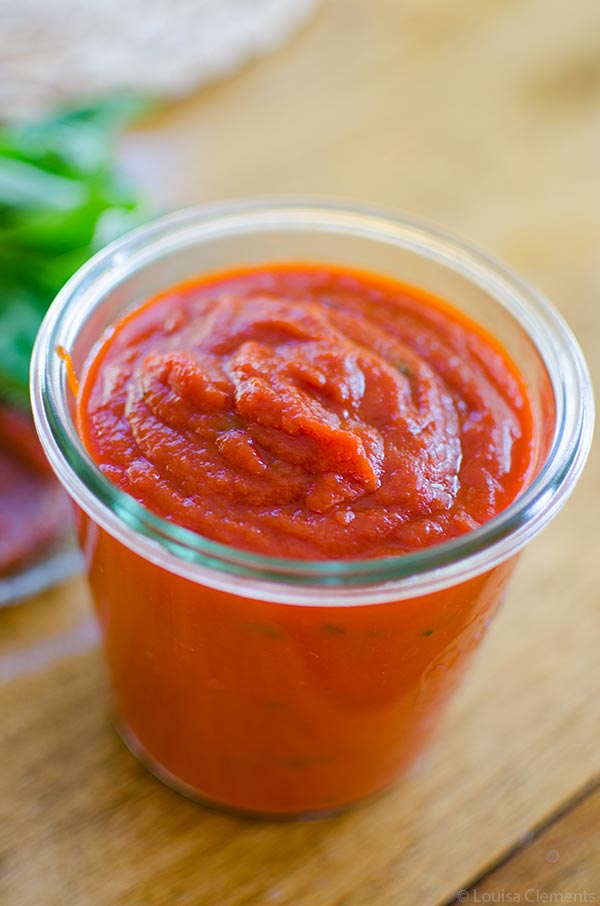 I've been on the hunt for the ultimate homemade marinara sauce recipe forever. There are so many recipes out there that call for jars of store-bought marinara sauce and that's just not something I'm interested in buying. I wanted to perfect a homemade version of marinara sauce similar to the way I perfected my recipe for homemade pizza sauce. Now, marinara sauce seems like such a simple sauce, but seeing as I'm not Italian, I never had an Italian grandmother to show me the ropes for making the perfect pasta sauce.
This recipe has been years in the making and along the way, I've learned that there are a couple of important elements to making the perfect marinara sauce. The first secret has to do with the depth of flavour. I use a combination of tomato paste and passata to get a rich tomato flavour for this sauce.
Not sure what passata is? Passata is a tomato puree made of strained tomatoes and nothing else, it's typically used in Italian and European cooking. There are a couple of reasons why I love passata, first of all it has an intense and clean tomato flavour and secondly, it comes in tall glass jars, which means you don't get the "tinny" aftertaste that is often found in canned tomato products.
I also really enjoy the consistency as it's slightly lighter than crushed tomatoes. The passata and tomato paste are simmered for twenty minutes to give this sauce an intense tomato flavour.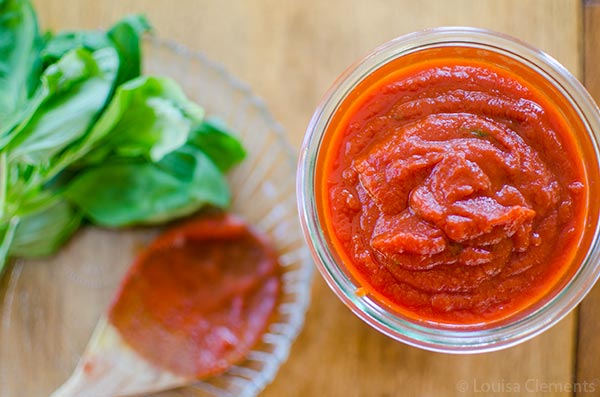 The next secret to the perfect homemade marinara sauce comes from the balance of acidity and sweetness. Tomatoes are inherently acidic which means that they require sugar and salt to create balance. I find that marinara sauce needs to be a slightly sweeter than your typical tomato sauce, and I stir my sugar in at the end of the cooking process and taste and adjust as necessary.
Finally the flavour agents for this sauce are simple; onion and garlic. But not in the way they are typically prepared for tomato sauce, I was inspired by Marcella Hazan's method for tomato sauce where she simmers a halved onion in her sauce then discards it at the end. This allows the onion to impart subtle flavour into the sauce without it altering the texture or flavour the same way a finely chopped or diced onion would.
My recipe uses an onion which has been halved a few smashed garlic cloves which add flavour during the 20 minute simmering process but are discarded before serving. Not only does it add taste to the sauce, but it keeps prep minimal because all the prep that is required for this sauce is to halve an onion and smash and peel three garlic cloves.
The final secret that I will share with you today is to stir in fresh basil. Basil is a more delicate herb which means it should be stirred in at the end of the cooking process. In my house all of our pasta sauces were made with dried herbs because dried thyme and oregano are sturdier herbs that lend themselves to the long simmer of a bolognese sauce.
However, I've been doing lots of reading on herbs (I wrote a post for Chatelaine about when to use dried vs. fresh herbs) and figured out that the missing element to my homemade marinara sauce was fresh basil. It adds just enough flavour to brighten the sauce.
This recipe makes 2 cups of sauce, but it can easily be doubled to make more.
Louisa Clements
Yields 2
20 Minute Homemade Marinara Sauce
20 minCook Time
20 minTotal Time
5 based on 1 review(s)
Ingredients
1 tbsp olive oil
2 tbsp tomato paste
1 680-mL/23 oz bottle of passata
1 onion, halved and peeled
3 cloves garlic, smashed and peeled
1/2 tsp salt
1 tsp sugar
1 tbsp finely chopped fresh basil
Instructions
Heat a medium pot over medium-high heat. Add olive oil and tomato paste, stir and cook for 1 minute. Add passata, onion, garlic and salt. Bring to a boil, reduce heat and simmer, partially covered for 20 minutes, stirring occasionally.
Discard onion and garlic. Stir in sugar and basil
7.8.1.2
219
https://www.livinglou.com/20-minute-homemade-marinara-sauce/
Give my homemade marinara sauce a try and let me know what you think in the comments below.