Make slow cooker brown rice chicken congee for the perfect comfort food this winter, loaded with fresh ginger and cooked in broth, water and soy sauce. This post contains affiliate links.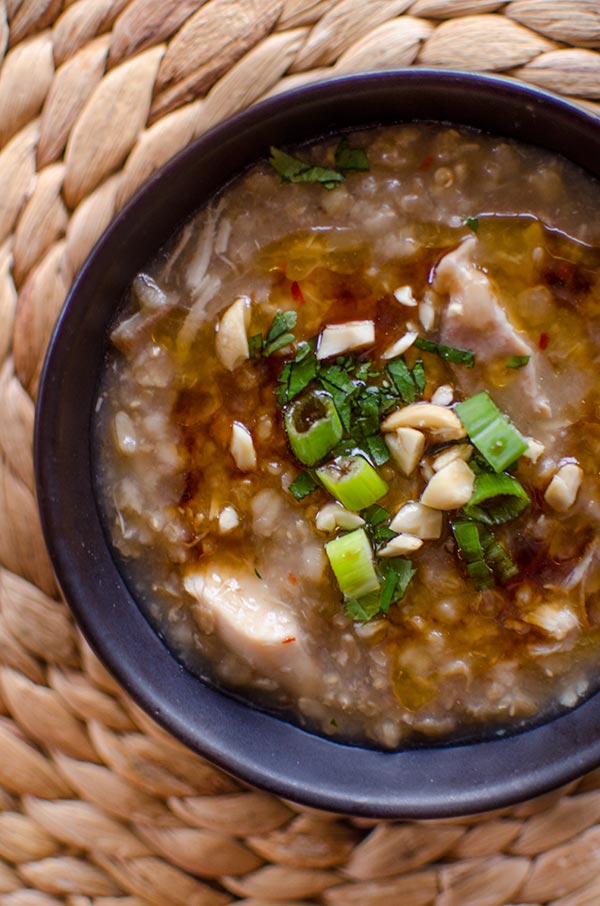 I'm so excited to share this slow cooker congee recipe because in the past couple of years, I've fallen completely in love with congee. Especially as our winters have been extremely cold with all of this polar vortex nonsense.
With cold weather comes comfort food, and while I grew up eating chicken noodle soup, I'm always fascinated by the comfort foods enjoyed in other parts of the world. I especially love my ginger scallion soup at this time of year.
Congee is something that I didn't grow up eating, but there are different versions eaten all over the world. It's most popular in East Asian countries, but even Greece and Cyprus have their own (often very lemony) versions of congee.
What is congee?
In basic terms, congee is a savoury rice porridge. In Canada and the US we use oats for our porridge, in many Asian countries, rice is the grain of choice. The rice breaks and disintegrates into the liquid during a long cooking process. It's a dish that is often served when people are feeling sick.
The first time I tried it was a couple of years ago when a coworker of mine at Chatelaine made congee on a particularly cold day. Right away, I was in love. The savoury/salty combination is one of my favourites so this recipe is inspired by the dish my friend served me which was a ginger chicken congee.
It's a delicious savoury rice porridge that is created as rice disintegrates after prolonged cooking–sounds perfect for the slow cooker, don't you think? (p.s. I love my KitchenAid slow cooker and I've had it for over five years and is under $100).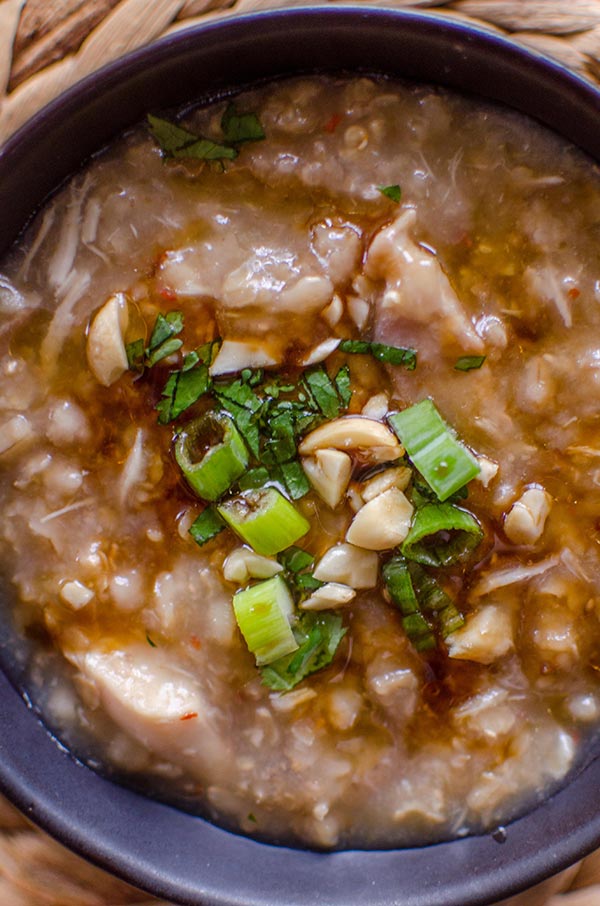 I've only had congee made with regular rice before, but I wanted to try and make a bit of a different version using brown rice for congee. Along with the brown rice, you add one chicken breast, a clove of garlic, tons of fresh ginger and hot pepper flakes to the liquid.
For cooking the rice I'm using a combination of chicken broth, water and soy sauce. I like to combine water with the chicken broth as if you're only using broth the final dish may end up a little on the salty side. Using water allows you to better control the salt element of your dish.
The toppings can be whatever you like, but I opt for salted peanuts, green onions, cilantro and a healthy dose of sesame oil.
What I love about this slow cooker recipe is that it is one of those 'set it and forget it' recipes that doesn't require any searing or sautéing ahead of time–everything cooks perfect in the slow cooker because this is the kind of dish that is meant to be "mushy".
Congee is also a dish that you can literally eat for any meal (breakfast, lunch or dinner)! If you want to make a vegetarian version, just leave out the chicken and swap the broth and you've got yourself the perfect vegetarian congee recipe.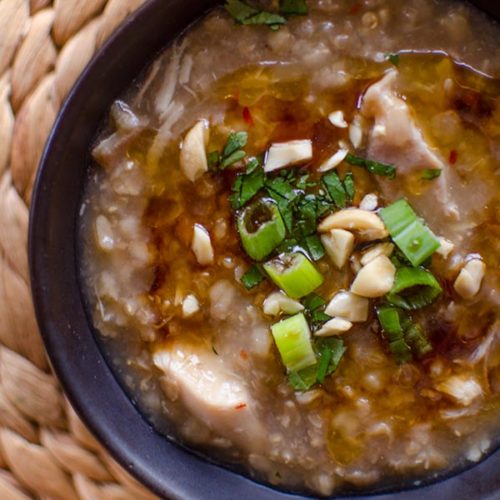 Slow Cooker Brown Rice Chicken Congee
Make slow cooker brown rice chicken congee for the perfect comfort food this winter, loaded with fresh ginger and cooked in broth, water and soy sauce.
Pin
Print
Ingredients
1

cup

brown rice

1

boneless, skinless chicken breast

,

bone-in is fine

4

cups

low-sodium chicken broth

3

cups

water

3

tbsp

soy sauce

2

tbsp

grated ginger

1

tsp

hot chili flakes

1

clove

garlic

,

peeled and smashed

¼

tsp

salt

2

tbsp

sesame oil

1

tbsp

lime juice
Toppings:
1

tbsp

additional sesame oil

2

sliced green onions

2

tbsp

chopped peanuts

2

tbsp

chopped cilantro
Instructions
Add brown rice, chicken breast, chicken broth, water, soy sauce, ginger, chili flakes, garlic and salt to slow cooker.

Cook on high for 4 hours or low for 8 hours.

Once done cooking, stir (add a little more water if needed), remove chicken, shred into pieces and add back to rice (discard bone). Stir in sesame oil and lime juice, serve with toppings.
Did you try this recipe?
Leave a comment + rating and let me know what you think!
Let me know if you give this slow cooker brown rice chicken congee a try in the comments below.