Packed with mushrooms, ginger and scallions this quick vegetarian and gluten-free spicy ginger scallion soup comes together in twenty minutes.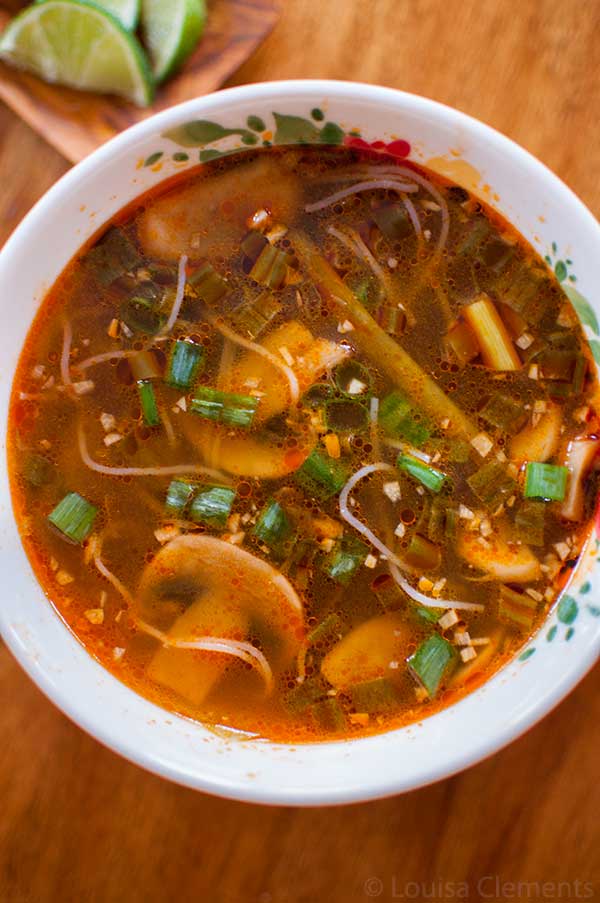 I've been craving a light, Asian soup for the past little while and developing and testing this ginger scallion soup has been a dream. You see, during the colder months, you can find me indulging on a bowl of pho on a weekly basis. We're so lucky here in Toronto because there are so many Vietnamese restaurants that I'm always able to fill my cravings. When I was getting started on this recipe, I did some research and found that most Asian-style soups usually require hundreds of ingredients and hours of simmering. Which makes sense because they are incredibly flavourful.
Of course, I wanted one that I could make after a long day which means it would be ready start to finish in about twenty minutes. I wanted a comforting dinner that doesn't have too many complicated and hard-to-find ingredients. Something that's spicy, and complex. So, as one does when one is a food blogger, I came up with this recipe for spicy ginger scallion soup. Now, it's definitely not pho, but it's a complex flavour profile and filled with rice noodles.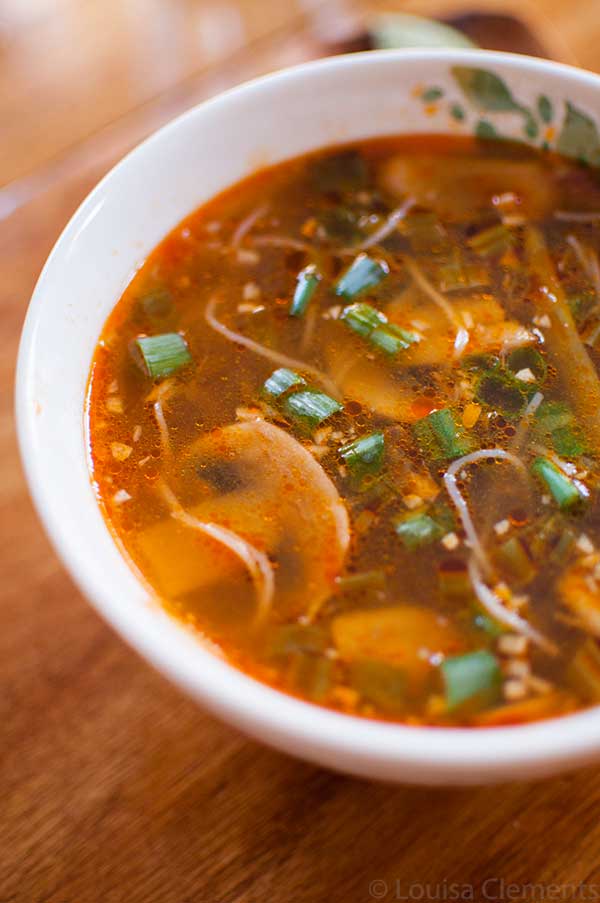 I should really be writing my thesis paper right now, but here I am. Seeking refuge in the "pages" of this space, as I often do, and have done over the past (almost) 5 years. I'm sipping on some too-hot, lemon ginger tea – which tastes just like NeoCitran. I feel like it's making me drowsy even though I know it really isn't.
I have a love-hate relationship with a lot of things, but right now, it's directed at this paper I'm writing. It's a beast. There are moments where I think "I've got this!" and then there are moments where I can't even imagine writing another word. I'm at the point where I'm just getting started on the complicated middle and can't quite see the way out yet. It gets worse before it gets better, right?
When I work on my paper, I need to have a large block of time to work on it. Four or five hours seems to be the magic number right now. Which seems insane because just a couple of months ago I couldn't concentrate on anything for more than twenty minutes. But between class, work and this space, finding those chunks of time is getting harder and harder. I almost wish I could just hide away up north for a week and write this paper. The distractions never end. And often it's recipe development and cooking that call my name. The goal this weekend is to really get a ton of writing done, and I'm hoping by putting that out there into the ether that I'll stick to it and be able to report back next week with another 8 or 10 pages written. I'll be fuelling my days with coffee (as always) and this quick and spicy scallion ginger soup.
Spicy scallion soup recipe breakdown
With a base of ginger, scallions and garlic this vegetarian, asian-style soup is packed with flavour. With hearty button mushrooms and gluten-free vermicelli rice noodles, this comforting soup comes together in 20 minutes.
Quick video tip
Watch my video below for a quick 45-second tip for the easiest way to peel ginger.
Spicy Ginger Scallion Soup
Packed with mushrooms, ginger and scallions this quick vegetarian and gluten-free spicy ginger scallion soup comes together in twenty minutes.
Pin
Print
Ingredients
2

tbsp

olive oil

1

bunch scallions

,

white and light green parts halved lengthwise, tops thinly sliced and reserved

2

cloves

garlic

,

minced

2

tbsp

minced fresh ginger

2

cups

sliced button mushrooms

3

tbsp

low-sodium soy sauce

,

or gluten free soy sauce

2

tsp

sriracha

4

cups

vegetable broth

2

cups

water

1

cinnamon stick

3

tbsp

lime juice

1

tsp

sesame oil

125

g

vermicelli rice noodles

,

cooked according to package directions
Instructions
Heat olive oil over medium-high heat. Add halved white and light green parts of scallions, garlic and ginger. Saute for 1-2 minutes.

Add mushrooms, soy sauce and sriracha. Cook for 2 minutes.

Add vegetable broth, water and cinnamon stick. Bring to a boil. Cover and simmer for 5 minutes.

Remove cinnamon stick. Add lime juice, sesame oil and cooked vermicelli noodles.

Sprinkle with reserved scallions and serve.
Did you try this recipe?
Leave a comment + rating and let me know what you think!
Let me know if you give my spicy ginger scallion soup a try in the comments below.