Try using zucchini and Japanese eggplant to replace the noodles in this healthy and gluten-free recipe for vegetarian zucchini and eggplant lasagna.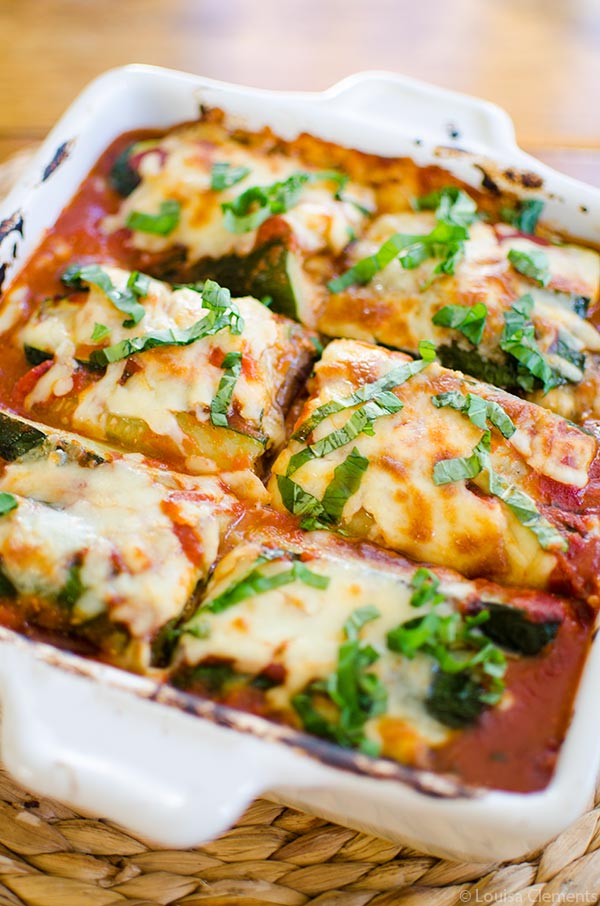 Is it weird that I'm feeling completely inspired by February? Whatever it is, I'm happy about it. I'm back on the bandwagon of focusing on taking good care of myself in all aspects of my life. I found that in January I was spending too much energy focusing on the negatives and the things and situations that were completely out of my control. This definitely starts to wear on you after a while.
There were a few major things that were causing me stress in January, but I've either A) had a bit of a breakthrough or B) decided to try my best to leave them behind in January. Something I've realized? Just keep going, and pushing forward and things have a way of working themselves out. This is hard to realize in the moment because those taxing times are riddled with doubts, insecurities and roadblocks, but there will be a glimmer of light at the end of the tunnel.
I think it's a mix of that hint of light at end of the tunnel and the simple day-to-day changes I've been making that are helping me feel inspired. So, what are these simple, actionable changes that are making a difference for me? I'm drinking more water and green tea (so easy, but important), taking Sophie on more walks in the sunshine, making exercise a priority again, eating healthier (this vegetarian zucchini and eggplant lasagna is part of that) and reading more books that I love.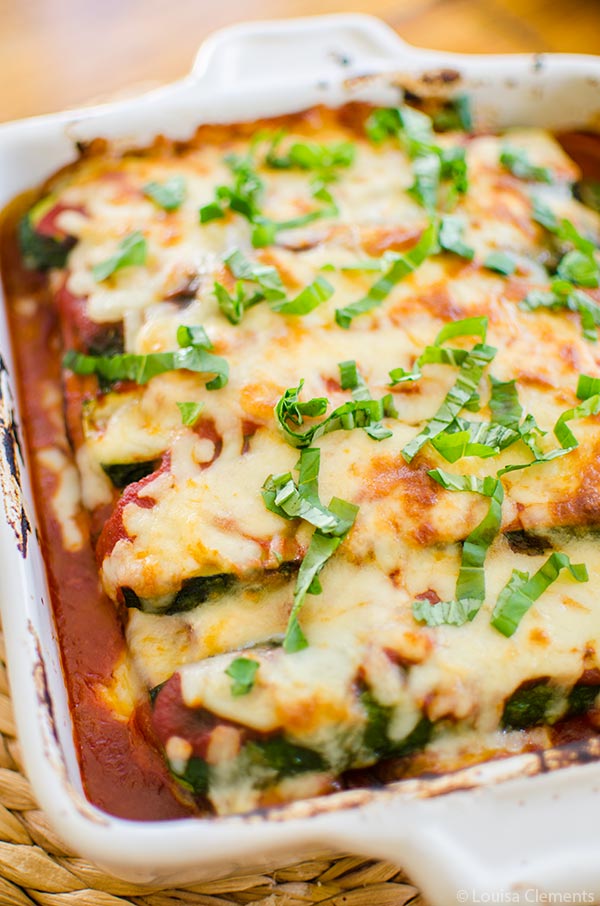 Taking time to just be and feel. It's amazing how much these simple changes have made a difference. It's this principle that I used when creating this recipe for a healthier, gluten-free and vegetarian lasagna. I wanted to make this classically indulgent dish into something healthier.
The first thing I did was look at replacing the noodles with vegetables; I chose thinly sliced zucchini and Japanese eggplant to mimic lasagna noodles. The reason I opted for Japanese eggplant is because they are more similarly shaped to zucchini than regular eggplants, meaning they will fit well into the dish and cook in the same amount of time.
When buying your produce for this recipe, try to buy similar sized Japanese eggplants and zucchini. A couple of other changes I made to this lasagna is to remove the bechamel sauce, instead the layers are dotted with ricotta cheese and the top is sprinkled with mozzarella at the end.
This recipe requires a couple of steps, the first step is to roast the zucchini and eggplant before assembling the lasagna (this will ensure that the vegetables cook properly). I find that this is the perfect time to make my 20-minute marinara sauce, but you can also use store-bought for this recipe if you prefer. The amount of cheese in this recipe is less than you would typically have in a lasagna which is another healthy twist.
Louisa Clements
Yields 6
Vegetarian Zucchini and Eggplant Lasagna
20 minPrep Time
30 minCook Time
50 minTotal Time
5 based on 2 review(s)
Ingredients
2 tbsp olive oil
4 medium zucchinis, sliced lengthwise in 1/4" slices
3 Japanese eggplants, sliced lengthwise in 1/4" slices
1/2 tsp salt
2 1/4 cups marinara sauce
1/2 cup ricotta cheese
1/3 cup grated mozzarella cheese
1 tbsp thinly sliced fresh basil
Instructions
Preheat oven to 425F. Toss zucchini and eggplant with olive oil, toss with salt. Arrange on 2 baking sheets, roast in the top and bottom thirds of the oven for 10 minutes switching sheets halfway through. Let cool until safe to handle.
Spread 1/4 cup marinara sauce on the bottom of an 8x8" baking dish. Top with 4 slices of eggplant, followed by 1/4 cup of marinara sauce, dot with ricotta cheese, layer 4 zucchini slices crosswise on top of eggplant, top with 1/4 cup marinara sauce and dot with ricotta cheese. Repeat with remaining layers, finishing with zucchini, 1/4 cup marinara sauce and 1/3 cup grated mozzarella cheese.
Roast in the oven for 20 minutes or until cheese is melted and bubbly.
Allow to cool for 10 minutes, sprinkle with fresh basil and cut into 6 slices.
7.6.4
223
https://www.livinglou.com/vegetarian-zucchini-and-eggplant-lasagna/
Are there any simple changes you've been making this year that are working for you? I'd love to hear your suggestions in the comments, also let me know if you give this zucchini and eggplant lasagna a try!