This turkey and white bean chili is the idea comfort food. This is a recipe for a lighter chili that is made with ground turkey and white beans.
Turkey and white bean chili is healthy comfort food at its best, which I don't know about you, but I am seriously craving comfort food right now. There is just something about January that is rather, um, depressing. The holidays are over but it's still freezing outside, I'm ready for summer already, ha.
How's January treating you so far? All I have to say is that it is positively sub-zero freezing in Toronto. Like I said, I've been craving comfort foods like crazy, and this healthy Turkey and White Bean Chili has been keeping me warm. My mom, who doesn't really like chili very much is in love with this recipe, she says it's the best chili she's ever had. I'll take it. I think that's a pretty good sales pitch for this simple recipe.
On another note, there is something that I've been struggling with recently. The fact is it's difficult to understand that not everyone is going to like you. It's kind of a hard thing to learn because a lot of the time, it feels like someone might not like you for no reason at all.
You kind of pick your brain to pinpoint exactly what it is. Is it because I talk too much, or too little? Is it because I'm different? Is it because of my blog? Or that I laugh at my own jokes? While those are all somewhat silly things, I think it boils down to wanting to feel accepted, respected and appreciated. Which are all inherently human things. Don't you think?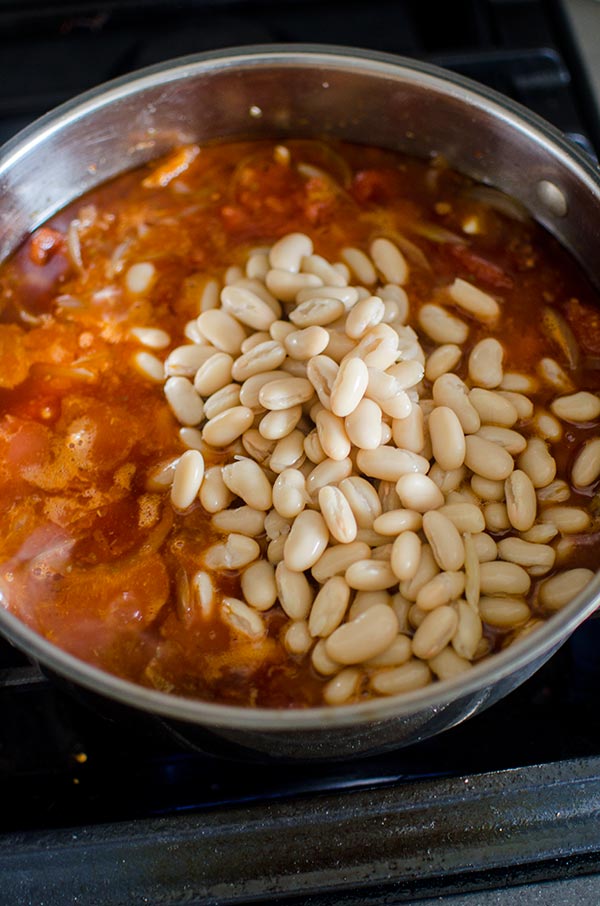 It's kind of like a recipe, not everyone is going to like this turkey and white bean chili because everyone has different tastes. Someone might prefer a slow cooker chili or a vegetarian option. While I think this turkey option is fantastic (which is why I'm posting it), Joe down the street might prefer something a little spicier. I think it's important to just accept it and move on.
It's easier to do with a recipe than with yourself, but I'm trying to apply this thinking to my everyday life. I'm trying to spend my time with people I love and that lift me up and make me feel happy, instead of with people who make me question myself and what I do and who I am. Spending time with these good and wonderful people is exactly what I've been doing all weekend. I don't think I've ever laughed as much as I did on Friday night, and it feels good. I think this might be my first big revelation of my 20s, folks, expect many more in the coming years.
Side note, why does everyone hate on Anne Hathaway all the time? I think she's awesome. Anyways, back to this simple weeknight dinner recipe.
Food for thought
"If your number one goal is to make sure that everyone likes and approves of you, then you risk sacrificing your uniqueness, and, therefore, your excellence." ~Unknown
Yields 4-6 servings
Turkey and White Bean Chili
My mom's favourite Turkey and White Bean Chili!
Ingredients
2 tbsp olive oil
1 onion, diced
2 cloves garlic, minced
1 green pepper, diced
1 lb ground turkey
2 tsp cumin
1 tsp oregano
1 tsp chili powder
1/4 cup pickled jalapenos, chopped
1 can white kidney beans, drained and rinsed
1 28 oz can diced tomatoes
1 cup chicken broth
Instructions
Heat olive oil over medium-low heat.
Add onions and cook for 4 minutes.
Add garlic and green pepper, cook for another 2-4 minutes.
Add ground turkey, crumble and cook for 5-7 minutes, or until fully cooked.
Add spices and pickled jalapenos. Cook for another minute.
Add tomatoes and broth, using a wooden spoon to break up the tomatoes if necessary.
Bring to a boil. Reduce to a simmer and cover. Cook for 10 minutes.
Add the kidney beans and cook for another 5 minutes.
Notes
Recipe by Louisa Clements
7.8.1.2
56
https://www.livinglou.com/turkey-and-white-bean-chili/
Warm your body with this healthy recipe for turkey and white bean chili.