A hearty vegetarian chili recipe that is ready in under 40 minutes with sweet potatoes, carrots, kidney beans and zucchini.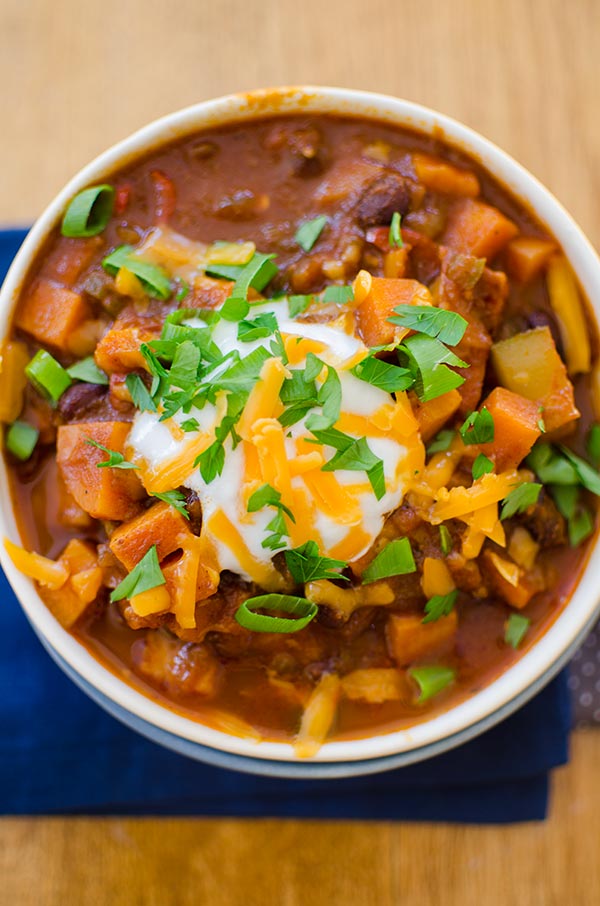 Somewhere along the lines, blogging turned into this capital-B 'Business', and while that has never been something that has been my goal, it's so easy to get caught up in the pursuit of more. Higher numbers, more posts, better engagement. All the things people ask endless questions about in Facebook blogging forums (yes, there are thousands, and yes, I am part of a few.) On my way home from work recently, after an especially gruelling day where so many things started to head south just as I was planning on leaving, I was reading an article about balancing working full time while also blogging.
This article talked about a few different strategies, but the one that really struck a chord with me was reframing blogging as "me time". While I think that term is kind of annoying ("me time" is something I will literally never say out loud and if I do, it's a red flag), I think it brings up a really good point. It's so easy to get bogged down by all the things you "should" be doing, or "have" to do and it kind of takes the joy out of it. This blog was started as something for fun, a passion of mine, which slowly turned into something more, of which I am so fortunate. But I also think it's really easy to get burnt out as a blogger, if you search "Blogger burnout" in Google, you'll find 922,000 results.
That's a whole lot of articles on blogger burnout. Why are we all getting so burnt out? What's the point! I always remind my blogging friends that we're not saving the world here.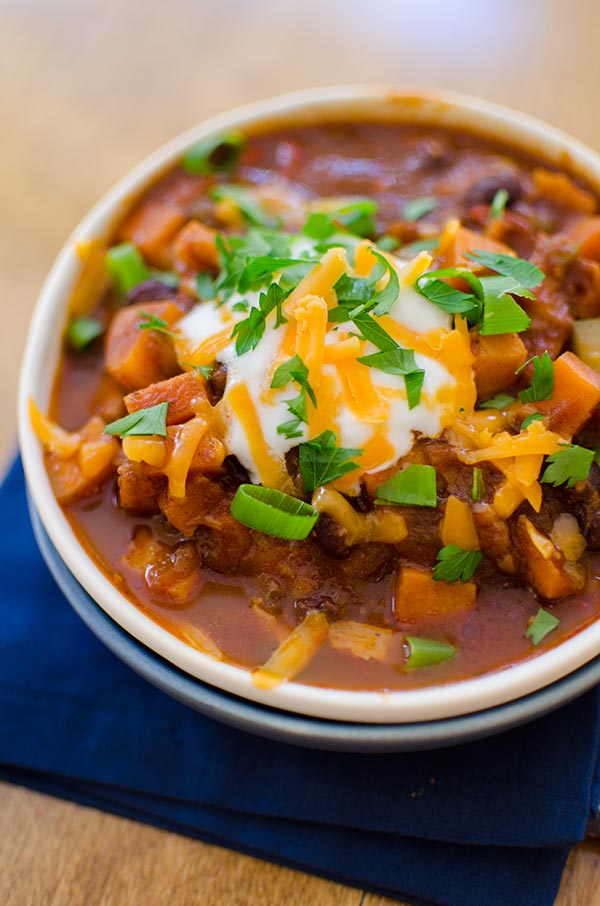 So what am I doing this November? AKA this insane, pre-holiday sprint, high-traffic, go-go-go time of the year? I'm slowing down. I'm reframing blogging in my head as relaxing time. Pinterest can be a calming, mindless Sunday morning activity with a steaming cup of coffee. Writing can be therapeutic exercise in self discovery. Cooking, well that's always the best part for me. I never feel like that is a chore, or a bore. I was explaining to a friend recently that I literally have recipe ideas 24/7, so much so that I have a 7-page document of recipes to develop on my Google drive. 7 pages is a lot of recipes.
What's the story behind this hearty vegetarian chili? Well, would you believe me when I say that I developed and photographed this recipe last year? It's true. I have tons of drafts just sitting in the backend of my blog, waiting to be published. I return to them when I feel inspired, and today, on this sixth day of November, this healthy veggie chili was calling my name. It's loaded with kidney beans, carrots, sweet potatoes, zucchini, and all of your other chili favourites.
Anyways, will you join me in this slow-down, appreciate the journey November thing I have planned? I'm going to try and stay accountable — join me on Instagram and tag me in your posts, I'd love to see how you are slowing down and taking in those moments, and reframing things into positives. It's so important.
If you're looking for more chili recipes, try my turkey and white bean chili or my slow cooker chili with sweet potatoes and for veggie-friendly comfort food, my roasted garlic and mushroom stew or my vegetarian curry.
Louisa Clements
Yields 6-8 servings
Hearty vegetarian chili
15 minPrep Time
23 minCook Time
38 minTotal Time
4.5 based on 2 review(s)
Ingredients
1 tbsp olive oil
1 onion, chopped
2 cloves garlic, minced
1 stalk celery, chopped
1 tbsp chili powder
2 tsp cumin
1 tsp salt
2 carrots, diced
1 sweet potato, peeled and diced about 2 cups
2 zucchinis, cut into ½" pieces
8oz (227g) white button mushrooms, quartered
28 oz (796ml) can diced tomatoes
½ a 4-oz (127ml) can diced green chilies (use whole can if you love spice)
2 tsp oregano
19oz (540ml) can kidney beans, drained and rinsed
2 cups water
Instructions
Heat olive oil in a large pot over medium heat. Add onion and cook for 5 minutes. Add garlic, celery and chili powder, cumin and salt and cook for another minute. Add carrots and sweet potato, cook for 5-7 minutes, stirring occasionally. Add zucchini, mushrooms, tomatoes, green chilies, oregano, kidney beans and water. Bring to a boil, reduce heat to low and simmer covered for 10 minutes or until vegetables are tender and cooked through.
7.8.1.2
255
https://www.livinglou.com/hearty-vegetarian-chili/
Let me know if you give this vegetarian chili a try in the comments below!