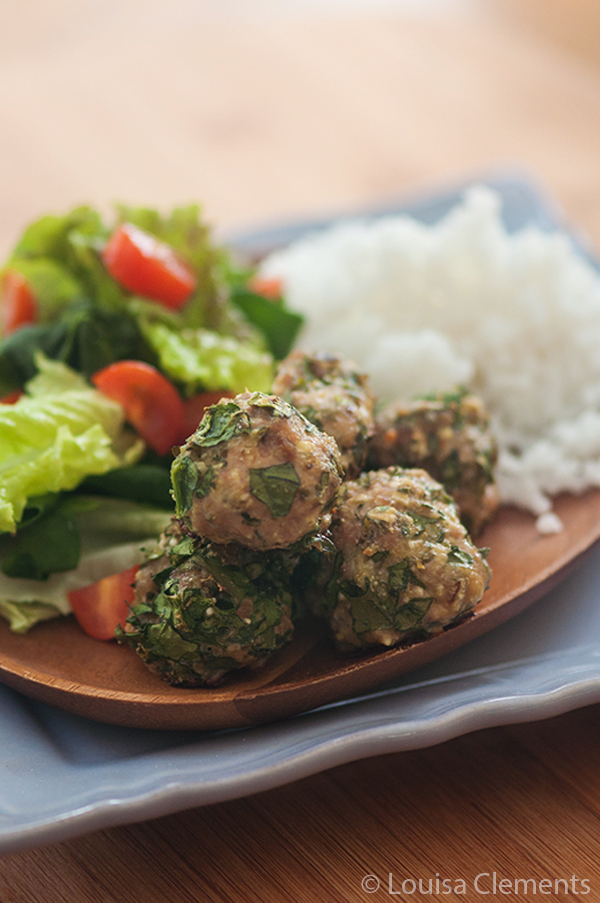 Turkey and Spinach Meatballs are a super healthy recipe for meatballs that should definitely be on your menu for this week. I've been making these pretty consistently over the past few weeks, which is pretty standard when it comes to recipe testing, but I'm so obsessed with them that I'm making them again today. The great thing about meatballs is that you can eat them as is, with rice and salad as I've shown in the photo above, or add an easy spaghetti sauce and pasta for a comforting classic, or you can throw them in a sandwich with some marinara sauce for a meatball sub. The options are endless. I've used spinach and ground turkey in these meatballs to lighten them up, but they still pack a ton of flavour.
In other news, it's Golden Globes time tonight (and the new season of Girls starts) – I'm so excited. I've slowly been seeing the nominated films, so far I've gotten to Gravity, Dallas Buyer's Club, American Hustle, Her, Frances Ha, and Inside Lleweyn Davis – all absolutely fantastic films! They are all so different that it's so hard to choose a favourite, but I fell in love with American Hustle and Her. I saw Her on Friday and was completely blown away, it was so different from any film I've seen in ages. Highly recommended. I never thought I could sit through a movie where a man falls in love with an operating system, but Spike Jonze did it. Plus the soundtrack was beautiful.
Food for thought
What movies and shows are you cheering for tonight?
If you're looking for some snacks to enjoy while watching the show tonight here are a few ideas: Parmesan Popcorn, Spicy Popcorn and Avocado Feta Dip.
Louisa Clements
Yields 30 small meatballs
Turkey and Spinach Meatballs
A healthy alternative to the classic meatball with spinach and ground turkey.
15 minPrep Time
24 minCook Time
39 minTotal Time
5 based on 1 review(s)
Ingredients
3 cups packed spinach, finely chopped (about 1 1/2 cups chopped)
1 clove garlic, minced
2 tbsp flour
2 tbsp parmesan cheese
1/2 tsp dried thyme
1/2 tsp chili flakes
1/4 tsp lemon zest
1 lb /450g lean ground turkey
1 egg
oil for greasing baking sheet
1/2 tsp salt
Instructions
Preheat oven to 375F and grease a baking sheet with olive oil.
In a large bowl, using a fork, mix together spinach, garlic, flour, parmesan, thyme, chili flakes and lemon zest.
Mix in egg and ground turkey.
Form into 30 small meatballs (about 1" in size) and place on baking sheet.
Bake for 20-24 minutes or until fully cooked.
7.8.1.2
54
https://www.livinglou.com/turkey-and-spinach-meatballs/