Just toss all the ingredients in the slow cooker and this hearty slow cooker white bean soup will be ready in seven hours. Loaded with flavour from carrots, celery and dried thyme.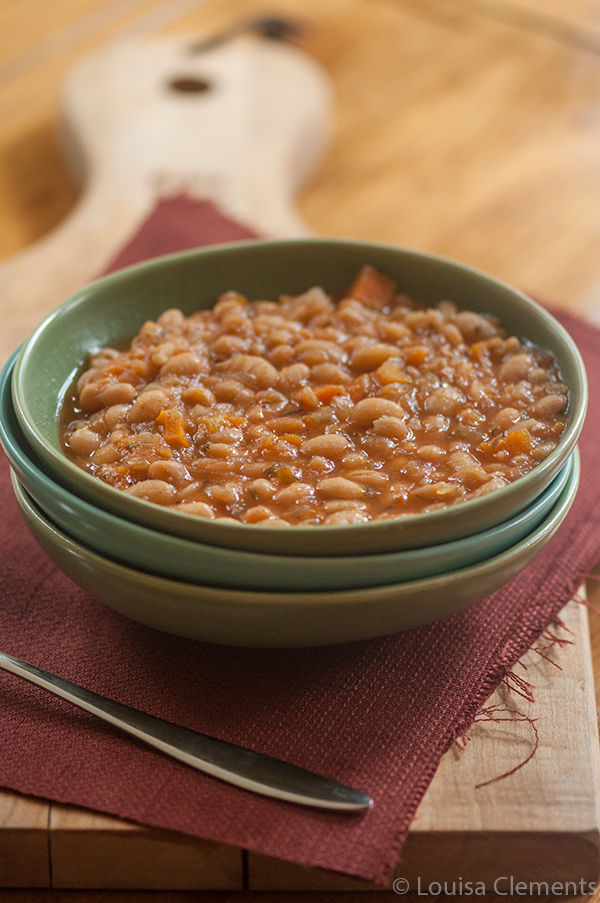 This slow cooker white bean soup is one of those toss-everything-in-the-slow-cooker kind of recipes. Meaning it takes just a little bit of prep to shop up some veggies, but then your work is done. I'm so excited about this recipe because it's perfect for these busy winter days. After spending pretty much all of last weekend at school finishing up assignments, this was the exact kind of recipe I needed. If you're looking for another simple soup, my black bean soup (also made in the slow cooker) is a great choice.
Last weekend I took a bit of time off because school has just been insane. I was finally able to catch up on some things and have fun. It was one of the best weekends in a while, it had a little bit of everything. Hanging out with friends, a little homework, some Netflix time and of course, some time in the kitchen. I don't know about you, but if I want to eat well on a busy weekend, that means pulling out the slow cooker. This slow cooker white bean soup recipe is a favourite because you literally dump the vegetables and beans right into the slow cooker. Nothing else required, it doesn't get any easier than this. This slow cooker soup is also vegan and really healthy and hearty.
One of my favourite things that happened on the weekend was heading to the ballet. I love ballet and dance myself, but over the weekend I saw Swan Lake for the first time. It was absolutely brilliant. What I've dreamt about for ever. Everything was perfect – the costumes, the dancers, not to mention the beautiful music. My favourite piece is probably the Tempo Di Valse, but everything is stunning – I'm a huge fan of Tchaikovsky and classical music in general. Do you like to listen to classical? Any recommendations? I'm always looking for new classical music to listen to. One of the things that made watching this long performance (3 wonderful hours!) was knowing that while I was in awe watching the dancers, my slow cooker was working away on this healthy soup.
A funny little note about this recipe, the second time I tested this recipe was on a crew of hungry filmmakers. I found myself catering my friend's film set a couple of weeks ago, which was quite a big job. The crew was about 10 people and it was a 12 hour day. For lunch, we needed something that was vegetarian, easy to make and most of all cheap. A group of film students doesn't have a lot of extra money to spend on catering (all that money often goes into set dec, locations or costumes) so this slow cooker white bean soup fit the bill. Anyways, I'll have you know that it was highly approved by the cast and crew. I was able to prep this in the slow cooker in the morning before heading to set and then turned it on when I got there. It was ready and perfect cooked when the assistant director called lunch.
Food for thought
Do you use your slow cooker on busy weekends?
Louisa Clements
Yields 6-8
Slow Cooker White Bean Soup
Looking for something easy for dinner? This Slow Cooker White Bean Soup is one of the healthiest and simplest meals to make!
15 minPrep Time
7 hrCook Time
7 hr, 15 Total Time
Ingredients
4 cups water
1/2 cup crushed tomatoes
2 cups dried white beans
3 medium carrots, diced
2 stalks of celery, diced
1 onion, diced
4 cloves garlic, minced
2 bay leaves
1 tbsp dried parsley
1 tsp dried thyme
Instructions
Place all ingredients in the slow cooker.
Cook on low for 6-7 hours.
Notes
When it's done cooking it may seem like there is not enough liquid, just stir the soup around.
Recipe by Louisa Clements
7.8.1.2
169
https://www.livinglou.com/slow-cooker-white-bean-soup/
Give this super easy, dump in the slow cooker and go slow cooker white bean soup a try.