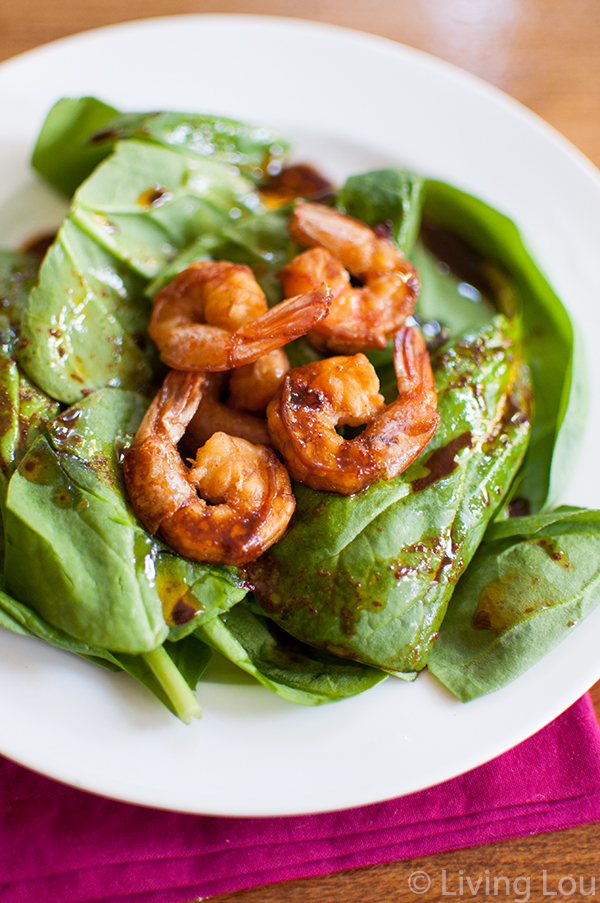 It's time to step up your summer salad game with this shrimp and spinach salad. This is a warm salad kind of recipe because the shrimp and dressing are still warm so it begins to wilt the spinach while you eat it. It's absolutely divine and probably my favourite salad of the summer. It takes only a couple of minutes to cook the shrimp so you don't have to worry about heating up your kitchen. But if you really don't feel like cooking, just whip up a balsamic dressing (it will work well with shrimp and spinach).
I apologize for the radio silence from my end over here, I've been soaking up the summer in Toronto as much as possible and doing lots and lots of cooking and recipe testing. You see, I'm going away on Wednesday for 5 weeks to start filming my documentary and travel around Europe with my sister. This is my final year of university and for my thesis project, I'm directing and producing a really personal short documentary about my sister and her journey with epilepsy. I'm starting to film it in Greece because that's where the whole story begins. It's just going to be me over there (none of my super talented crew members), so I'm hoping that the beauty of the island will speak for itself without all the bells and whistles that comes along with a full film crew.
I am definitely nervous about the whole thing. Creating a short documentary itself is daunting, but it's a story that is deeply personal and extremely meaningful to me that I don't want to make any mistakes. I feel like that's normal for any piece of meaningful work though, is it not? I'm sure writers feel that way about their novels or short stories and painters feel that way about their newest masterpiece. I think the most important part for me is to follow my gut and stick to my own artistic journey and style. After all, this is going to be one of the few times I have complete control over my project. For now, I've found that breaking it down into smaller steps is helpful, so I'm just focusing on the Greece portion of filming and not all the rest, I can worry about that later. That can wait until September. I'm hoping to be able to integrate a bit of this filmmaking journey on the blog as the year goes on and 2015 kicks off. I can guarantee you that it will be one heck of a roller coaster ride. Would you find that interesting? A little behind-the-scenes peak into what it takes to make a documentary might be a bit of a fun additional section to the blog. But there's lots of time for that.
Let's get back to this shrimp and spinach salad, I used the marinating liquid to make the dressing (just boil it after the shrimp has soaked up lots of flavour). Check out my recipe breakdown below.
Shrimp and spinach recipe breakdown
Packed with Mexican flavours like cumin and chili powder, this shrimp and spinach salad is the perfect salad for the summer.
Yields 2 servings
Shrimp and Spinach Salad
Ingredients
10 raw shrimp, shells removed
2 tbsp olive oil
1 tbsp lemon juice
2 tsp soya sauce
½ tsp cumin
½ tsp chili powder
2 avocados, diced
4 cups baby spinach
½ cucumber, diced
Instructions
In a small bowl, whisk together olive oil, lemon juice, soya sauce, cumin and chili powder. Add raw shrimp. Refrigerate for 30 minutes.
Remove shrimp from marinate (keeping the remaining marinade) and broil for 2 minutes per side.
Bring remaining marinade to a boil and boil for 30 seconds to a minute. Whisking constantly.
Toss spinach, avocado and cucumber with warm dressing. Top with shrimp and serve.
Notes
Recipe by Louisa Clements
7.8.1.2
76
https://www.livinglou.com/shrimp-spinach-salad/