A quick dinner recipe for peanut chicken stir fry with a creamy coconut peanut sauce, broccoli and red peppers.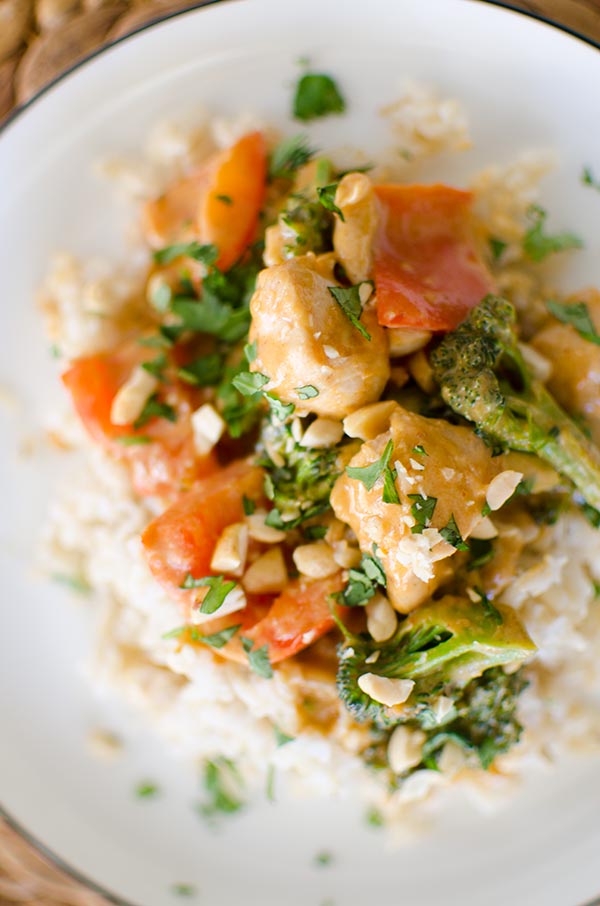 I'm the kind of person who makes a stir fry pretty often but I never actually write down the recipes. Hence why there aren't too many stir fry recipes on my site.
They are usually created after a longish day, and when I'm just kind of on auto-pilot. What is a "longish" day? Well, I guess it's all relative, for my friends who still work in the film world, a 16-hour day is normal for them. For me, "longish" is after a full day, it's one of those days when you're tired when you get home, but not completely depleted or exhausted enough to pull something out of the freezer or order in takeout. If we want to get specific, I'd say this is usually a typical Wednesday for me.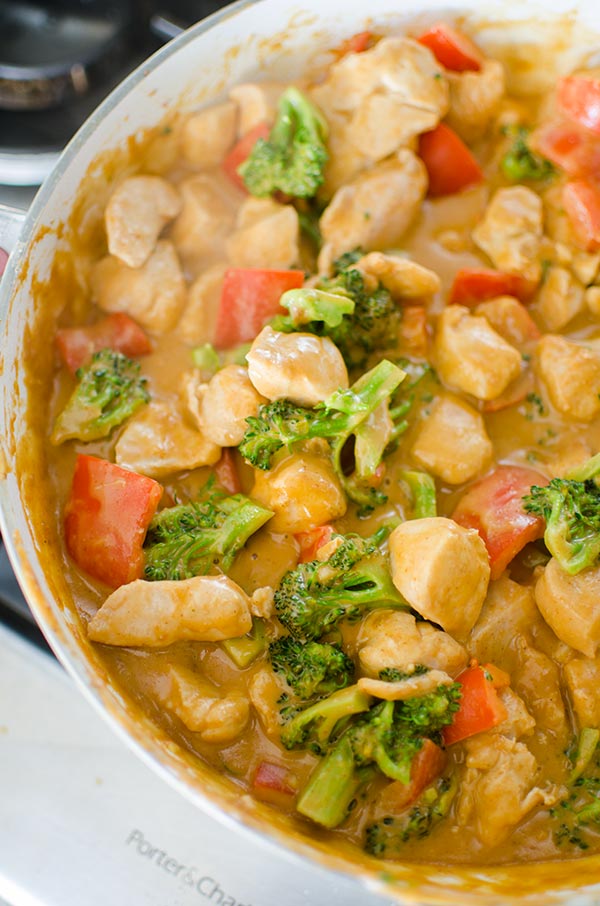 My friends and I have all come to the conclusion that Wednesdays in general might be the worst day of the week. Do you agree? These are the days when I want to order takeout, but I usually know that sitting on my couch, watching Big Little Lies or Greys Anatomy, while eating takeout will actually make me feel more tired and lethargic.
Sometimes cooking is exactly what you need to reset your mind and wind down after a busy day. I always have a jar of peanut butter in my fridge (I like the all Kraft Peanut Butter varieties) and I absolutely love to eat Thai satays with peanut sauce, so I was inspired by this recipe for stir-fried chicken with creamy peanut sauce. And it is so good. The original recipe calls for frozen vegetables, but I try to choose fresh options as much as possible, and chopping broccoli and a red bell pepper only takes a couple of extra minutes.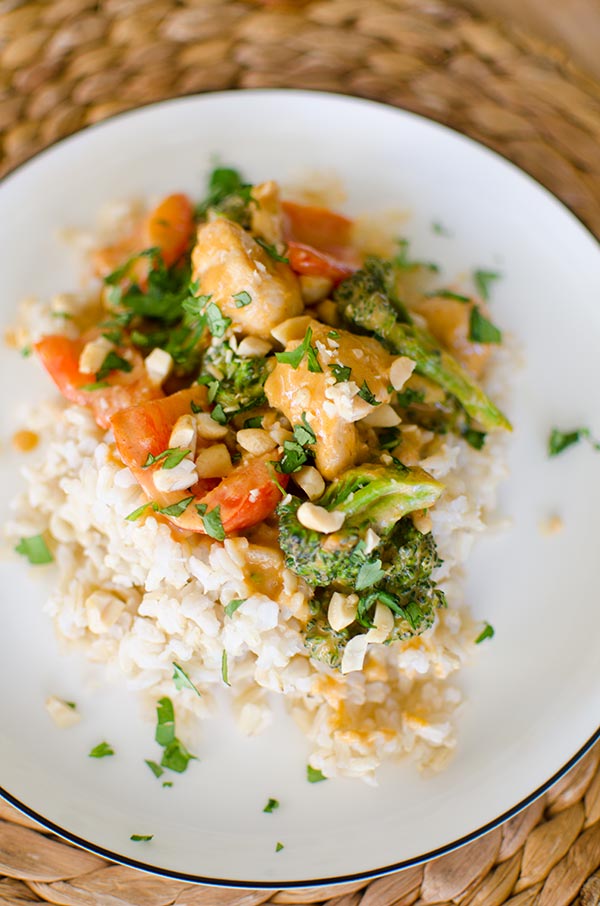 And don't forget about the garnishes! A quick chop of fresh cilantro and peanuts add a hit of fresh flavour and crunch to this stir fry–don't you love the peanuts added to Pad Thai? Me too.
Louisa Clements
Yields 4 servings
Peanut Chicken Stir Fry
15 minPrep Time
10 minCook Time
25 minTotal Time
Ingredients
1-½ cups brown rice, uncooked
½ cup Kraft All Natural Peanut Butter
½ cup coconut milk
2 tbsp reduced-sodium soy sauce
2 tbsp Sriracha sauce, add less if you're sensitive to spice
2 tbsp lime juice
1 tsp fish sauce
2 cloves garlic, minced
1 tsp canola oil
1 lb. (450 g) boneless chicken breasts, cut into bite-size pieces
2 cups chopped broccoli florets
1 red bell pepper, chopped

Optional Garnishes:

Chopped peanuts
Chopped cilantro
Instructions
Cook rice as directed on package, omitting the salt.
Meanwhile, in a large bowl, whisk peanut butter with coconut milk, soy sauce, Sriracha, lime juice, fish sauce, and garlic until smooth.
Stir-fry chicken in large skillet with 1 tsp canola oil on medium-high heat 5 min. or until evenly browned. Add vegetables and stir-fry for 2 min.
Add sauce, and cook another 2-3 minutes until chicken is fully cooked and sauce has thickened.
Spoon rice onto platter; top with chicken mixture.
Nutrition
Nutrition Facts
Amount Per Serving

Calories

2510

% Daily Value*



Total Fat:

169 g

260%

Saturated Fat:

g

0%

Cholesterol:

mg

0%

Sodium:

mg

0%

Potassium:

mg

0%

Total Carbohydrate:

171 g

%

Sugar:

g

Protein:

82 g

Vitamin A:

0%

Calcium:

mg

0%

Iron:

mg

0%
7.8.1.2
316
https://www.livinglou.com/peanut-chicken-stir-fry/
Disclosure: This post was sponsored by KraftHeinz Canada – as always, all opinions are my own. Thank you for supporting my sponsors and allowing me to continue creating recipes like this peanut chicken stir fry.