Make the ultimate homemade chocolate peanut butter ice cream with two types of chocolate, peanut butter and chunks of chocolate peanut butter cups.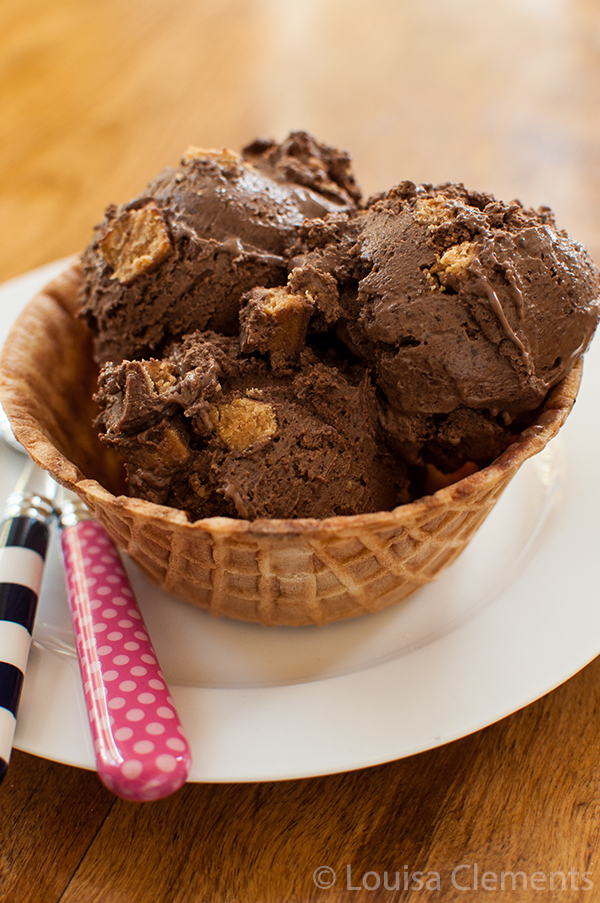 There is nothing better than ice cream on a hot summer day. I've always been a fan of the classic chocolate peanut butter ice cream, and this recipe does not disappoint.
A creamy, custard based ice cream made with bittersweet chocolate and cocoa powder for a rich chocolatey base. The chocolate ice cream is laced with peanut butter, and chunks of peanut butter cups.
This ice cream pairs perfectly with homemade coffee ice cream, or a fruity, strawberry ice cream.
What is the best ice cream machine for making homemade ice cream?
I've used this ice cream machine that is under $50 for the last five years. It's never failed and is an ice cream machine that I highly recommend and love using.
If you're looking for a fun new activity to try this summer, try your hand at creating your favourite ice cream flavours at home! Once you understand the fundamentals of creating a simple custard for the ice cream (it's easy, I promise!) you can replicate this technique with so many flavour combinations.
For a creamy ice cream, start with a custard base
The best ice creams start with a custard base–that's a mixture of egg yolks, cream, milk and sugar. This is what gives ice cream that rich and creamy mouthfeel. This peanut butter chocolate flavour is made with a combination of cream, whole milk and egg yolks.
If you've never made ice cream before, the key is to ensure that you don't cook the egg yolks when making the custard. If you add piping-hot ingredients to egg yolks, they will curdle, so you must be tempered to decrease the temperature difference between the yolks and the liquid mixture.
How to temper egg yolks for ice cream
To temper egg yolks you need to introduce the hot liquid mixture to the egg yolks slowly and gently, incorporating a little at the time to heat the egg yolks and not scramble them. For this recipe, once the cream mixture is at a simmer, you will slowly pour about a ¼ of a cup of the warm mixture into the egg yolks, while whisking them.
Once the egg yolks are warm, they will then be poured into the cream mixture and you don't need to worry about the eggs scrambling.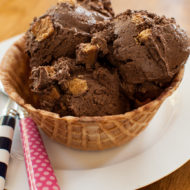 Chocolate Peanut Butter Ice Cream
The ultimate homemade chocolate peanut butter ice cream with two types of chocolate, peanut butter and chunks of chocolate peanut butter cups.
Pin
Print
Ingredients
2

cups

heavy cream

1 ½

cups

whole milk

¾

cups

sugar

3

tbsp

cocoa powder

1

tsp

vanilla extract

pinch

of salt

½

cup

smooth peanut butter

5

egg yolks

2

tbsp

Bailey's Irish Cream

3

oz

bittersweet chocolate

,

finely chopped

½

cup

peanut butter cups

,

chopped
Instructions
Heat a medium pot over medium heat. Add heavy cream and whole milk, sugar, cocoa powder, vanilla extract and salt. Cook, stirring frequently until warmed through. Add peanut butter and continue to stir until smooth and thick and the mixture reaches a simmer.

While the mixture is heating, in a medium glass bowl, whisk together the egg yolks. Now, temper the yolks.

Slowly pour in ¼ cup of the simmering cream mixture into the egg yolks, whisking constantly to temper the eggs. Pour the heated egg yolks into the pot with the cream and milk batter and stir. Remove from heat.

Pour in the Bailey's and stir thoroughly. Add the chopped chocolate into the batter, mixing until chocolate has melted and mixture is smooth and thick.

Let mixture cool to room temperature, cover with plastic wrap, and let it cool in the fridge for at least eight hours.

When the mixture is ready, pour it into your ice cream maker and freezer according to manufacturers directions (usually about 20 minutes). Once the mixture begins to look thick and frozen, resembling typical ice cream, and a couple of minutes before instructions say the ice cream should be frozen, add in peanut butter cups.
Did you try this recipe?
Leave a comment + rating and let me know what you think!