Enjoy the fruits of the season with this 5 ingredient Strawberry Ice Cream. Once you make this dessert, you'll never buy ice cream again.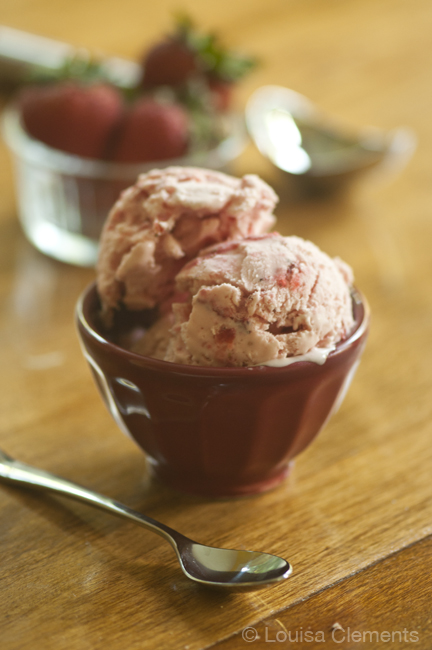 Summer has really hit us this week in Toronto and I've been eating all of the strawberry ice cream I can get my hands on and it's been amazing. I love the heat (as long as my air conditioning is working!) and it gives me a reason to make ice cream. As much as I love making soups and stews, I really do miss making ice cream during the other 8 months of the year. After all, we all know how much I love homemade ice cream. I've been enjoying this strawberry ice cream for the last few months; sometimes I've made it twice in the same week!
This recipe came from inspiration at a local coffee shop in my neighbourhood. It's one of those pretty hip cafes with cold brew drip coffee and the most amazing house-made baked goods and ice cream. My friend and I stopped in there one afternoon and we got to talking with the baker and she let us taste the strawberry ice cream and then told us that the ingredients were literally strawberries, sugar and cream. She also shared her trick of adding a touch of vodka to the ice cream to keep it from freezing solid and having a nice creamy texture. I opted not to use that in this recipe, but I've done it before and it is an amazing little trick. If you'd like to read a little more about making ice cream softer, David Leibovitz has a great piece on his website about that, you can read his tips for making homemade ice cream softer.
I've toyed with different ratios of sugar every time I've made this ice cream, but I've found that the sweetness of the strawberries means that I needed less sugar than I originally thought. Strawberries are in-season right now which means they are super sweet and juicy. I recommend tasting a couple of the strawberries before starting this recipe, then you'll know how sweet they are and can adjust the sugar amount accordingly. Having strawberries in season is definitely a bonus, I know that this ice cream wouldn't be as delicious with watery and less flavourful berries. If you find that your strawberries aren't quite as sweet, you can add  a touch more sugar – I would add a tablespoon at a time, tasting after each addition. Afterall, the golden rule of cooking is always taste your food. So taste it, and adjust to your liking.
Because this ice cream isn't a custard-based ice cream (meaning it has no eggs in it), it's kind of foolproof. While I do find that custard-based ice creams tend to be a little more on the creamy and decadent side, they are also a little more challenging to make. But I took my cues from the baker and went by her list of ingredients and this ice cream tastes just like the one at the coffee shop.
Strawberry Ice Cream
Enjoy the fresh summer fruits with this simple 5 ingredient Strawberry ice cream.
Ingredients
1 pound of fresh strawberries, quartered and leaves removed
1/3 cup sugar (more if desired)
3/4 tsp lemon juice
1/8 tsp salt
2 cups 35% cream
Instructions
In a large bowl, mash strawberries, sugar, lemon juice and salt together. I find the best way to do this is with a pastry cutter. Mash until mixture is liquidy and strawberries are in tiny pieces.
Next, whisk in the cream.
Freeze in your ice cream maker according to manufacturer directions.
When serving, allow to thaw on the counter for 5-10 minutes to allow ice cream to soften.
Notes
Recipe by Louisa Clements
7.8.1.2
29
https://www.livinglou.com/strawberry-ice-cream/
If you're looking for a simple and cool treat to serve this Canada Day long weekend, give my Strawberry Ice Cream a try.