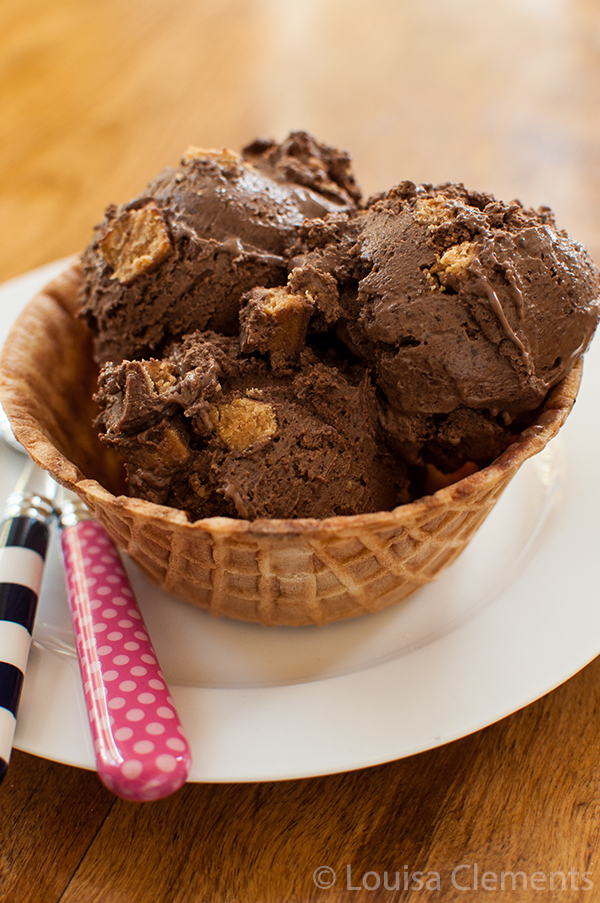 So it should come as no surprise that I love ice cream, I message my friends on a weekly basis begging someone to get ice cream or gelato with me. Now I don't have to worry because I have this homemade ice cream that I am completely in love with. This is a delicious ice cream recipe for Peanut Butter Chocolate Ice Cream and I have a little something different and special for you guys. Today, I'm talking with the lovely Chloe from Scoopsies. I always love to follow along with fun challenges and Chloe took the challenge of making 100 ice cream flavours in 365 days and document it on her blog. Can you imagine making 100 ice cream flavours in a year! She has the most creative flavours and we're so lucky that she is sharing her Peanut Butter Chocolate Ice Cream with us – it's divine. I literally cannot stop eating it, even though there is still snow on the ground.
Can you tell the Living Lou readers a bit about what Scoopsies is and how it started? 
"Scoopsies" was a challenge to make 100 ice cream flavors in a year that I just completed last week! It all started when I bought my ice cream maker two years ago. I loved making flavors every now and then, but was eager to learn everything I needed to know. So I started "100 Scoopsies" and crammed years worth of ice cream making into 365 days!
What has been your favourite ice cream flavour you've created over the last year? 
I have a few favorites but I really loved the Chocolate Chip Cannoli Ice Cream and this Chocolate Peanut Butter Ice Cream that I shared with you! :)
What's your top ice cream making tip? 
The best tip that I picked up this year is to add alcohol to your ice cream whenever possible! Especially if you are making a fruit-based ice cream–it does wonders for the consistency and, in my opinion, enhances the taste! A few teaspoons is all you need.
Now that you're coming to the end of the challenge, what's next for Scoopsies?
I'm still making new flavors (I can't seem to stop!) and I'm working towards launching my own business in the next few months. I'm planning on selling my pints at farmer's markets and ideally build an ice cream delivery service!
Yields 1 quart
Peanut Butter Chocolate Ice Cream
Combine chocolate and peanut butter into the perfect ice cream flavour!
Ingredients
2 cups heavy cream
1 1/2 cups whole milk
3/4 cups sugar
3 tbl. cocoa powder
pinch of salt
1/2 cup smooth peanut butter
5 egg yolks
1 tsp. vanilla extract
2 tbl Bailey's Irish Cream
3 oz. bittersweet chocolate, finely chopped
1/2 cup peanut butter cups, chopped
Instructions
Combine heavy cream and whole milk in a medium saucepan. Cook over medium heat, stirring frequently. Thoroughly mix the sugar, cocoa powder, and pinch of salt together in a small bowl and pour it into the cream and milk.
Once the mixture starts to heat up, put in peanut butter and stir until smooth and thick, until mixture starts to simmer.
While the mixture is heating, whisk the egg yolks with the vanilla extract in a small bowl. Once the cream and milk starts to simmer, take about 1/8 cup of the hot batter and pour into the egg yolks, whisking constantly. Add in a few more spoonfuls of the hot batter to the egg yolks, while whisking. Pour the heated egg yolks in with the cream and milk batter and stir. Remove from heat.
Pour in the Bailey's and stir thoroughly.
Throw the chopped chocolate into the batter, mixing until smooth and thick.
Let mixture cool to room temperature, cover with plastic wrap, and let it ripen in the fridge for at least eight hours.
When the mixture is ready, pour it into your ice cream maker. Mix in peanut butter cups a few minutes before ice cream looks finished.
Bon appetit!
Notes
Recipe by Chloe from Scoopsies.blogspot.ca
7.8.1.2
61
https://www.livinglou.com/peanut-butter-chocolate-ice-cream/