A delicious summer treat, this matcha ice cream is made with matcha powder, eggs, cream and whole milk. You'll love making this delicious Japanese dessert at home. This recipe is shared with permission from Hana Etsuko Dethlefsen through One World Kitchen.
If you own an ice cream maker, I can almost guarantee that every summer one of your goals is to make a new flavour of homemade ice cream. This year, let this matcha green tea flavour be the one that you try! (If you're in the market for a new ice cream maker, this is my favourite ice cream machine that I've had for over eight years.)
This green tea flavour, which originated in Japan, is a perfectly balanced ice cream that is sweet and slightly bitter (thanks to the matcha powder). Plus, it has a gorgeous bright green colour without the need of any additives or colourings.
Why this recipe works
This recipe is made using a custard-base, which means that it has eggs (yolks only) and whole milk. This gives it a silky, smooth texture that is rich and creamy.

Think your favourite premium ice cream, but made at home.
The custard method is what Hana uses in this recipe, and the method that I use for in my chocolate peanut butter ice cream. If you want to make an eggless ice cream, I typically opt for something fruit based like strawberry ice cream.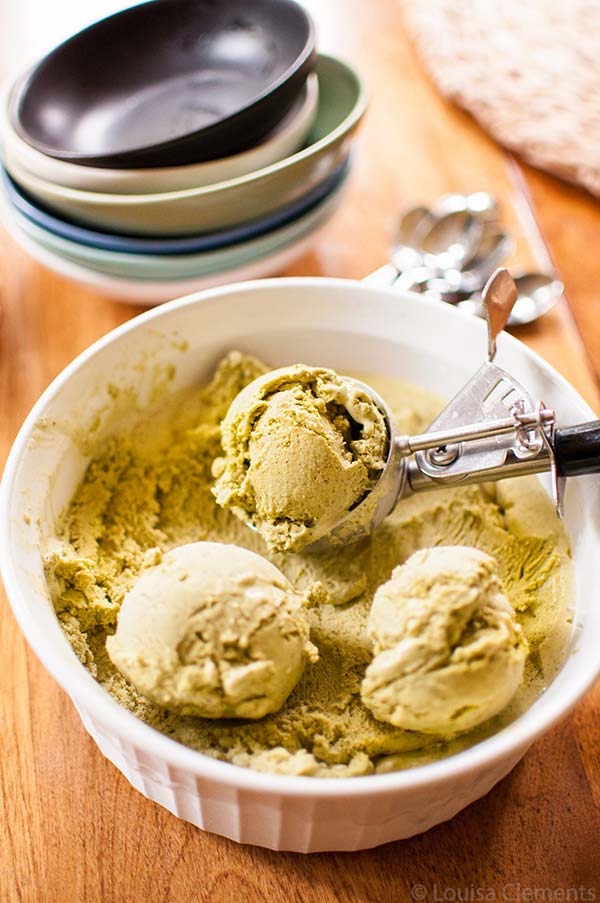 Ingredient notes
This recipe is made with dairy and uses whole milk which has 3.5% milk fat. If you use milk with a lower milk fat (think 2% or 1%), your final product may end up being more icy than smooth and creamy.
For the matcha (which is a type of green tea made from young tea leaves), opt for culinary grade matcha; this is more affordable and can be found in most grocery and bulk stores.
This recipe doesn't use sweetened condensed milk, which is better for no churn ice cream recipes, here's a recipe for no-churn matcha ice cream.
Expert tips
Be patient when you heat the custard mixture, you should cook over medium-low heat and keep in mind that it can take up to ten minutes for it to thicken–don't let it boil!
You'll know the custard is ready after doing the back of the spoon test. To test if it's thick enough, place a spoon in the custard mixture and remove it. Run your finger through the custard that's left on the back of the spoon–if it leaves a clear path (the custard doesn't run back together), then it's ready.
It's easy to skip the step of straining the custard through a sieve, but this will make sure you don't get any eggy pieces in the finished dish.
You'll want to cool the mixture to room temperature before chilling in the fridge. I chill mine for at least one hour before churning.
Frequently asked questions
Does this recipe have caffeine in it?
Yes, matcha has caffeine in it so this ice cream would as well.
What kind of matcha should I use?
You'll find so many varieties of matcha in the market, but my research has shown that for making ice cream you can opt for the more affordable culinary grade matcha (as opposed to ceremonial grade matcha).
Matcha Ice Cream
A delicious summer treat, this matcha ice cream is made with matcha powder, eggs, cream and whole milk. You'll love making this delicious Japanese dessert at home. 
Pin
Print
Ingredients
2

cups

heavy cream

1

cup

whole milk

¼

teaspoon

kosher salt

6

egg yolks

,

from large eggs

⅔

cup

granulated sugar

2

tablespoons

matcha powder
Instructions
In a medium heavy-bottomed pot, bring the cream, milk, and salt to a simmer over medium-low heat.

In a bowl, whisk together the eggs, sugar, and matcha. If the matcha does not completely dissolve, pour in about 1 cup (250 mL) of the hot cream mixture in a slow stream, whisking vigorously.

And the whisked-egg mixture into the pot with the cream. Cook, stirring constantly with a wooden spoon or heatproof spatula, over medium-low heat, until thick enough to coat the back of spoon, or registers 165°F (74°C) on an instant-read thermometer,  about 7-10 minutes.

Immediately pour the custard through the sieve into the stainless-steel bowl.

Cool to room temperature, stirring occasionally. Chill, covered, until cold, at least 1 hour.

Freeze in the ice cream maker, following manufacturer's instructions (usually about 20 minutes). Transfer to an airtight container, and let it harden in the freezer.

Serve with whipped cream, and/or any other sundae garnishes of your choice.
Notes
Hana Dethlefsen's recipe from the One World Kitchen series, brought to you by Gusto TV. Republished with permission.

When you're making the custard, be sure not to let the mixture boil as it will start to cool and scramble the eggs. 

Serve with whipped cream and any other favourite sundae toppings
Did you try this recipe?
Leave a comment + rating and let me know what you think!
Disclosure: This post is sponsored by GustoTV– as always all opinions are my own. Thank you for supporting my sponsors and allowing me to continue creating content!