Inspired by the flavours of Italy, this coleslaw with Italian dressing is a simple twist on a classic salad, perfect for a summer cookout.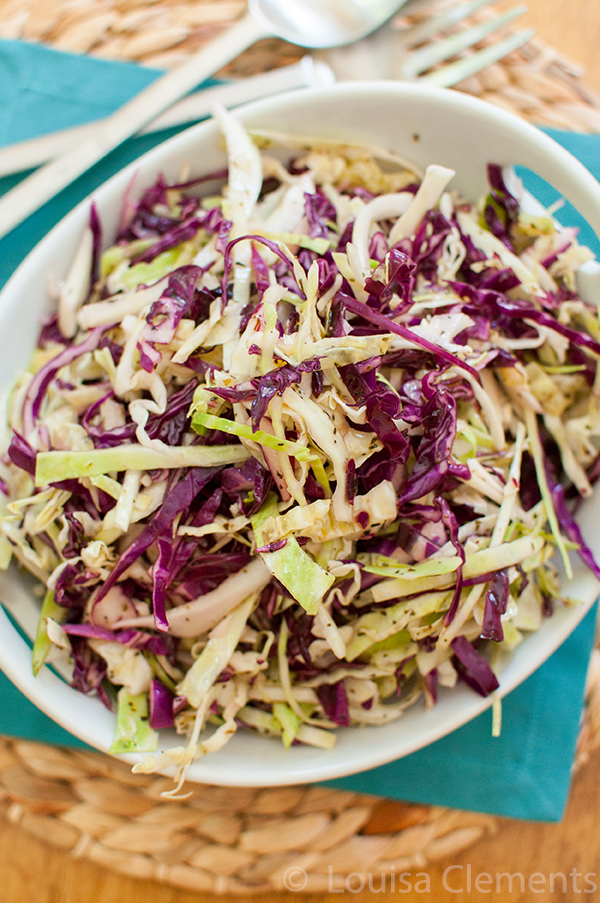 I often eat a bowl of this coleslaw with Italian dressing for dinner and lunch. It's that good. I've always been a huge fan of coleslaw, and I got the idea for this recipe last year around Christmas time. Yes, this recipe has been a long time coming. You see, a guest of the TV show I was working on had this amazing Italian lunch catered for us as a Christmas gift. Part of the meal was a sweet, tangy and delicious coleslaw with a basil dressing, and I knew right away that I had to recreate it.
Switching gears for a moment, let's chat. A couple of months ago I was talking with one of my friends about my favourite recurring topic of being confused in your 20s. She said that I was lucky because I have all of these lists of goals and things I want to do. I smiled, a little uncomfortable at this pseudo-compliment and slightly embarrassed by my ambition, but all I could think was "Maybe."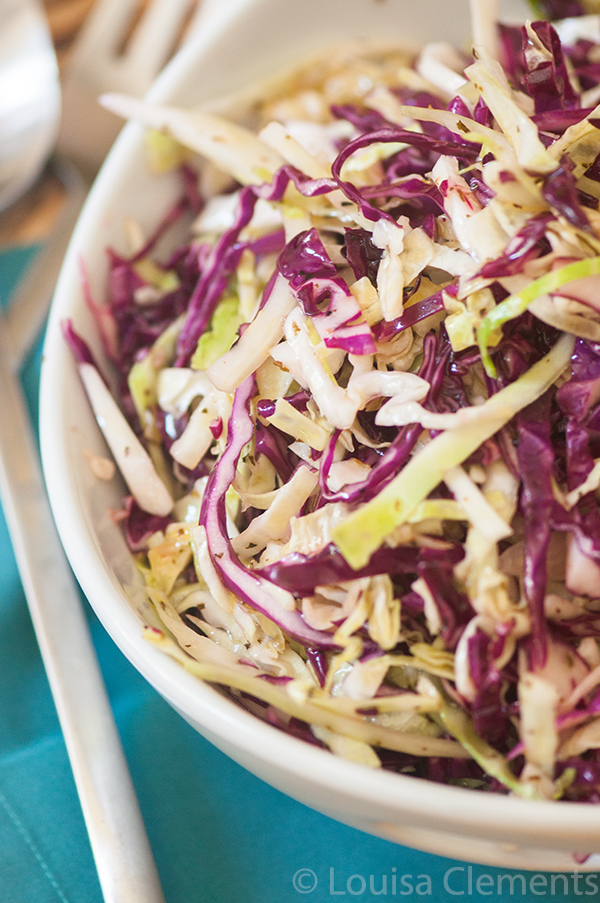 That conversation has really stuck with me, because I'm starting to realize that these slightly over-achieving tendencies I have might just be my "fatal flaw", as they call it. I've always been the type to put a lot of pressure on myself to succeed (whatever that means) because I want to do better. Be better. For as long as I can remember (which granted, at 21 isn't that long) I've always believed that no matter who you are or what you're doing there is room for improvement and progress.
I think this stems from being a competitive figure skater when I was a kid, no matter what you were doing, it could always be better. It's the same now, I can always get higher grades, post more recipes, and take better photos, be a better friend, a better sister, and a better daughter. But the minute that something goes wrong, maybe there's a fight or it's something as minute as a month with slow traffic, I get frustrated and down on myself for not living up to my own expectations.  It's so silly really, when you think (or write) about it.
I think the issue is that when we actually accomplish something we just check it off, like it's no big deal, but when we don't accomplish something, we wallow in it. I guess it comes down to regret maybe? How could we have done it better? If we could go back, what would we say? What would we change? Anyways, I'm sure that I haven't figured out anything with this post but maybe I'm not alone in all of this – thank you for indulging my rambling.
Food for thought
Would love to hear your thoughts on all of this goal setting & ambition business in the comments! Are you an "achiever"? Do you relate to this in any way?
And as always, a recipe for you to make this weekend. Coleslaw with Italian dressing is a fun Italian twist on an American/Canadian classic.
Coleslaw with Italian Dressing recipe breakdown
Inspired by Italian flavours, this coleslaw is tossed with a delicious basil dressing.
Coleslaw with Italian Dressing
Make a simple coleslaw at home with an Italian-inspired vinegar dressing with herbs and no mayonnaise.
Ingredients
1

whole

cabbage

,

shredded

1/2

cup

olive oil

1/3

cup

cider vinegar

3

tbsp

granulated sugar

1

clove

garlic

,

crushed

1

tsp

dried basil

1/2

tsp

salt

black pepper to taste
Instructions
In a saucepan, bring olive oil, cider vinegar, sugar, garlic, basil, salt and pepper to a boil. Boil for 30 seconds and remove from heat.

Allow dressing to cool before pouring over cabbage--this can take about 30 minutes.

Pour dressing over the cabbage toss to coat.
Notes
This recipe gets even better the next day. 
Nutrition Facts
Coleslaw with Italian Dressing
Amount Per Serving
Calories 186
Calories from Fat 162
% Daily Value*
Fat 18g28%
Sodium 195mg8%
Potassium 10mg0%
Carbohydrates 6g2%
Protein 1g2%
Vitamin C 1mg1%
Calcium 4mg0%
Iron 1mg6%
* Percent Daily Values are based on a 2000 calorie diet. Nutrition information is an estimate and is provided for informational purposes only. If you have any specific dietary concerns, please consult with your healthcare practitioner.