Coconut milk, brown rice, turmeric, ginger and Thai red chili are combined to make a delicious recipe for coconut brown rice that goes perfectly with Thai dishes.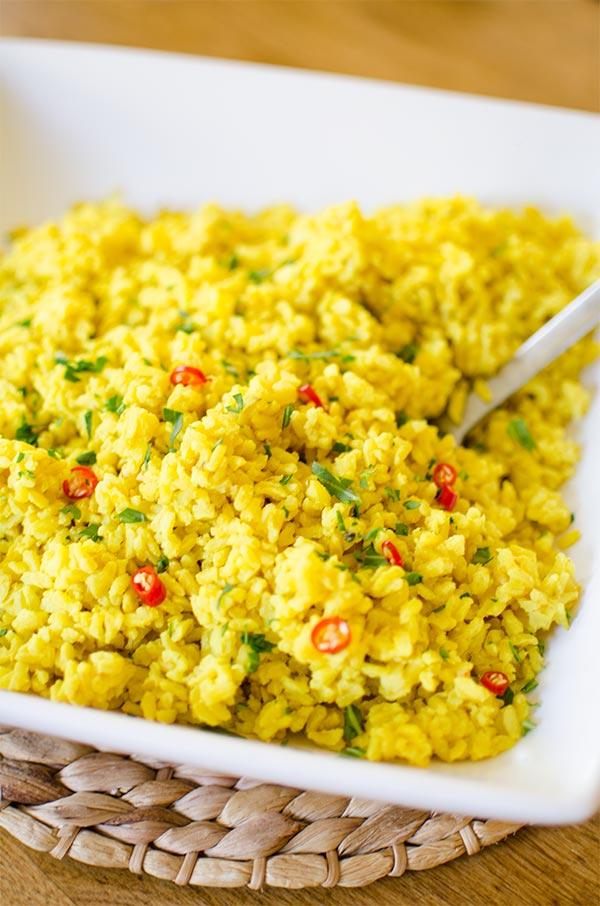 I've loved Thai food for years, we're so lucky in Toronto have so many amazing Thai restaurants so when a craving hits, I'll usually just order takeout. That said, I've definitely been inspired by some of the amazing dishes that I've tried, and the coconut rice is one of my favourite things to order.
Believe it or not, I actually prefer brown rice to white rice, so I opted for brown rice when developing this side dish recipe.
How to make coconut brown rice
Coconut brown rice is made using the same method you would to make any kind of rice, except half of the liquid is replaced with coconut milk. This adds a subtle sweetness to the rice. I also add a hint of turmeric, ginger and chili to add some spice and bitterness to balance out the sweetness from the coconut milk and then I finish the rice off with a touch of cilantro.
I find that rice can be pretty boring if you're eating it all the time, that's why I like making different varieties inspired by the regions I'm cooking from. I'll make cilantro lime rice, which is a Mexican-inspired rice dish, when I'm making tacos or burrito bowls.
This spicy Thai rice is perfect for serving with Thai-inspired dishes like my curried coconut milk poached salmon or chicken peanut stir fry. It also works well with Indian-inspired dishes like butter chicken or chicken tikka masala.
Louisa Clements
Yields 4 servings
Coconut Brown Rice
5 minPrep Time
45 minCook Time
50 minTotal Time
4 based on 4 review(s)
Ingredients
2 ¼ cups water
1 396ml-can coconut milk
1 tsp turmeric
2" piece of ginger, peeled
¾ tsp salt
1 Thai red chili
2 cups brown rice
Instructions
Set a medium pot over medium-high heat. Bring water, coconut milk, turmeric, ginger, chili and salt to a boil. Add brown rice. Cover and reduce heat to medium-low and simmer for 45 minutes. Remove ginger and Thai red chili before serving.
Nutrition
Nutrition Facts
Amount Per Serving

Calories

490

% Daily Value*



Total Fat:

1 g

1.54%

Saturated Fat:

0 g

0%

Cholesterol:

0 mg

0%

Sodium:

1761 mg

73.38%

Potassium:

159 mg

4.54%

Total Carbohydrate:

108 g

%

Sugar:

0 g

Protein:

9 g

Vitamin A:

0%

Calcium:

32 mg

3.2%

Iron:

7 mg

38.89%
7.8.1.2
269
https://www.livinglou.com/coconut-brown-rice/
Let me know if you give this coconut brown rice a try in the comments below.