Coconut milk, brown rice, turmeric, ginger and Thai red chili are combined to make a healthier recipe for coconut brown rice.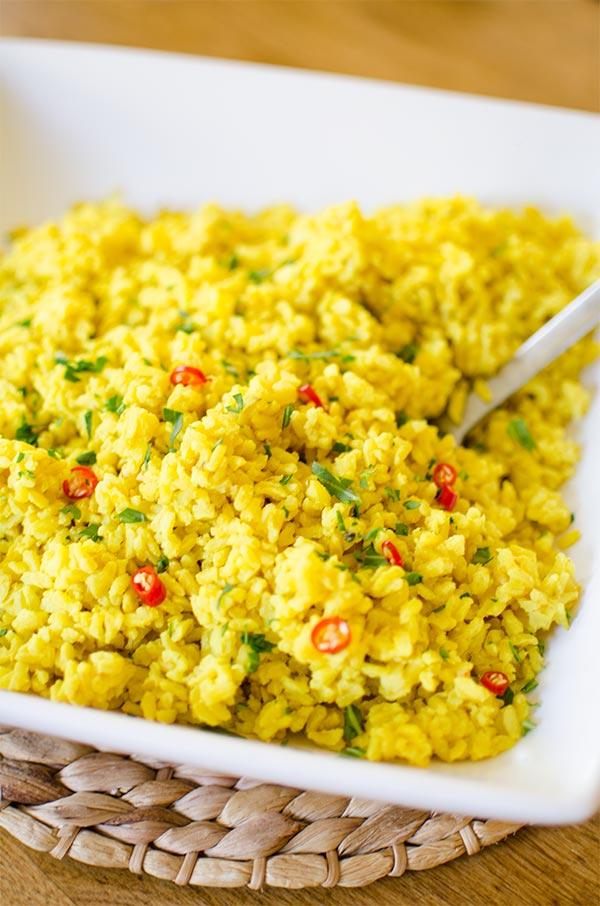 How are those healthy eating goals going? I didn't really plan to change my diet too much, but I have started to do a couple of other lifestyle changes, mainly because throughout November and December I found myself exhausted all the time. Like I mean flattened by the time it was 7pm.
I think this is mostly because I work all the time (my job + my blog = many hours in front of a computer), wake up at the crack of dawn and try to keep up with some sort of a social life. In an attempt to hopefully not be a zombie 90% of the time, I've been doing a bit of research.
What I've found out? Apparently you're supposed to go to sleep at the same time every night (even on weekends), wake up at the same time (even on weekends), avoid naps (even on weekends), avoid screens before bed, work out early in the day, not eat close to bedtime and go outside as soon as you wake up to get some sun. To name a few.
Ok, let's be real. Most of these things are things that I can't/am not willing to do. I wake up at 5am during the week, if you think I'm going to do that on weekends too, that's a little crazy. Avoiding naps? I've been perfecting the art of napping since high school. Go outside as soon as you wake up? Again, 5am = pitch black. But, like I said, this year is all about positivity and if I want to be less tired all the time, there are definitely some changes I can try to incorporate in my life.
I've heard exercise is good for energy levels, so for the past couple of weeks I've been incorporating more of that into my weekly routine. I'm not really sure if it's working yet, but they say it can take three months until you notice your energy levels increase. So, I'll get back to you in the spring on this one.
Serve this with
I've also started reading before bed and am really enjoying getting back into books (mind you, on my ereader, but sans backlight). I just finished Shonda Rhimes' Year of Yes. It took me a little while to get into it and her style of writing, but I ended up really enjoying it. Next on my list is The Nest and I think I'll also re-read Brene Brown's Daring Greatly. I feel like I could use a refresher this year.
About this coconut brown rice recipe
If you're thinking about adding a healthier twist to some of your dishes but don't want to give up flavour, I'm your girl. Coconut rice is one of my favourite sides to eat with a curry or just with some salmon or chicken, but I've actually really been enjoying brown rice recently so I wanted to try out a coconut brown rice recipe.
Let me tell you, this is the easiest switch you can make if you're looking at adding more whole grain to your diet. Now you're probably wondering where the yellow comes from, I also added some turmeric to this recipe because it adds not only a beautiful colour but some mild bitterness that balances out the sweetness of the coconut milk. I also cook the rice with a red Thai chili which gives a little touch of heat, (just drop the whole chili into the pot and take it out once the rice is done).
Louisa Clements
Yields 4 servings
Coconut Brown Rice
5 minPrep Time
45 minCook Time
50 minTotal Time
3.7 based on 3 review(s)
Ingredients
2 1/4 cups water
1 396ml-can coconut milk
1 tsp turmeric
2" piece of ginger, peeled
3/4 tsp salt
1 Thai red chili
2 cups brown rice
Instructions
Set a medium pot over medium-high heat. Bring water, coconut milk, turmeric, ginger, chili and salt to a boil. Add brown rice. Cover and reduce heat to medium-low and simmer for 45 minutes. Remove ginger and Thai red chili before serving.
7.8.1.2
269
https://www.livinglou.com/coconut-brown-rice/
Let me know if you give this coconut brown rice a try in the comments below.