Braised chicken thighs with tomatoes and white beans is a comforting one pot meal made with onions, tomatoes, garlic, white beans for a savoury delicious dinner.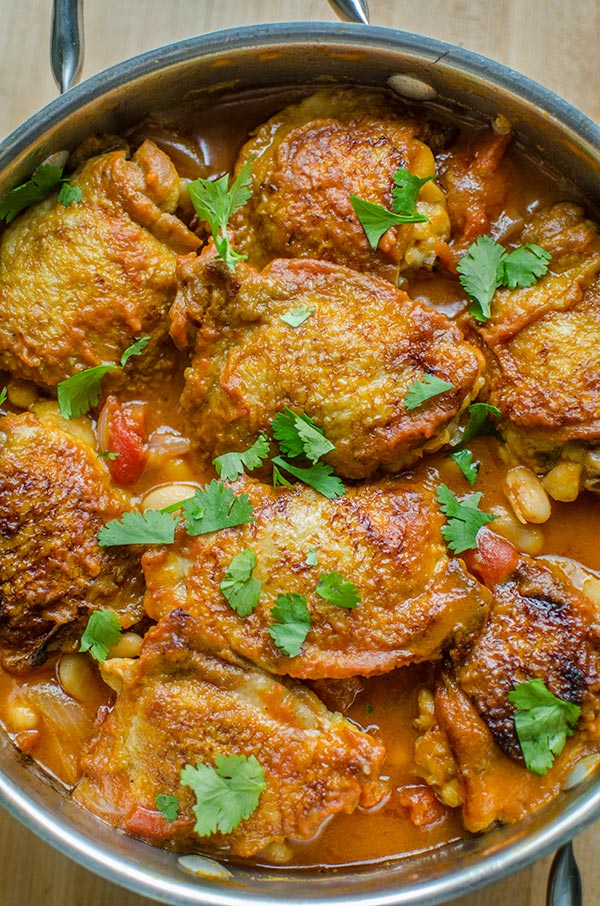 Braised chicken thighs has long been one of my favourite winter meals. I love how juicy and flavourful the chicken gets after a quick braise in the oven (or on the stovetop). I'm always looking for inspiration and this dish was inspired by two recipes.
The savoury, fish sauce element comes from a chicken and tomato stew that I worked on when I worked at Chatelaine, and the second recipe is one of Alison Roman's from the New York Times where she combines chicken thighs with hominy and tomatillos.
How do you braise chicken thighs?
To braise chicken thighs, start with a large saute pan or a Dutch oven, heat fat–I typically use olive oil or canola oil, and sear the chicken thighs, skin-side down, until browned and crisp, about 6 to eight minutes. Then you'll saute your aromatics (onions, celery, carrots etc.) and add your braising liquid (wine, broth, milk), bring it to a simmer, add the chicken back to the pan and cook in the oven for 30-40 minutes.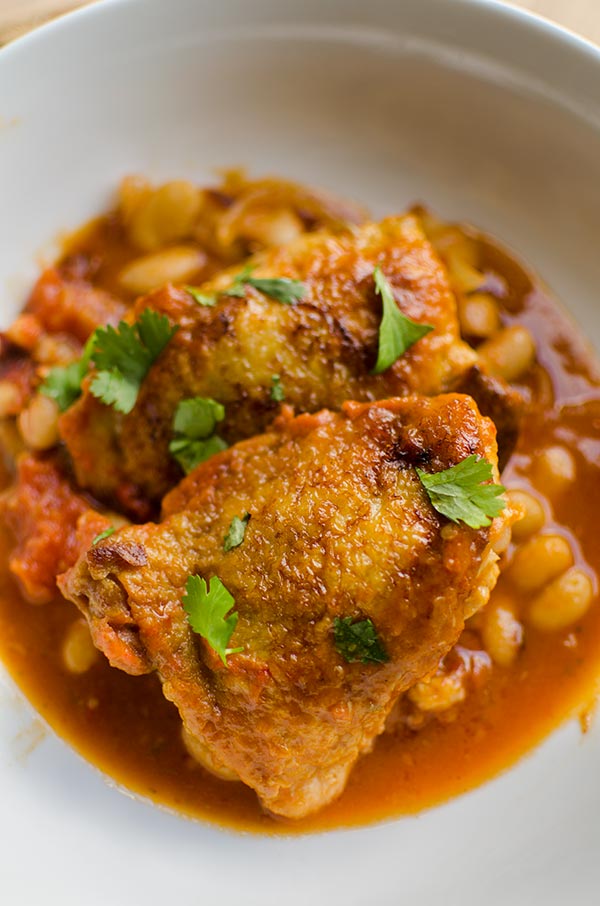 One of my top tips for making a braise is to finish it off with a little something fresh–for this braised chicken with tomatoes, I opted to sprinkle with fresh cilantro and lime juice. Because of the fat that renders when you sear the chicken thighs, without the cilantro and lime juice, this dish could air on the side of being a little too rich.
Can you braise on the stovetop?
Yes, you can definitely braise on the stovetop. I prefer braising in the oven because it is an even source of heat. You can also braise in the slow cooker!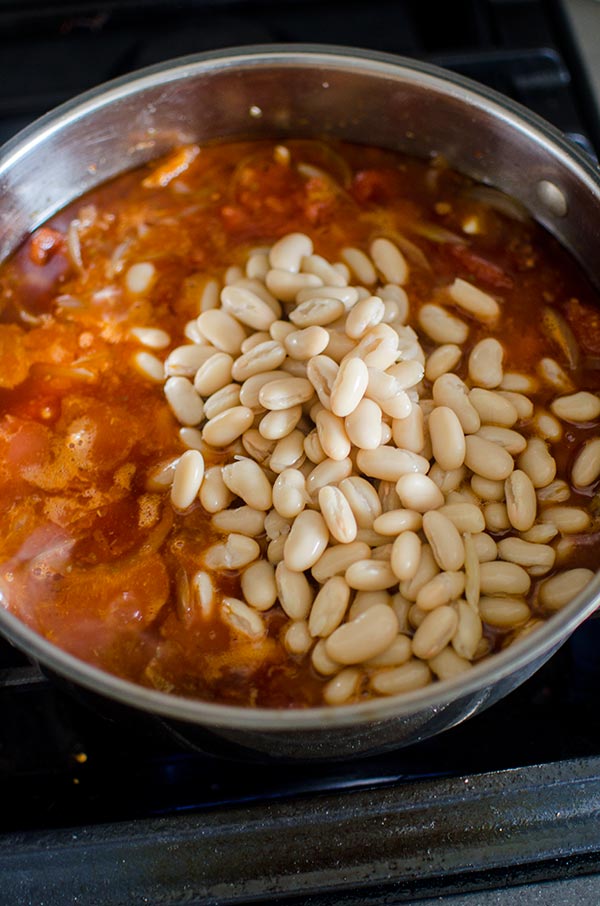 I consider recipes like this one for braised chicken thighs to be quintessential Living Lou recipes. They are simple, fresh and flavourful and I think they are the perfect example of my style of cooking. Maybe mostly because this the kind of recipe that I get jazzed about cooking, so I hope you do too.
I love adding beans to my braised chicken dishes because they become extra creamy and help to thicken the sauce while it braises. It also makes the dish more filling and something that you can serve over rice and call it a day.
Another tip for keeping the skin extra crispy, is to cook it uncovered in the oven. If you cover this dish, the condensation that gets trapped on the lid while it cooks will fall back down into the dish and the skin will become limp–which is the exact opposite of what you want!
This is a dish that really relies on building flavours. Starting by searing the chicken thighs, then sauteing onions, garlic and tomato paste in the chicken fat.
This recipe is meant to use ingredients you probably already have in your pantry. Olive oil, onions, garlic, tomato paste with a can of whole tomatoes and a touch of fish sauce. I actually had a lot of trouble coming up with a name for this recipe, I wanted to call it braised chicken thighs with saucy tomatoes, but one of my trusted advisors (my mother, ha!) told me that it wasn't a great name.
Louisa Clements
Yields 4 servings
Braised Chicken Thighs with Tomatoes and White Beans
Braised chicken thighs with tomatoes and white beans is a comforting one pot meal made with onions, tomatoes, garlic, white beans for a savoury delicious dinner. 
15 minPrep Time
1 hrCook Time
1 hr, 15 Total Time
Ingredients
8 skin on, bone-in chicken thighs
1/4 tsp salt
1 tbso olive oil
1 onion, thinly sliced
2 cloves garlic, minced
1 tbsp tomato paste
1 796mL / 29.6 oz can whole tomatoes
1 540mL / 19oz can white beans, drained and rinsed
1 tsp fish sauce
2 tbsp lime juice, divided
1 tbsp chopped cilantro, optional
Instructions
Preheat oven to 350F and season chicken with salt.
Heat olive oil in a large saute pan over medium-high heat. Add chicken and cook, skin side down for 6-8 minutes, flip and cook another 2 minutes. Remove from pan and set aside.
Add onion and cook for 3 minutes, add garlic and tomato paste and cook another thirty seconds to begin to caramelize the tomato paste. Add can of white tomatoes, use a wooden spoon to break and squeeze tomatoes into chunks. Stir in white beans, fish sauce and 1 tbsp of lime juice.
Bring to a simmer, return chicken to pan, skin-side up, being careful not to fully submerge the chicken. Carefully place in the oven, and cook, uncovered for 35-40 minutes, or until chicken is fully cooked.
Sprinkle with remaining lime juice and chopped cilantro.
7.8.1.2
371
https://www.livinglou.com/braised-chicken-thighs-with-tomatoes-and-white-beans/
Let me know if you give these braised chicken thighs with tomatoes and white beans a try in the comments below.