One pan braised chicken with white beans, cabbage, mushrooms and bacon is the ultimate winter dinner made with chicken thighs.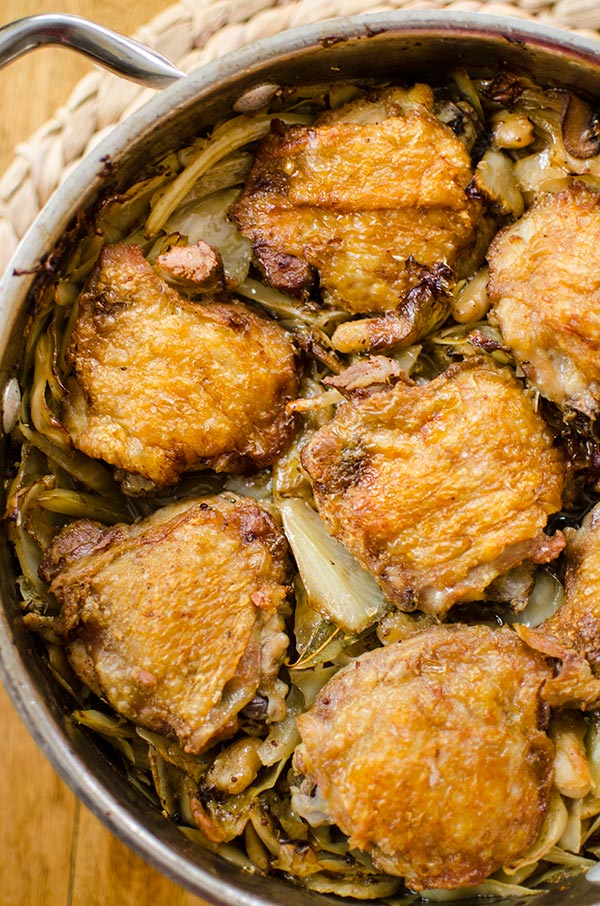 Braising is without a doubt the best method for cooking in the winter. Flavours intensify and develop with the two step cooking process and it's a way to eat cheaper (and thus tougher) cuts of meat that basically melt in your mouth. Not that chicken thighs are a tough cut of meat, but they are a favourite of mine for braising. Mostly because I love the way the skin gets super crackly and crispy.
I find that braising is one of those older cooking techniques that seems to be back in fashion these days, which I love! When I say older, I mean it's not one of those "30 minutes and DONE!" kind of dinners that tend to be the norm right now. While I love those kinds of dinners (this chicken rigatoni is a favourite), and totally understand the need for them, I also like to spend an afternoon slowing down and cooking something for longer. Especially on the weekends–which I know can be even busier for some people, but I think this slowing down thing is starting to seep into the daily lives of a lot of people. Sometimes there is just too much rushing and racing around, it's exhausting.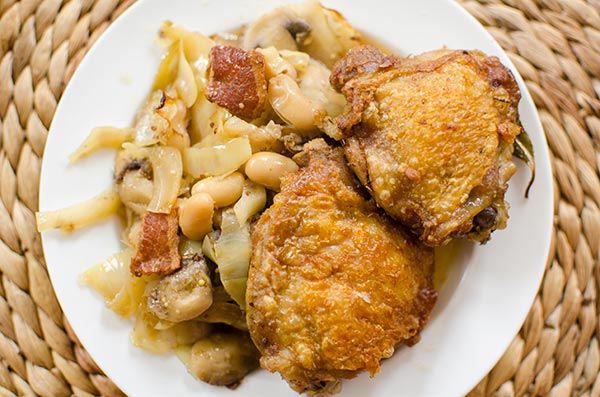 Braising uses two cooking methods, requiring both moist and dry heat (I wrote about it in this piece on cooking techniques for Chatelaine). Basically, the food is seared first (the secret to that extra crispy skin and layers of flavour) and then it's covered with a braising liquid (usually broth or wine) and cooked a super low simmer until it's melt-in-your-mouth tender.
I actually developed this recipe last year (I know, sometimes I impress myself with how on top of it I am), but I wanted to wait to share it until these cold, dark February days. I was talking with some friends recently about just how over winter we are. It's that time of year when you're tired of bundling up in seventeen layers, spending all of your time inside, and have run out of shows to watch on Netfix. Basically, we need something to keep us going right about now.
If you've been reading my blog for a while, you're aware that winter is my favourite time to cook. Yes, the fresh produce of the spring and summer is incredibly inspiring, there are also winter ingredients that can be equally as inspiring–squash, citrus and especially cabbage. I think cabbage is one of the most underrated vegetables, and you guys it is so cheap. Usually, cabbage goes into a colelsaw  but I've used it here in this one pan meal for braised chicken and I think if you've only ever tried cabbage raw, you definitely need to try it braised here.
There are other winter type ingredients in here, creamy white beans, mushrooms and bacon. The liquid gets its flavour from mustard, cider vinegar and dried thyme. I use dried thyme here because the fresh thyme you can buy this time of year isn't the best, and sturdier dried herbs are wonderful in braises because they break down during the cooking process. You could definitely swap in fresh thyme here, but I recommend trying with the dried first!
One Pan Braised Chicken with White Beans and Cabbage
One pan braised chicken with white beans, cabbage, mushrooms and bacon is the ultimate winter dinner made with chicken thighs. 
Pin
Print
Ingredients
8

chicken thighs

,

bone-in, skin-on

¼

tsp

salt

1

tbsp

olive oil

1

onion

,

thinly sliced

4

slices

bacon

,

cut into 1" pieces

227

g

sliced mushrooms

4

cups

shredded green cabbage

2

tbsp

cider vinegar

1

tbsp

wholegrain mustard

1

cup

white beans

,

drained and rinsed

1 ½

cups

low-sodium chicken broth

1 ½

tsp

dried thyme

2

bay leaves
Instructions
Preheat oven to 350F. Season chicken with salt and pepper.

Heat a large ovenproof pan over medium-high heat. Add oil, sear chicken, skin side down for 6-8 minutes, flip and cook another 2 minutes. Remove from pan and set aside.

Reduce heat to medium. Add bacon, cook 3 minutes, add onion and cook an additional 4 minutes, stirring frequently. Add mushrooms and cabbage, cook another 4 minutes. Add cider vinegar, mustard and white beans.

Cover with chicken broth, stir in thyme and bay leaves. Place chicken on top, and transfer to oven.

Roast, uncovered ,for 40 minutes, or until chicken is fully cooked and liquid has reduced.

Remove bay leaves and serve immediately.
Did you try this recipe?
Leave a comment + rating and let me know what you think!
Let me know if you give this one pan braised chicken with white beans and cabbage a try in the comments below.