Forget about buffalo wings, these crispy baked buffalo chicken legs are the perfect crowd-pleasing game day food for football season.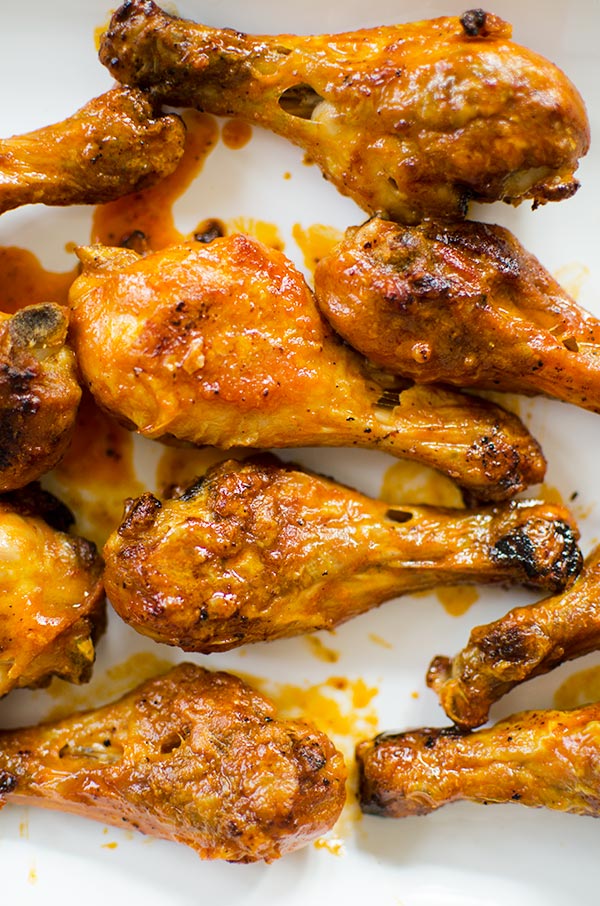 If you know me this probably won't come as a surprise, but Buffalo chicken wings are one of my favourite, guilty-pleasure foods. Everyone knows that they are my go-to order when we go for wings or trivia night. I mean, it's pretty hard to resist the combination of chicken, a vinegar-based hot sauce (like Frank's) and butter.
While I love buffalo chicken wings, when it comes to making them at home, I find that chicken legs crisp up even better in the oven than wings — and are even more delicious, if you can believe it! This crispy and crunchy skin from the chicken drumsticks replicates deep-fried chicken wings from a restaurant without actually needing to fry anything. These crispy baked buffalo chicken legs are 100% irresistible and perfect for watching the big football game.
Are you busy planning your Superbowl party? I mean, it's coming up pretty quickly and I've noticed that people are looking for all sorts of game day food. My healthier cheesy broccoli dip is a great vegetarian option for a party. Keeping dietary restrictions in mind when entertaining is really important, that way everyone has something they can eat.
Now, back to these crispy baked chicken legs which are best when they are piping hot out of the oven and have just been tossed in the hot sauce and butter mixture. So, my advice to you is that if you're the one hosting people, I recommend making this recipe just before guests arrive or during the game itself.
They are pretty hands-off and require a 20-minute roast time, a quick flip and another 20 minutes before getting tossed in melted butter and hot sauce. Simple and delicious, not quite on the healthy side, but every now and then it's important to indulge, don't you think?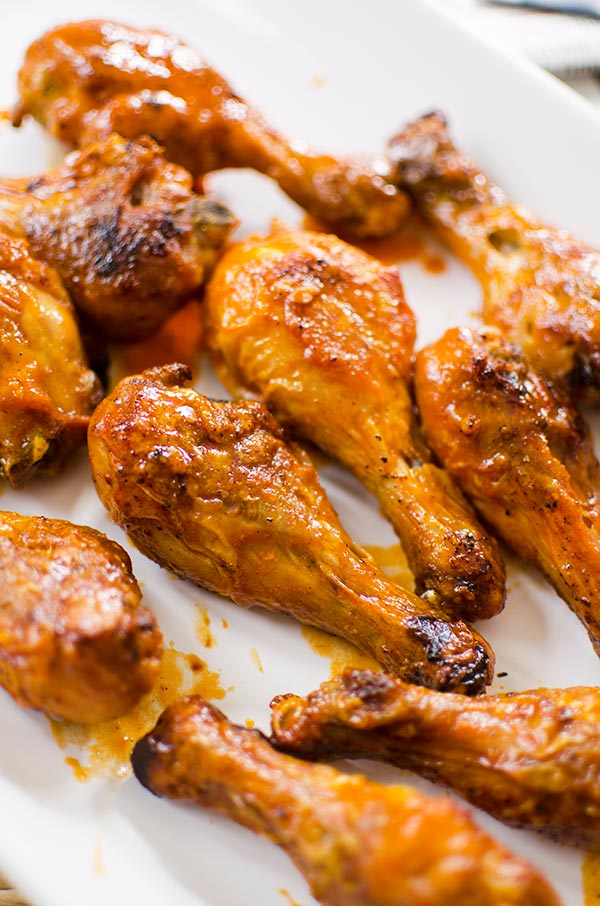 This recipe makes 10 chicken legs, but for feeding a crowd it can easily be doubled or even tripled. The buffalo wing flavours fall more on the medium side than the hot and spicy side, but if you're a fan of extra hot, just switch up the ratios of hot sauce to butter and add a little more hot sauce. That's one of the ways restaurants make mild, medium and hot wings — it's all in the ratios of butter to hot sauce.
If you want to keep the ratios the same, another option for adding more of a kick is to toss the chicken legs with a touch of cayenne along with the garlic powder before roasting them. Just be careful, cayenne pepper is powerful!
I've used the method for roasting chicken legs in a hot 475F oven, this is a technique that I've been using to roast chicken legs for a couple of years, it perfectly crisps up the skin that mirrors the crunch you get from frying, but without all the added fat and oil.
Louisa Clements
Yields 10
Baked Buffalo Chicken Legs
5 minPrep Time
40 minCook Time
45 minTotal Time
5 based on 3 review(s)
Ingredients
10 chicken legs, excess fat trimmed
1/2 tsp garlic powder
1/2 tsp salt
1 tbsp olive oil
For sauce:
2 tbsp butter
1/4 cup vinegar-based hot sauce (I use Frank's)
Instructions
Preheat oven to 475F.
In a large bowl, toss chicken with garlic powder, salt and olive oil.
Place on a baking sheet and roast for 40 minutes, flipping halfway through.
In a small pot, melt butter with hot sauce.
In a large bowl, toss cooked chicken with buffalo sauce and serve.
7.8.1.2
220
https://www.livinglou.com/baked-buffalo-chicken-legs/
If you want to change it up and try some more exotic flavours, I have a recipe for Indian-spiced chicken legs which will also become a favourite, but for something more tradition you really can't go wrong with my baked buffalo chicken legs.
 Let me know if you give this recipe for baked buffalo chicken legs a try in the comments below.