This mouthwatering buffalo chicken drumstick recipe swaps traditional chicken wings for chicken legs. Coated in a tasty sauce made from melted butter and hot pepper sauce, these juicy and crispy oven-baked drumsticks can be made mild or spicy. The best part? They are ready in just 50 minutes!
This twist on good old buffalo chicken is perfect for weeknight dinners, appetizers, and any game day or Super Bowl parties. If you know me this probably won't come as a surprise, but Buffalo chicken wings are one of my favourite foods.
So, why not try using chicken legs with the same flavours?
Why this recipe works
Similar to chicken wings, drumsticks have a high ratio of skin to meat, which means that these can get extra crispy, golden-brown and delicious in the oven! With a simple spice rub to add flavor, and neutral canola oil to help them crisp in the oven. This is my baked chicken leg method that I've been using for many years.
When they're fully cooked, simply toss in a butter and hot sauce mixture for that classic, tangy but slightly sweet Buffalo sauce.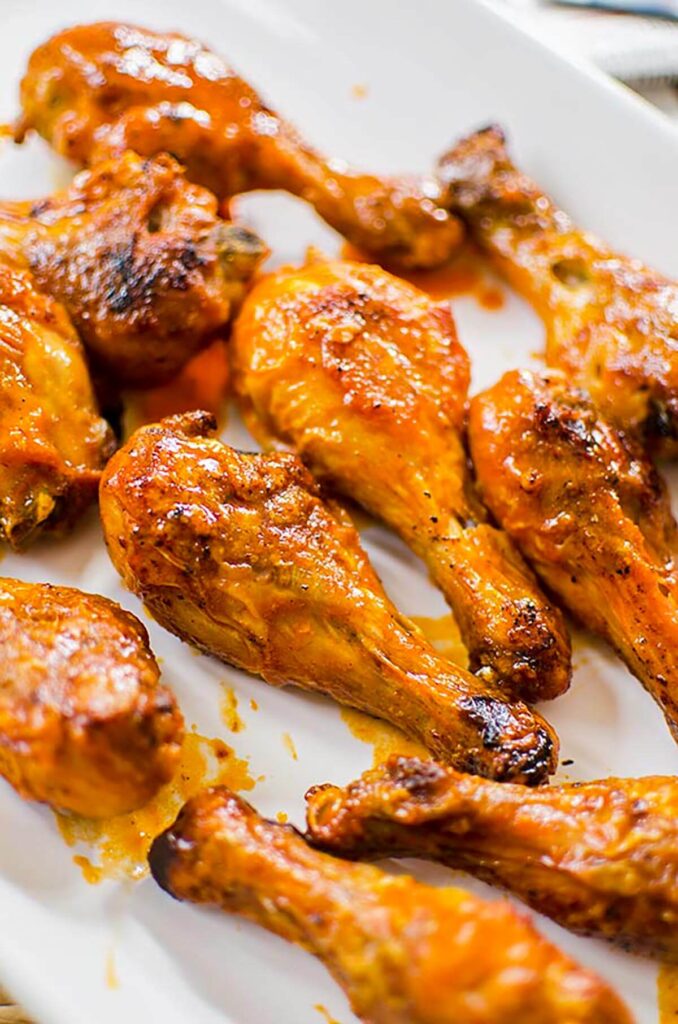 Ingredients you'll need
Skin-on, bone-in chicken drumsticks are the star of the show. If your drumsticks do have excess fat, you'll want to trim this off as it can burn and smoke in the oven.

For the spice rub, a combination of garlic powder and salt. If you want some extra spice, you can add some cayenne pepper.

To help them get crispy in the oven, you'll need some canola oil. This is an oil with a higher smoke point so it less likely to burn in the oven.

Finally for the Buffalo sauce you'll want 1 part butter to 2 parts hot sauce. Stick with a vinegar-based hot sauce like Frank's for a more typical Buffalo sauce. You're looking for flavor that has a perfect balance of heat, tang and richness.
Expert tips
If you have really fatty drumsticks, make sure to trim the excess fat to avoid it burning in the oven.
Make sure that you dry the chicken drumsticks thoroughly with paper towels before seasoning and coating them. This will help that the skin gets crispy in the oven.
You could definitely put them on a wire rack on a rimmed baking sheet, but in all honestly, those wire racks are a total pain to clean. Instead, I'll cook these on a greased baking sheet and flip them halfway through, ensuring both sides are crispy.
Frequently asked questions
How can I make these spicier?
To make these spicier, add ¼ tsp of cayenne pepper to the olive oil, and garlic powder before roasting. You could also increase the hot sauce-to-butter ratio for the Buffalo sauce.
How can I make the drumsticks crispy?
To get a crispy skin the oven temperature is key to these Buffalo drumsticks! You'll toss the chicken drumsticks in canola oil and roast at 425F for 45 minutes. I've used the method to roast chicken drumsticks for many years. It never fails to perfectly crisp up the skin that mirrors the crunch you get from frying.
What to serve these with
You have to serve these with some celery and carrot sticks along with a blue cheese dressing. For side dishes, a chopped salad with a blue cheese vinaigrette could be a fun option. You could also serve this with a simple house salad and Greek orzo salad.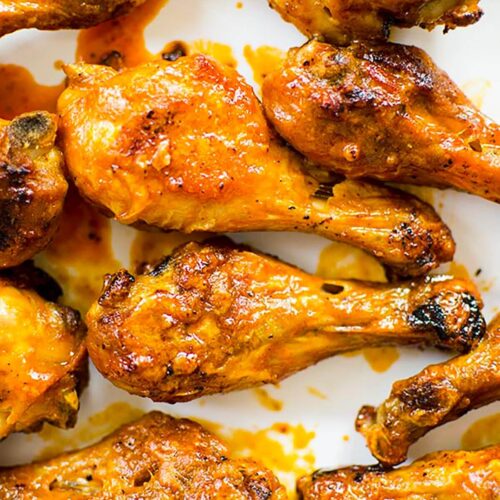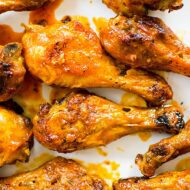 Baked Buffalo Drumsticks
This buffalo chicken drumstick recipe swaps wings for legs, coated in a tasty sauce of melted butter and hot pepper sauce. Juicy and crispy, they can be mild or spicy and are ready in 50 minutes!
Pin
Print
Ingredients
12

chicken legs

,

excess fat trimmed

½

tsp

garlic powder

½

tsp

salt

2

tbsp

canola oil

,

divided
For Buffalo sauce:
2

tbsp

butter

¼

cup

vinegar-based hot sauce

,

I use Frank's
Instructions
Preheat oven to 425F. Grease a rimmed baking sheet with half of the oil. Trim excess fat off chicken drumsticks and pat dry. In a large bowl or bag, toss chicken with garlic powder, salt and remaining oil.

Place chicken on a baking sheet and roast for 45 minutes, flipping halfway through.

Next, make the Buffalo sauce. In a small pot, melt butter with hot sauce.

When chicken is done, toss the crisped drumsticks with the Buffalo sauce in a large bowl and serve immediately.
Notes
Because we're cooking at a high temperature, you may find that the chicken starts to smoke a little bit in the oven–this is ok! Just be sure to turn the hood fan on and avoid opening the oven too many times. 
If you want a spicier Buffalo chicken, add some cayenne pepper to the spice rub, or increase the ratio of hot sauce to butter. 
Did you try this recipe?
Leave a comment + rating and let me know what you think!