Five ingredients including ginger, miso paste and snow peas, are all it takes for this healthy and light Japanese inspired miso salmon baked in parchment  with snow peas.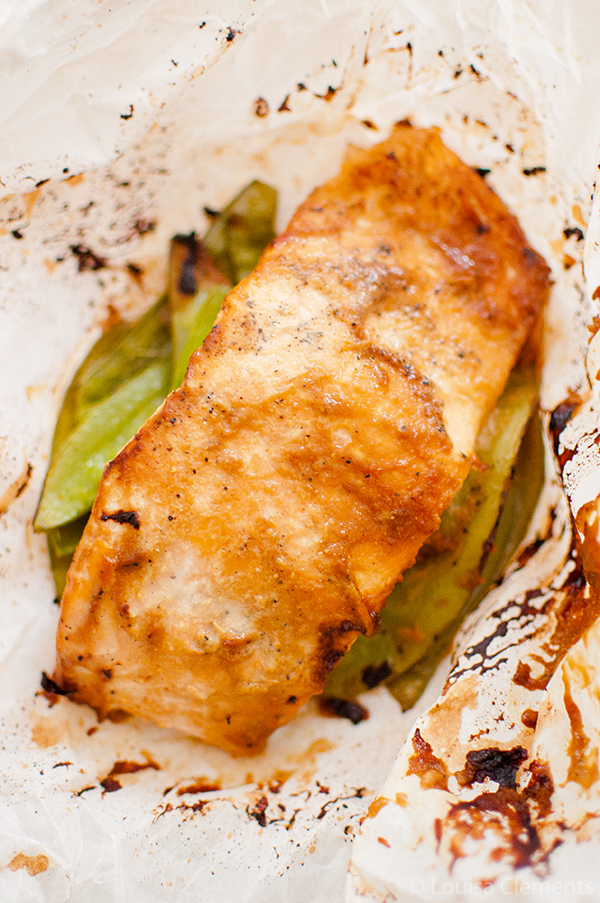 I'm always trying to come up with new simple recipes and this miso salmon baked in parchment fits the bill. It's made with just five ingredients, and with salmon, snow peas and ginger in here, I think it's a meal that is pretty good for you. I could just eat one of these parcels as a meal, but if you want a little starch also, I recommend going for brown rice.
How do you steam salmon in the oven?
They key to steaming salmon in the oven is creating a parchment bag to steam the salmon, otherwise you would be roasting it. This method is also referred to as en papillote, which is a method of cooking where food is put into a folded pouch or parcel and then baked. This creates a vessel for the ingredients to steam, since all of the moisture is kept within the bag while it cooks.
I'm really excited about this recipe because I'm featuring a new-to-the-blog-ingredient: miso paste. This is a common ingredient in Japanese cuisine and it's a paste made of fermented soybeans. It's packed with flavour and umami. 
What is "umami"?
Umami, translates to a "pleasant savoury taste". It's one of the five tastes and is typically used to describe savoury foods (think meats or broth). Sound good? Yep, because it's delicious.
Miso is one of those ingredients that adds a ton of savoury umami flavour and I really believe everyone should have a tub in their fridge (it lasts for months, too). You can use it in soups or stews, but I love it paired with ginger, salmon and snow peas in this recipe.
Why are foods cooked en papillote?
Cooking foods en papillote, delivers intense flavours with beautiful results. You can use parchment paper but you could also use tin foil for the same effect. If you're using this method on the barbecue, definitely opt for tin foil.
Well the first month of 2015 is over. January felt like a marathon. I'm focusing my time in 2015 on doing things that make me happy, I've realized that this is something that is so important in life. I'm trying to be more conscious about these choices, because I've found myself just kind of moving through life and going through the actions without really paying attention. It's that moment thing again – they are passing by and I'm not even really experiencing and feeling them.
It's so easy to get caught up saying "Yes!" to everything, and before you know it, your life is filled with all of these obligations that you aren't really interested in. All they end up doing is making work pile up which results in an exhausting cycle of stress. I got really good at that. Almost too good that I tricked myself into thinking that this was a good thing.
Over-achieving, always being "busy", having things to do, recipes to develop and test, papers to write, readings to read, the list never went on and on. Woops. This was not a good thing. Not at all. So, I'm realizing that it's time to be more selective with my time, I'm choosing to focus on the word "choice" for February. I'll keep you updated.
In the meantime, I suggest you head to the grocery store and pickup a tub of miso paste and try out this recipe for miso salmon baked in parchment a try for a quick dinner.
Quick tip for peeling ginger
Watch my video below for a quick 45-second tip for the easiest way to peel ginger.
If you're not sure how to create the parchment paper packages, here is a great en papillote tutorial from Serious Eats.
5 Ingredient Miso Salmon Baked in Parchment
Five ingredients including ginger, miso paste and snow peas, are all it takes for this healthy and light Japanese inspired miso salmon baked in parchment with snow peas.
Ingredients
4

8oz

fillets of salmon

2

8oz

packaged of snow peas

,

trimmed

1

tbsp

low-sodium soy sauce

1

tbsp

water

1

tbsp

white miso paste

1

tbsp

freshly grated ginger
Instructions
Fold four large pieces of parchment paper in half to crease them. Open, and lay them flat.

On one side of crease, mound 1/4 of the snow peas. Place salmon on top. Repeat with three additional pieces of parchment and remaining salmon and snow peas.

In a small bowl, whisk together miso, water, soy sauce and ginger.

Evenly divide miso mixture over salmon.

Fold parchment over salmon and scrunch the sides together to create a packet.

Place on a rimmed baking sheet. Bake until salmon is opaque throughout about 10-12 minutes.
Nutrition Facts
5 Ingredient Miso Salmon Baked in Parchment
Amount Per Serving
Calories 264
Calories from Fat 99
% Daily Value*
Fat 11g17%
Cholesterol 94mg31%
Sodium 659mg29%
Potassium 865mg25%
Carbohydrates 3g1%
Protein 35g70%
Vitamin A 68IU1%
Vitamin C 1mg1%
Calcium 25mg3%
Iron 2mg11%
* Percent Daily Values are based on a 2000 calorie diet. Nutrition information is an estimate and is provided for informational purposes only. If you have any specific dietary concerns, please consult with your healthcare practitioner.
Let me know if you give this 5 ingredient miso baked salmon in parchment a try in the comments below.