Five ingredients including ginger, miso paste and snow peas, are all it takes for this healthy and light Japanese inspired miso salmon baked in parchment  with snow peas.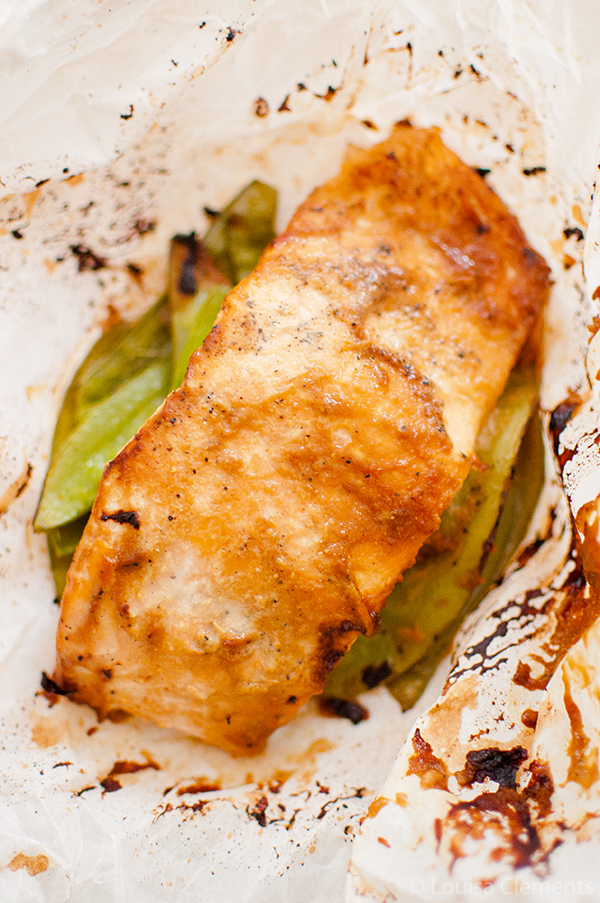 I'm always trying to come up with new healthy and simple recipes and this miso salmon baked in parchment fits the bill. It's made with just five ingredients, and with salmon, snow peas and ginger in here, I think it's a meal that is pretty good for you. I could just eat one of these parcels as a meal, but if you want a little starch also, I recommend going for brown rice to keep this on the healthy side.
I'm really excited about this recipe because I'm featuring a new-to-the-blog-ingredient: miso paste. This is a common ingredient in Japanese cuisine and it's a paste made of fermented soybeans. I know, it sounds kind of gross but it's packed with flavour and umami. Which basically translates to a "pleasant savoury taste". Sound good? Yep, because it's delicious. It's one of those ingredients that adds a ton of flavour and I really believe everyone should have a tub in their fridge (it lasts for months, too). You can use it in soups or stews, but I love it paired with ginger, salmon and snow peas in this recipe.
Well the first month of 2015 is over. January felt like a marathon. But we made it! I only shared four recipes in January, but I think this pace is a little more sustainable for me at the moment. You can only burn the candle from both ends for so long. I'm focusing my time in 2015 on doing things that make me happy, I've realized that this is something that is so important in life. I'm trying to be more conscious about these choices, because I've found myself just kind of moving through life and going through the actions without really paying attention. It's that moment thing again – they are passing by and I'm not even really experiencing and feeling them.
It's so easy to get caught up saying "Yes!" to everything, and before you know it, your life is filled with all of these obligations that you aren't really interested in. All they end up doing is making work pile up which results in an exhausting cycle of stress. I got really good at that. Almost too good that I tricked myself into thinking that this was a good thing.
Over-achieving, always being "busy", having things to do, recipes to develop and test, papers to write, readings to read, the list never went on and on. Woops. This was not a good thing. Not at all. So, I'm realizing that it's time to be more selective with my time, I'm choosing to focus on the word "choice" for February. I'll keep you updated.
In the meantime, I suggest you head to the grocery store and pickup a tub of miso paste and try out this recipe for miso salmon baked in parchment a try for a quick dinner.
Miso salmon recipe breakdown
With just five ingredients, this recipe for miso salmon baked in parchment is inspired by Japanese cuisine. Steamed in a parchment envelope and packed with flavour from fresh ginger and miso paste this simple and healthy dinner comes together in 20 minutes.
Quick tip
Watch my video below for a quick 45-second tip for the easiest way to peel ginger.
Yields 4
5 Ingredient Miso Salmon Baked in Parchment
10 minPrep Time
22 minCook Time
32 minTotal Time
5 based on 1 review(s)
Ingredients
4 6-8oz salmon fillets
2 8oz/226g pkg. snow peas
2 tbsp white miso paste
2 tbsp low-sodium soy sauce or tamari
1 tsp freshly grated ginger
Instructions
Preheat oven to 350F.
Fold four large pieces of parchment paper in half to crease them. Open, and lay them flat.
On one side of crease, mound 4 oz of snow peas. Place salmon on top. Repeat with three additional pieces of parchment and remaining salmon and snow peas.
In a small bowl, whisk together miso, soy sauce and ginger.
Drizzle 1 tbsp of miso mixture over each salmon.
Fold parchment over salmon and scrunch the sides together to create a packet.
Place on a rimmed baking sheet. Bake until salmon is opaque throughout, 18-22 minutes.
Notes
Recipe by Louisa Clements
7.8.1.2
194
https://www.livinglou.com/5-ingredient-miso-salmon-baked-in-parchment/
Let me know if you give this 5 ingredient miso baked salmon in parchment a try in the comments below.