Make the best grilled salmon in foil in just ten minutes with cherry tomatoes, kalamata olives and finished off with a drizzle of balsamic glaze and fresh basil. Learn how to grill salmon in foil on a gas grill. This recipe is sponsored by Loblaws.
As a food lover, there are certain ingredients and cooking techniques that I truly love. My cooking technique of the moment is grilling. For me, grilling is such a simple way to cook that truly brings out the best in local, seasonal produce.
It's why you'll find me grilling local Ontario asparagus for a salad, or adding charred Ontario cornto practically everything in August, but there are certain local summer favourites that don't lend themselves quite as well to the grill (I'm looking at you, tomatoes). Loblaws is my go-to location for fresh, local produce and where you'll often find me picking up fresh produce for dinner after work.
In a way, grilling tomatoes is similar to grilling salmon—salmon is a delicate protein, which means it can be a little on the finicky side to grill, leading to many people to shy away from barbecuing salmon—choosing instead to make roasted salmon in the oven or poached salmon on your stovetop.
But I've got an approachable, delicious and easy fix—grab some heavy duty aluminum foil and cook the salmon "en papillote" or baked barbecue salmon in foil.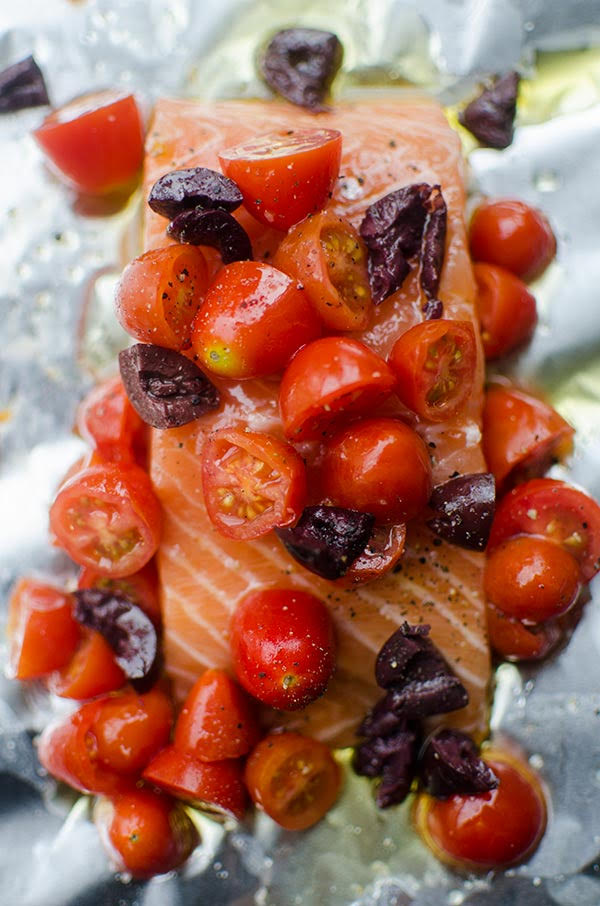 The aluminum foil creates a protective layer between the fish and the grates, and allows you to make a little envelope and include any ingredients that would cook in the same amount of time as the salmon (for this recipe, we're looking at 8-10 minutes on medium heat).
This also means that it's a way to grill tomatoes without worrying about the tomatoes falling apart on the barbecue.
What temperature should grilled salmon be?
I heat my barbecue to at least 500F before adding any ingredients. Allowing the grates to preheat helps keep foods from sticking to the grates.
Cherry tomatoes and kalamata olives make for the perfect, sweet and salty bite to accompany the salmon which is simply seasoned with salt, pepper and olive oil. I finish these off with fresh basil and a drizzle of balsamic glaze for a simple dinner.
I love using the bounty of the season–local, fresh cherry tomatoes and local basil are so full of flavour at this time of year–because there are so few ingredients in this recipe, you'll want to make sure that you are choosing the highest quality local produce which I find at Loblaws.
In my opinion, I think this is truly the best grilled salmon in foil.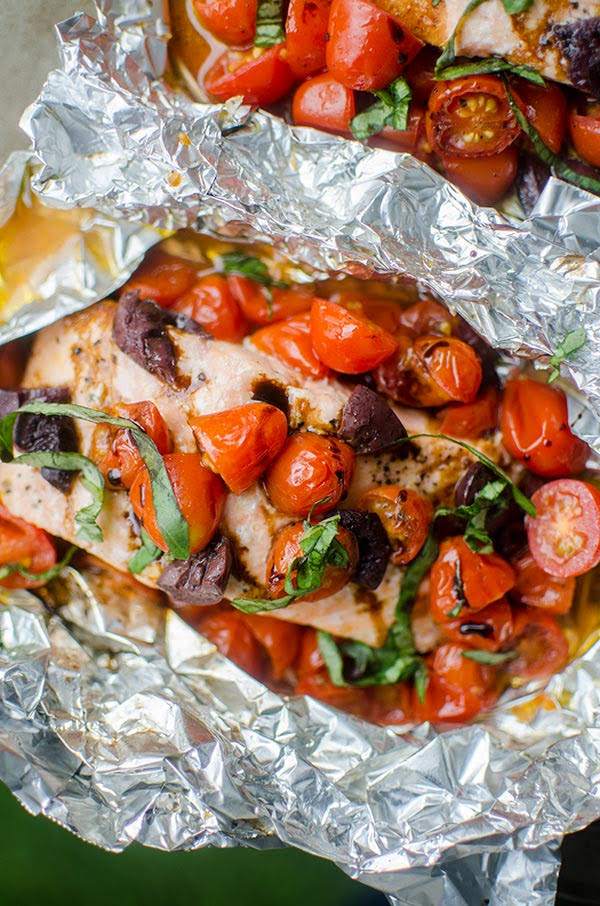 The best thing about cooking ingredients in foil packets is that they are completely customizable, so no matter what your food preferences are, you can have the perfect meal.
Swap the tomatoes out for thinly sliced local zucchini or eggplant, and you could leave out the olives all together—because even if you hate tomatoes (or olives!), you're still a food lover.
I even made a different version of these foil packets for the non-tomato lover in my life with zucchini that I happened to have on hand, because whether you love or hate tomatoes or any other specific ingredients, it's really our love of food that unites us.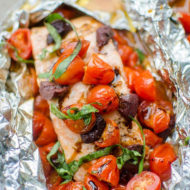 Grilled Salmon in Foil with Cherry Tomatoes
Make the best grilled salmon in foil in just ten minutes with cherry tomatoes, kalamata olives and finished off with a drizzle of balsamic glaze and fresh basil.
Pin
Print
Ingredients
4

filets

of salmon

,

1-inch thick

2

cups

halved cherry tomatoes

,

divided

¼

cup

roughly chopped

,

pitted kalamata olives

4

tbsp

olive oil

,

divided

¼

tsp

salt

,

divided

freshly ground pepper to taste

2

tbsp

Balsamic glaze

1

tbsp

thinly sliced basil
Instructions
Cut 4 large rectangles of aluminum foil. Place salmon fillet on each piece and evenly distribute tomatoes and kalamata olives. Drizzle evenly with olive oil, make sure there is olive oil underneath the salmon to avoid the skin sticking to the foil. Sprinkle evenly with salt and fresh pepper. Fold foil and crimp the edges to seal the packages.

Preheat grill to medium high heat, allow to reach 500F, add salmon packages and grill, covered for 4 minutes, and uncovered for another 4-6 minutes. Carefully remove to a baking sheet. Allow to rest until foil is cool enough to handle.

Open foil packages, drizzle with balsamic vinegar and sprinkle with basil. Serve immediately.
Did you try this recipe?
Leave a comment + rating and let me know what you think!
Let me know if you give this recipe for barbecued salmon in foil a try in the comments below.