This quick and easy coconut vegetable curry is ready in under 45 minutes! Made with chickpeas, sweet potato, cauliflower and green beans this will surely become your favourite vegetarian curry recipe.
I truly love vegetarian curries. I think they are one of my favourite vegetarian meals that I make at least once a month. It's worth noting that this recipe actually happens to be vegan as well. 
This curry recipe is inspired by Indian curries, thus it uses curry powder, though you can also find Madras curry powder which is from southern India. You'll often find Thai curry paste used in Thai cuisine, like in my salmon in curried coconut milk.
The key when using curry powder is to make sure that you are "cooking out" the curry powder over heat before adding other ingredients as this helps build flavour.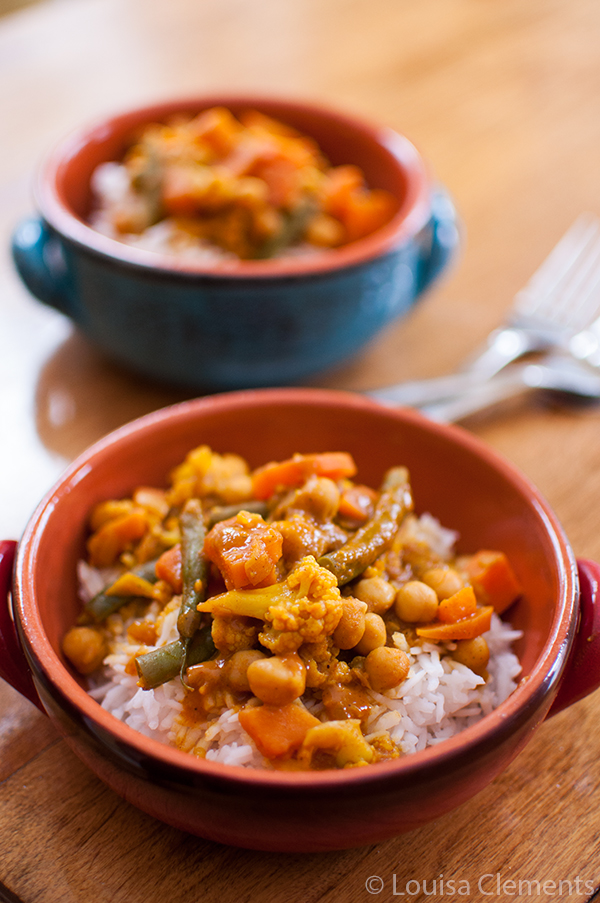 In addition to curry powder, I add extra flavour with fresh garlic and ginger, ground coriander, cumin and turmeric – these are all spices that are in the curry powder, but I like the added depth a little extra gives this dish.
Which vegetables are best in a coconut curry? 
I like to use sturdier vegetables like sweet potatoes and carrots (you could also use regular potatoes). Along with that I'll add something that has a more neutral flavour (like cauliflower) as it really takes on the flavours of the curry.
I always like to add something green as well so I'll either add green beans of peas. 
Quick ginger peeling tip
Watch the video below for a quick 45-second tip for the easiest way to peel ginger.
Louisa Clements
Yields 4-6 servings
Vegetarian Curry
25 minPrep Time
20 minCook Time
45 minTotal Time
Ingredients
2 tbsp olive oil
1 onion, diced
2 cloves garlic, finely minced
1 tbsp minced ginger
1 tsp salt, divided
2 tbsp curry powder
2 tsp ground coriander
1 tsp cumin
1 tsp turmeric
1/2 tsp hot pepper flakes (optional)
1 796mL / 28oz can diced tomatoes
1 400mL /13.5oz can coconut milk
1 cup water
2 carrots, sliced
1 medium sweet potato, diced (about 1 1/2-2 cups)
1 cup chopped green beans
1/2 head cauliflower, chopped
1 15oz can chickpeas, drained and rinsed
Instructions
In a large pot, heat olive oil over medium heat. Cook onions for 3 minutes or until lightly golden and very fragrant. Add garlic, ginger and 1/2 tsp salt. Cook for another minute. Add spices, stirring to cook, another 30 seconds.
Add diced tomatoes, coconut milk, water and remaining 1/2 tsp salt. Add carrots, sweet potato, green beans, cauliflower and chickpeas. Bring to a boil, reduce to a simmer and cook uncovered for 15 minutes.
7.8.1.2
53
https://www.livinglou.com/vegetarian-curry-2/
Let me know if you give this coconut vegetable curry a try in the comments below.