Soft, sugary and chewy; meet your new favourite sugar cookie recipe perfect for Christmas baking, sugar cookies with sprinkles. This post is sponsored by Burnbrae Farms. Learn more about their Cookie Eggchange Contest.
I make sugar cookies every single year for Christmas. Typically, I'll decorate them with royal icing, or add some spices into them for chai sugar cookies, but this year, I wanted to do something different.
Enter, sprinkles. You can use whatever sprinkles you like, for these cookies I've just used my favourite colourful sprinkles, but you could easily adapt these cookies for whatever holiday or colour theme you like.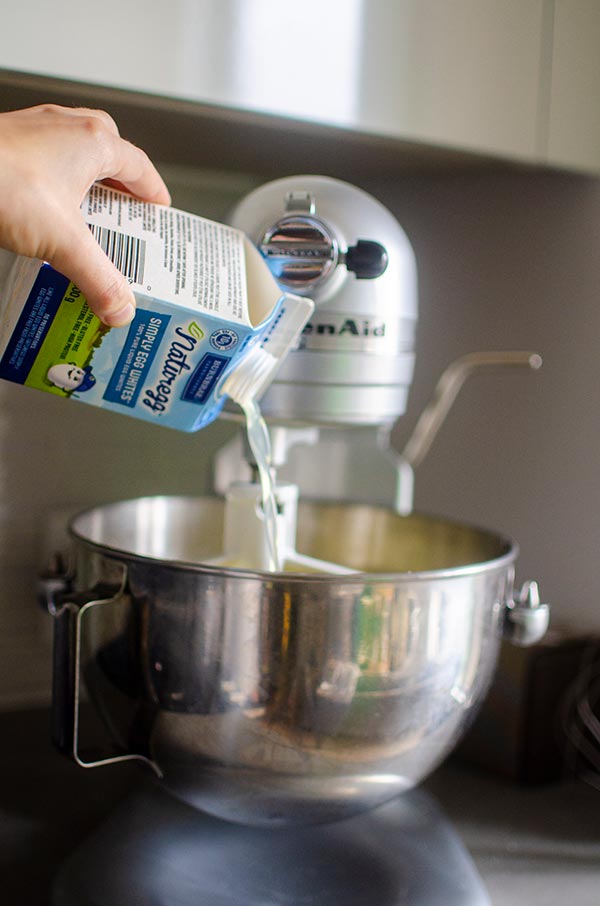 Sugar cookies with egg whites?
Yes, these cookies are made with egg whites only. Using two egg whites gives the cookies enough liquid for them to rise, (extra liquid = extra steam), and you'll end up with chewy and tender cookies that are a little softer than if you were to have used egg yolks in the batter.
For this recipe, I'm using my favourite Naturegg Simply Egg Whites–I always have a carton in my fridge for baking cookies like cinnamon macaroons or ginger molasses cookies. It makes things so much easier, especially when it comes to holiday baking! Just measure your liquid egg whites (they are made from 100% pure egg whites) and off you go.
Serious Eats has a fabulous read on the purpose of egg whites in sugar cookies.
Using liquid egg whites in baking?
A simple ratio for substituting liquid egg whites when a recipe calls for egg whites: ¼ cup of liquid egg whites is equivalent to 2 egg whites. One egg white is about 2 tbsp of liquid egg white.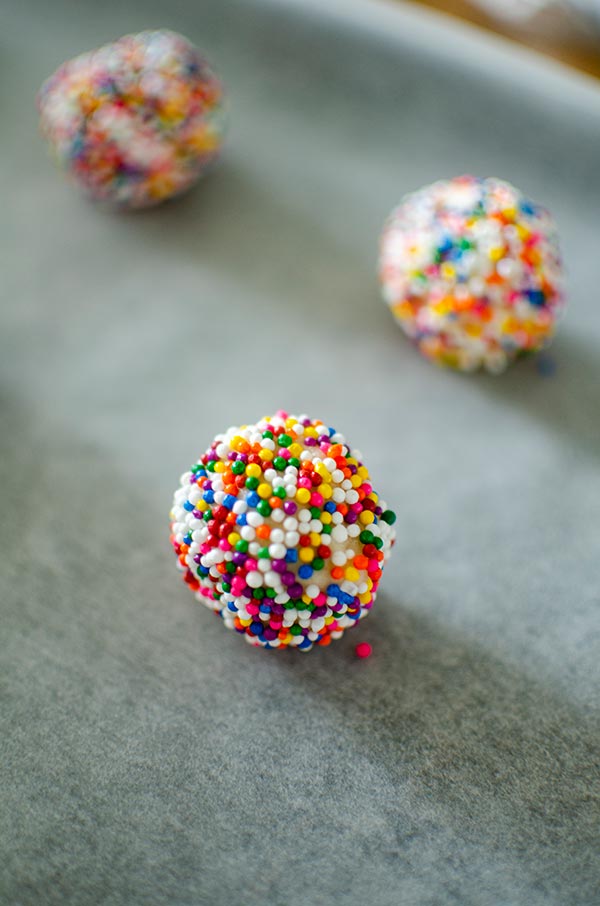 Baking with sprinkles can be a little confusing, so I've broken out a few of the most common frequently asked questions when it comes to baking sprinkle sugar cookies.
Do you put sprinkles on before or after baking?
Put the sprinkles on before baking. Roll the dough balls into sprinkles and then carefully place on a cookie sheet. This will ensure that your cookies are covered in sprinkles and end up looking just like this photo.  
The key is rolling and shaping the dough balls in your hands before rolling them in the sprinkles. The heat and moisture from your hands will dampen the cookie dough slightly, just enough for the sprinkles to adhere to the dough.
Sugar Cookies with Sprinkles
Soft, sugary and chewy; meet your new favourite sugar cookie recipe. The dough is rolled in your favourite sprinkles before baking. 
Ingredients
1

cup

unsalted butter

,

at room temperature

1 1/2

cups

granulated sugar

1/4

cup

Naturegg Simply Egg Whites or 2 egg whites

1

tbsp

vanilla extract

2 1/2

cups

all purpose flour

2 1/2

tsp

baking powder

1/4

tsp

salt

1 1/2

cups

coloured sprinkles

,

I always use small, circular sprinkles
Instructions
Preheat oven to 350F.

Beat butter with sugar using an electric mixer on medium speed for 5 minutes until light and fluffy. Beat in egg whites and vanilla, about 30 seconds or so, until they have emulsified with butter and sugar. It may look like it won't come together--it will! Add flour, baking powder and salt. Beat on low speed until just combined, another 30 seconds or so.

Refrigerate the dough for 10 minutes to make it easier to handle.

Roll rounded tablespoon portions of dough between your hands to form a ball. The dough balls should be about 1-1/2" in size. Roll each dough ball in sprinkles, you may need to press firmly to adhere as many sprinkles as possible. Place cookie dough balls 2-inches apart on a parchment lined baking sheet.

Bake in batches, for 15 minutes or until cookies have spread and bottoms are golden. Repeat with remaining dough.
Nutrition Facts
Sugar Cookies with Sprinkles
Amount Per Serving
Calories 139
Calories from Fat 54
% Daily Value*
Fat 6g9%
Cholesterol 14mg5%
Sodium 50mg2%
Potassium 11mg0%
Carbohydrates 21g7%
Protein 1g2%
Vitamin A 171IU3%
Calcium 19mg2%
Iron 1mg6%
* Percent Daily Values are based on a 2000 calorie diet. Nutrition information is an estimate and is provided for informational purposes only. If you have any specific dietary concerns, please consult with your healthcare practitioner.