Get dinner on the table quickly with this simple recipe for spicy honey glazed chicken thighs that is perfect for a weeknight dinner.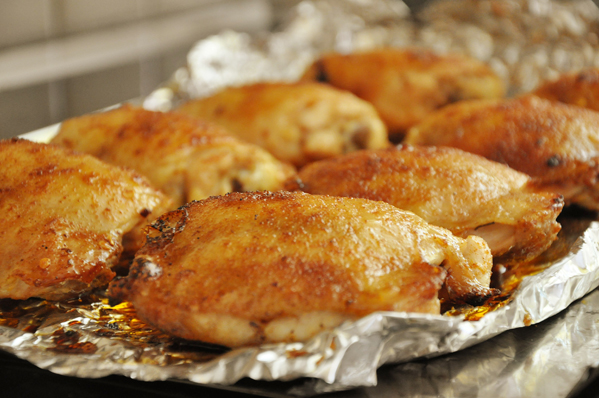 These spicy honey glazed chicken thighs is one of those recipes that are made for a quick weeknight dinner. With a simple spice rub and then a honey glaze, these chicken thighs are juicy, succulent and packed with flavour. The first step for these chicken thighs is the spice rub, which is made up of spices you probably already have in your cupboard; garlic powder, cumin, paprika and chili flakes. You might be wondering why this recipe calls for garlic powder instead of fresh garlic. Well, I'm a true believer in using fresh produce as much as possible, but when it comes to cooking garlic at a really high temperature, powdered is best. These chicken thighs are cooked under the broiler and if you were using minced fresh garlic, the garlic would burn and leave a bitter after taste that would ruin the subtle flavours of the dish. The flavours of this dish are similar to my honey garlic chicken legs but with the addition of some spice.
I know that many of you are here for quick weeknight dinners. My go-to chicken dinners are often the thighs because they are more budget-friendly and actually have more flavour than chicken breasts. I've figured out the method for perfectly roasting chicken thighs but these spicy honey glazed chicken thighs are another recipe that are a recurring character on my dinner table. This recipe has the perfect combination of sweet and spicy, the spice comes from cayenne pepper and there's a bit of bite in the balsamic vinegar, and the sweetness is from the honey. This is a delicate balance, but this combination just works for this simple recipe.

Louisa Clements
Yields 4
Spicy Honey Glazed Chicken Thighs
5 minPrep Time
14 minCook Time
19 minTotal Time
Ingredients
8 bone-in skin on chicken thighs
2 tsp garlic powder
1 tsp cumin
1 tsp paprika
½ tsp salt
⅛ tsp red pepper flakes
6 tbsp honey
1 ½ tsp balsamic vinegar
cooking spray (for coating the pan)
Instructions
Preheat broiler and line a baking sheet with tin foil, and spray foil with cooking spray.
Combine garlic powder with cumin, paprika, salt and red pepper flakes. Rub on both sides of chicken. Place chicken on baking sheet and broil for 10 minutes, flipping halfway through.
In a medium bowl, combine the honey and vinegar.
Brush chicken with the honey mixture. Broil for another minute or two. Flip chicken and brush this with the remaining honey mixture and broil for an addition one to two minutes.
Check to be sure chicken is done, if not broil for another minute, be sure to watch it very carefully!
Nutrition
Nutrition Facts
Amount Per Serving

Calories

903

% Daily Value*



Total Fat:

35 g

53.85%

Saturated Fat:

10 g

50%

Cholesterol:

190 mg

63.33%

Sodium:

1780 mg

74.17%

Potassium:

169 mg

4.83%

Total Carbohydrate:

110 g

%

Sugar:

96 g

Protein:

40 g

Vitamin A:

33.14%

Calcium:

31 mg

3.1%

Iron:

4 mg

22.22%
7.8.1.2
124
https://www.livinglou.com/spicy-honey-glazed-chicken-thighs/
Enjoy these tasty spicy honey glazed chicken thighs, they are positively perfect.