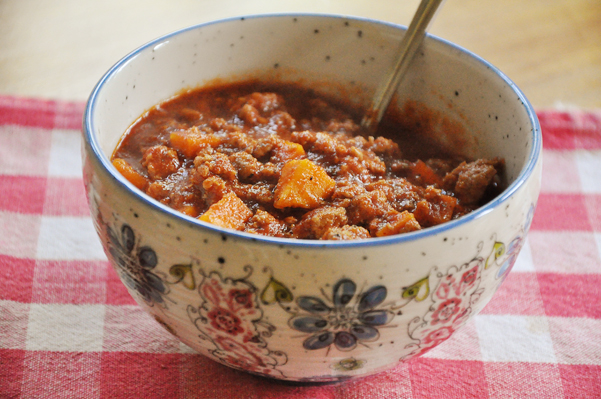 The days are getting shorter, the grass is covered by leaves and frost sparkles in the sunlight in the early mornings – winter is definitely on its way. There aren't  many things that I like about winter. There's just something about leaving in the morning when it's still dark out and then getting home as the sun is setting that is pretty depressing. I don't like the cold, and I may be one of the few Canadians who hates the snow; to sum it all up, winter and Lou just don't really go together. Also, talking in third person and Lou don't really go well together either. (Note to self: no more third person.)
I'm going to try and keep the negativity to a minimum here because Living Lou is a positive space, and there are a few things that I love about winter. One of those is inevitably Christmas and the other is comfort food; soups, stews, baked pasta, oatmeal, I could go on and on! If you were hanging around Living Lou last year you'll remember the chili I shared that is one of mine and my Dad's favourites.  Today I'm sharing a new and easy chili, all it requires is a quick saute and preparation of the ingredients and then you can just dump it all in the slow cooker turn it on, and come home to a heart warming, flavorful chili after work.
Slow Cooker Chili with Sweet Potatoes

A hearty and delicious chili that cooks all day in your slow cooker!

Ingredients
1 tbsp olive oil
1 onion, chopped
4 cloves garlic, crushed
1 lbs hot Italian sausage meat
1 ½ lbs ground turkey
1 tbsp chili powder
1 ½ tbsp grill seasoning
1 ½ tbsp cumin
1 tbsp coriander
½ tbsp chipotle chile powder
½ tbsp smoked paprika
1 ½ cups crushed tomatoes
1 ¾ cup beef stock
½ tsp whole pepper corns
1 ¼ cup chopped, raw, sweet potatoes
Instructions
In a large pan, heat olive oil over medium heat.
Add onion and saute for 3-4 minutes, add garlic and cook for 1 minute.
Add sausage meat and ground turkey, cook until fully cooked, drain off ½ cup of fat.
Add chili powder, grill seasoning, cumin, coriander, chipotle chile powder and smoked paprika. Stir until fragrant.
Dump the contents of the pan into slow cooker, cover with crushed tomatoes and beef stock.
Stir in pepper corns and sweet potatoes.
Cook in slow cooker over low heat for 6 hours.
7.8.1.2

13

https://www.livinglou.com/slow-cooker-chili-with-sweet-potatoes/
Is chili one of your favourites during the cold months?