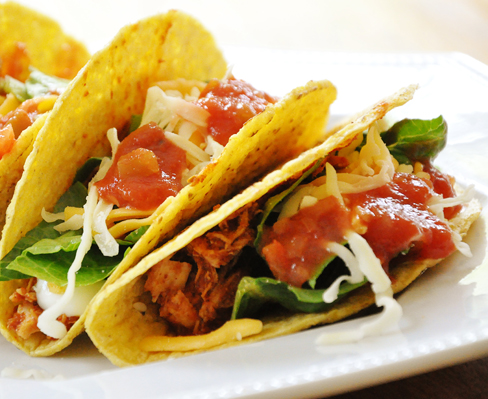 I'm about to make a bold statement here – these shredded chicken tacos are probably the one meal I'm most excited to share with you all. Seriously. Beef tacos and fish tacos have got nothing on these. I cannot tell you exactly what makes them so darn good, but the spices, the tomato sauce and the chicken create the perfect harmony. These tacos are juicy, spicy, and flavorful. They are seriously the best tacos I have ever had in my 18 years. They are so good I'm posting two pictures. Take it in.
Ever since I was little, tacos have been one of my favourite foods. My mom used to buy the seasoning pouches which made making tacos a quick dinner that she could whip up before taking my sister and I to skating or soccer practice. They may not be the best snack before a sporting event, but to this day, I still like to eat tacos before soccer practice. Shh, don't tell.
The thing about these tacos is that if you have your chicken ready, they are just as easy as the old pouch taco seasoning. As long as you have already poached your chicken, assembling these does not take more than 15 minutes. And guess what? These tacos aren't bad for ya! Listen up folks, I don't think tacos get much better than this.
Yields 4-6
Shredded Chicken Tacos
Shredded Chicken Tacos are a 15-minute meal perfect for weekdays!
Ingredients
1 tbsp olive oil
1 small onion, chopped or grated
2 garlic cloves, finely diced
1 ½ tbsp chili powder
1 tsp cumin
1 tsp sweet paprika
½ tsp garlic powder
¼ tsp onion powder
¼ tsp salt
¼ tsp oregano
⅛ tsp cayenne pepper
3 cups Shredded chicken
½ cup crushed tomato
¼ cup chicken broth
Instructions
In skillet over medium heat, heat olive oil.
Add onion and saute until translucent, about 5-7 minutes. Add garlic and continue cooking for another minute.
Add chili powder, cumin, sweet paprika, garlic powder, onion powder, salt, oregano and cayenne pepper. Cook for another minute or until fragrant.
Turn down heat to low and add the chicken. Stir so that the chicken is covered in spices. It may take a few times to get chicken fully coated.
Add crushed tomato and chicken broth. Cook for a minute or until only a little liquid remains.
Notes
Recipe by Louisa Clements Can be frozen for up to 1 month.
7.8.1.2
1
https://www.livinglou.com/shredded-chicken-tacos/
Enjoy these shredded chicken tacos. Serve with your favourite toppings, I like to put lettuce, cheese, sour cream and salsa on mine.