Sheet pan flank steak fajitas are cooked under the broiler for a fast and easy one pan dinner, with bell peppers and onions.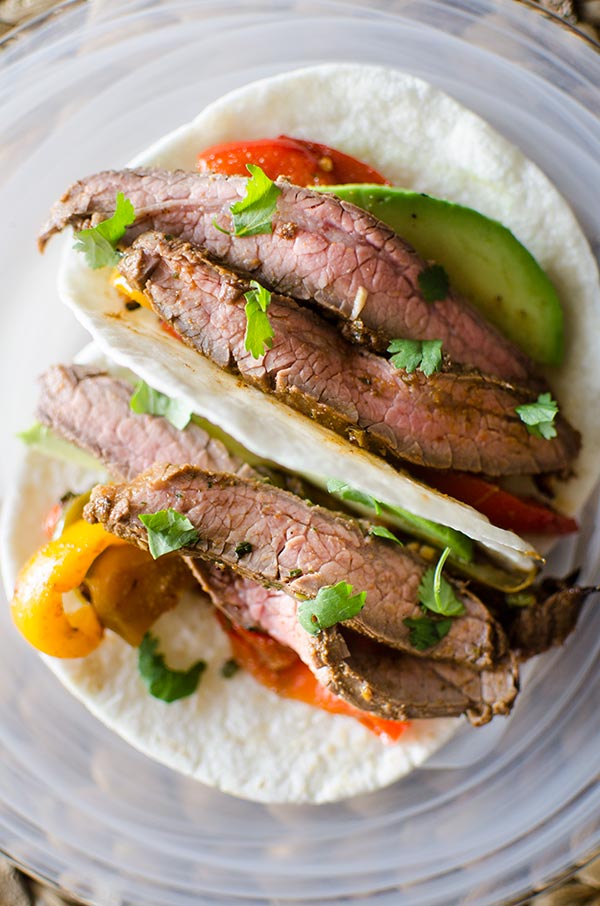 I don't have very many beef recipes on here because until recently I didn't eat a ton of beef. When I was craving Mexican food, I'd usually make some shredded chicken tacos. I think I'd also run into some trouble over the years by not buying the right cuts of beef for the dishes I was cooking.
Flank steak is the true star of these sheet pan fajitas. Flank steaks need to be marinated to help tenderize the meat–they also really take on the flavours of marinades well which is partly why I chose this cut for the fajitas.
They work best when they are cooked quickly, either under the broiler or on the grill. Because I don't have a barbecue at my apartment, I opted to cook this flank steak under the broiler.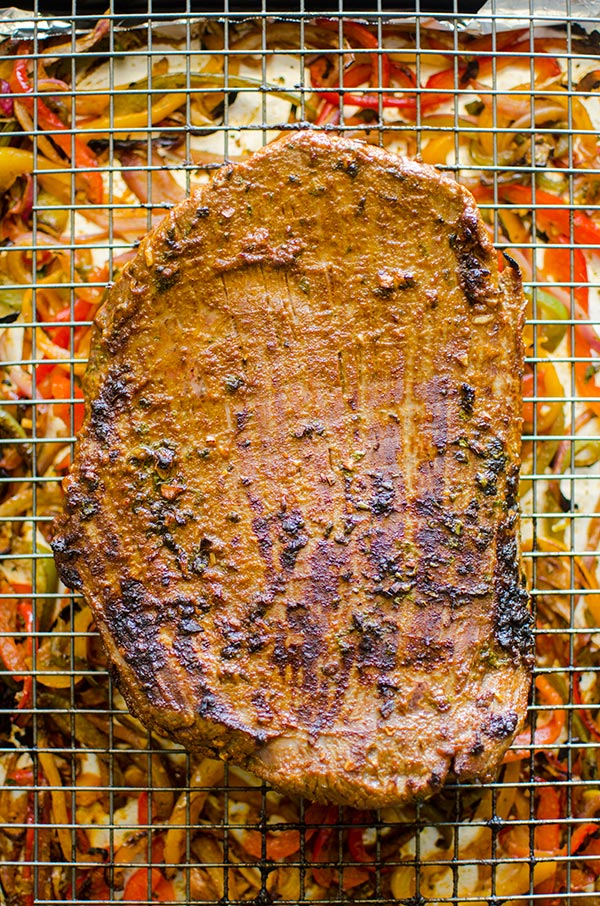 Flanks steaks take to marinades very well, and marinating can also help to tenderize the meat. For these fajitas, I create a simple marinade that is used for the meat and vegetables.
The best fajita marinade
The marinade is made with chili powder and cumin as the base of spices, the juice of two limes, 1/4 cup of soy sauce and canola oil, with garlic and jalapenos. The sugars in the soy sauce will help to caramelize the meat and vegetables.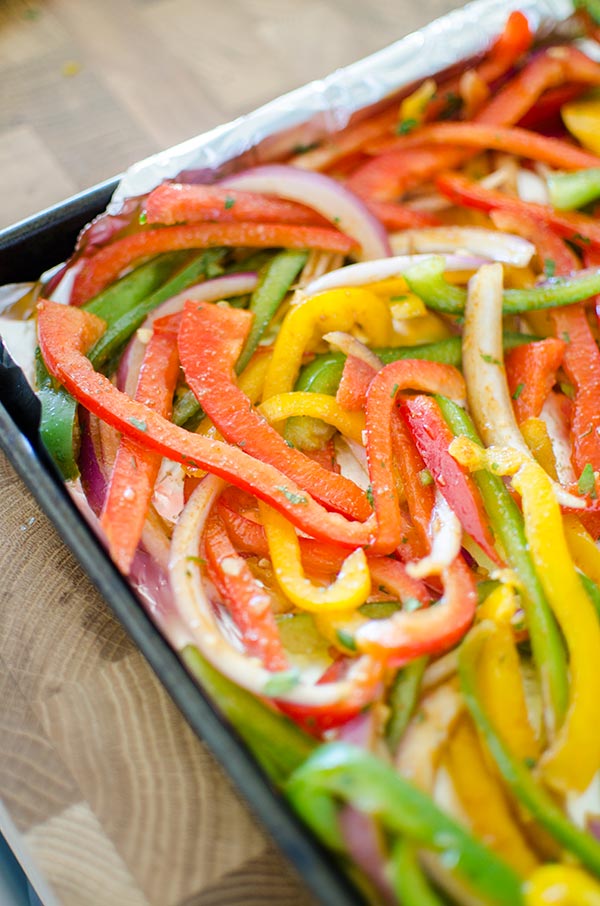 This recipe comes together in two steps, the first is to marinade the beef and prep the vegetables. Because the vegetables take longer to cook than the beef (I know, it seems crazy), the vegetables get a head start in the oven and cook under the broiler for 8 minutes.
The key to this recipe is having a wire rack that fits on your baking sheet. The flank steak needs to cook elevated so that the air can circulate around it–plus it would be just too much for one baking sheet to hold all the vegetables and two pounds of flank steak as well.
The flank steak gets cooked under the broiler for seven minutes on each side–this will give you medium-rare meat. I always use a meat thermometer to make sure the meat reaches 130F-135F for the flank steak.
It's also important to let it rest for ten minutes before slicing it against the grain.
You can serve these fajitas with really whatever toppings you like. I opted for avocado, sour cream and cilantro here, but you could also add some salsa if you have some on hand.
Louisa Clements
Yields 4-6 servings
Sheet Pan Flank Steak Fajitas
Sheet pan flank steak fajitas are cooked under the broiler for a fast and easy one pan dinner, with bell peppers and onions.
45 minPrep Time
22 minCook Time
1 hr, 7 Total Time
Ingredients
2 lbs flank steak
1 yellow bell pepper, thinly sliced
1 red bell pepper, thinly sliced
1 green bell pepper, thinly sliced
1/2 large red onion, thinly sliced

Marinade:

1/4 cup canola oil
1/4 cup soy sauce
3 cloves garlic, minced
1/2 jalapeno, minced
2 tbsp lime juice
2 tbsp minced cilantro
4 tsp chili powder
4 tsp cumin
1 1/2 tsp salt

For serving:

Wraps
Avodaco
Salsa
Instructions
In a large bowl, combine all ingredients for marinade. Reserve 1/4 cup.
Add the rest of the marinade to a resealable freezer bag with the flank steak. Refrigerate and marinate for at least 30 minutes to three hours.
Meanwhile, toss vegetables with reserved 1/4 cup of marinade.
When ready to cook, preheat broiler and line a baking sheet with aluminum foil. Dump vegetables onto pan, and arrange evenly.
Broil for 8 minutes. Carefully place a wire rack on top of vegetables. Place flank steak on top, broil for 7 minutes, flip and broil another 6-7 minutes of until meat reaches an internal temperature of 130F-135F.
7.8.1.2
375
https://www.livinglou.com/sheet-pan-flank-steak-fajitas/
Let me know if you give these sheet pan flank steak fajitas a try in the comments below.