Quick and spicy tomato egg skillet is the perfect brunch or quick vegetarian dinner with red peppers, onion, smoked paprika and Parmesan cheese.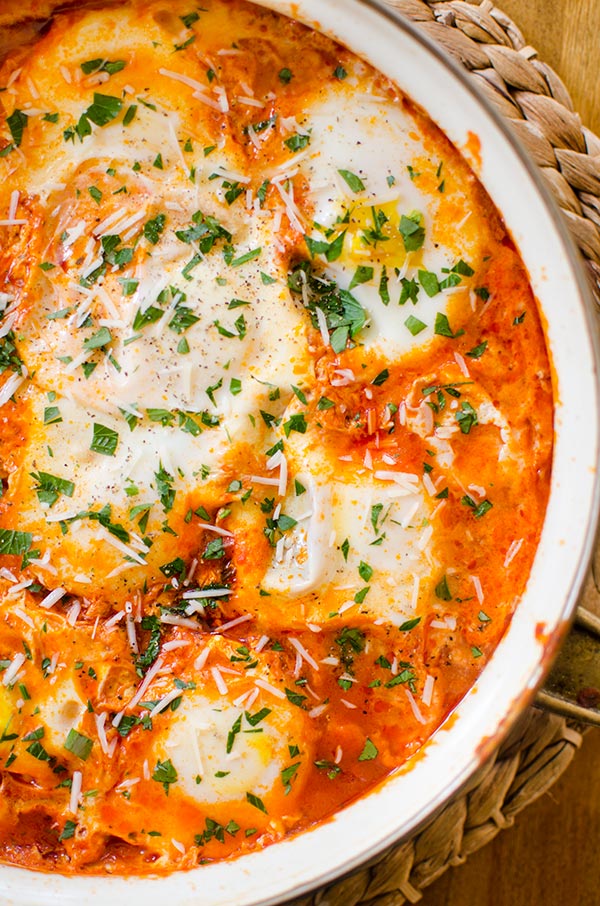 Time and money; two of life's most valuable resources. Money you can grow, work hard, budget. If all goes well, hopefully you'll end up with more than you started with. Time on the other hand? You can't work hard and get extra time, you can't buy more time. There are 24 hours in a day and how we choose to spend them is largely up to us–yes there are obligations, but we do have a say in how we spend the rest of our time.
I've started to be more conscious with how I spend my free time. A few months ago, I was talking with my sister about an exercise in visualizing how you spend your time. Filling up jars with water, or containers with marbles. Each container represents a different way you spend your time (everything from sleeping to feeling stressed to drawing) for every person, their containers have different labels. Originally, I thought one of my labels would be 'creating' but I think breaking it down into cooking, reading and writing makes more sense. And I like the idea of filling up my life with things that are meaningful to me.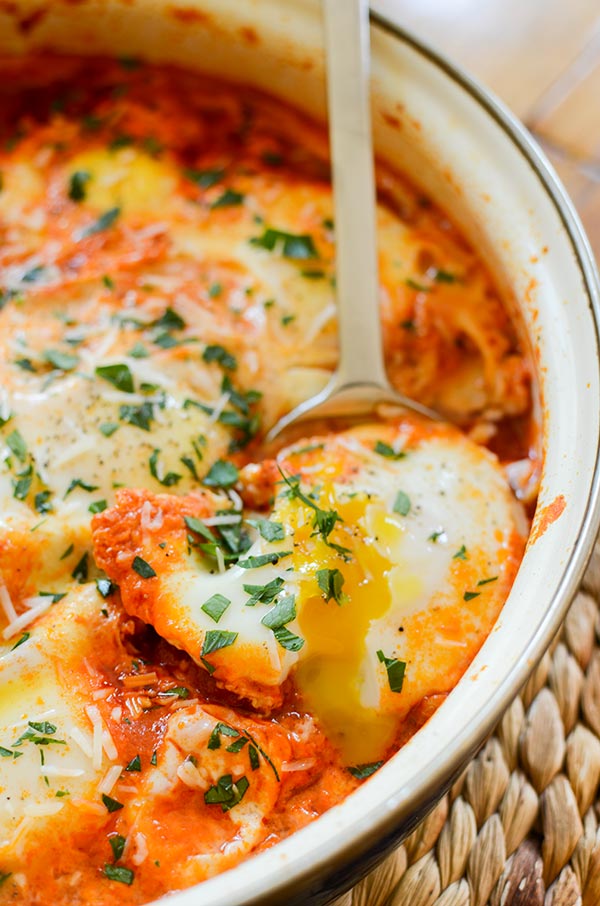 Even as someone who chooses to spend time cooking, I still need (and love) having shortcuts. A jar of high quality pesto in my fridge is one of them and I've been on the hunt for a high quality marinara sauce to add to my pantry and I've found it!
You know how much I love my CLASSICO sauces which I featured in my chicken rigatoni recipe, and I'm so excited about this new line of sauces, (find some fabulous RISERVA by CLASSICO Recipes here), because let's be honest, as much as I love making my homemade 20-minute marinara sauce, sometimes I don't have that 20 minutes to spare.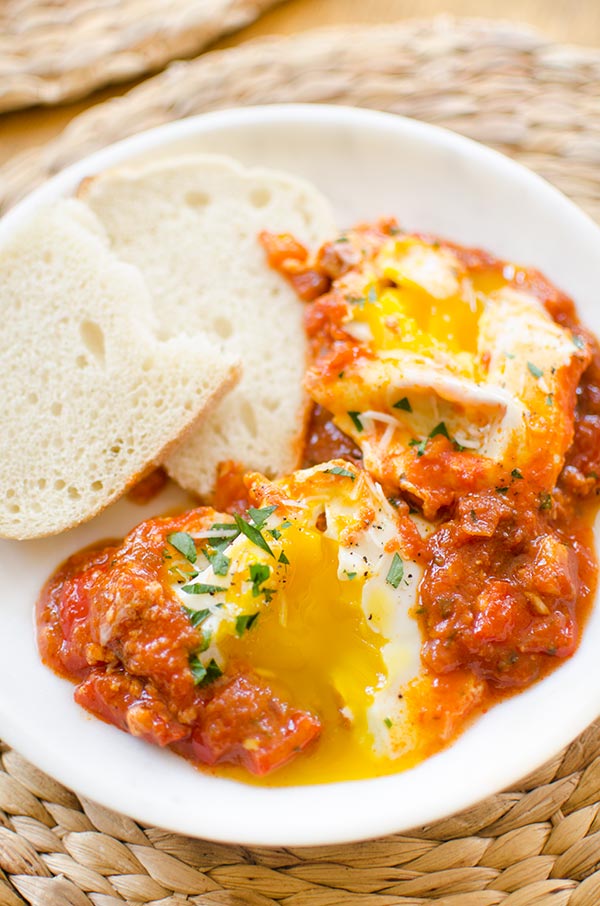 CLASSICO Riserva Marinara Pasta Sauce checks of all the boxes for me; there are no artificial preservatives, and what is most important to me is that there is no added sugar. This is the kind of restaurant (or homemade) quality sauce that I am proud to have in my pantry and serve guests.
For this quick and spicy tomato egg skillet recipe I decided to use the classic marinara sauce instead of the spicier arrabbiata sauce and added in smoked paprika to give this dish a hint of Spanish flair. The best part? It's ready in just 25-minutes, is vegetarian and works for a brunch or a quick dinner!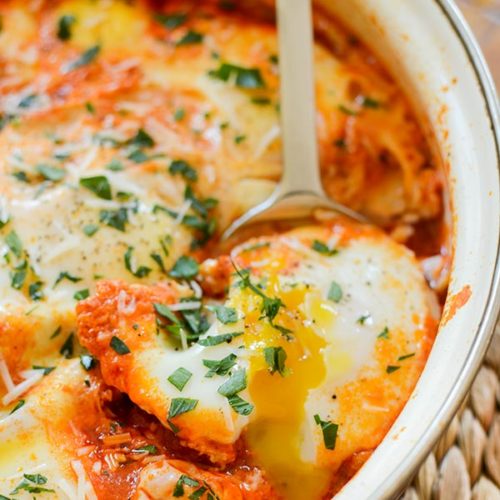 Quick and Spicy Tomato Egg Skillet
Give your usual egg recipe a break and try something different, this quick and spicy tomato-egg skillet is the perfect dish to serve as part of a weekend brunch.
Pin
Print
Ingredients
3

tbsp

olive oil

1

red pepper

,

chopped

1

onion

,

chopped

1

tsp

smoked paprika

1

jar

,

650 mL Classico Riserva Marinara Pasta Sauce

8

eggs

¼

cup

Kraft 100% Parmesan Aged Grated Cheese

¼

cup

finely chopped fresh parsley
Instructions
Heat oil in large skillet on medium heat. Add peppers and onions; cook and stir 5 min. or until crisp-tender. Add in smoked paprika and cook 30-seconds to 1 minute. Stir in pasta sauce; simmer on medium-low heat 2 to 3 min. or until heated through, stirring occasionally.

Slip cracked eggs, 1 at a time, into pasta sauce mixture, leaving spaces between eggs; cover. Simmer 8 min. or until egg whites are set. Remove from heat; uncover. Let stand 2 min. or until yolks begin to thicken but do not become firm.

Sprinkle with cheese and parsley.
Did you try this recipe?
Leave a comment + rating and let me know what you think!
Disclosure: This post was sponsored by KraftHeinz Canada – as always, all opinions are my own. Thank you for supporting my sponsors and allowing me to continue creating recipes like this quick and spicy tomato egg skillet.