Get perfectly crisp and flavourful roasted chicken thighs in the oven using this technique cooked at 475F for 18-20 minutes and flavoured with oregano.
There are a few staple meals that I make on a regular basis and these perfectly roasted chicken thighs are one of them. This is a method that I first started using with chicken drumsticks – I loved how crispy they go that I knew I had to make chicken thighs the same way. After all, they both have a delicious and crispy skin when cooked perfectly. So what is the secret to perfectly roasted chicken thighs? It starts with brushing with some olive oil and cooking at a high heat, like 475F. I know, that sounds like a really high temperature to roast chicken, but trust me, if you're looking for a succulent chicken thigh with crispy skin, this is the best way in the oven. With that in mind, these chicken thighs are so simple to make: brush with olive oil, sprinkle with herbs and roast in the oven, it couldn't be easier. When they're all done, they come out with a crackly, crunchy skin (my favourite part!) and make the perfect protein for a weeknight dinner.
For this recipe, I opted to use dried herbs (read my thoughts on dried vs. fresh herbs) because the chicken is cooked at such a high temperature, fresh herbs just wouldn't withstand the heat as well; I went with oregano which is one of my favourite herbs (I'm Greek after all), and this is a herb that, in my opinion, gets more flavourful when dried and is one of the herbs that stands up to this dehydration process – woodier herbs like rosemary and thyme also do well when dried. You'll also notice that I use garlic powder, which, to be honest, isn't one of my favourite ingredients (I'd rather use fresh garlic any day), but again, with the high temperature, fresh garlic would burn and give this dish bitter notes.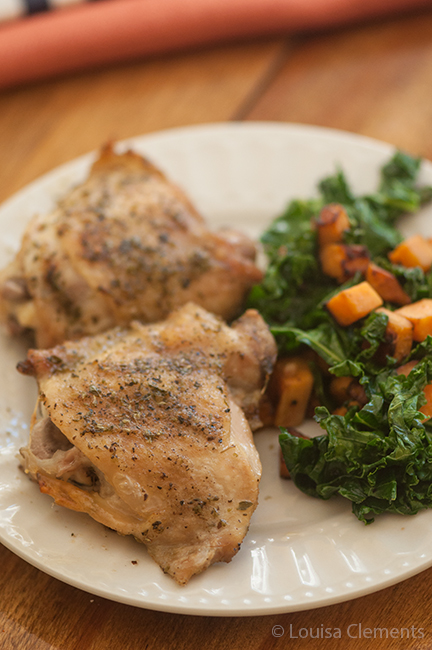 I've realized that a delicious meal is as much about the flavours of the dish as it is about how it is cooked. I've tried cooking chicken pretty much every way possible; I've poached chicken, baked chicken, slow-cooked chicken, grilled chicken, (I've even fried chicken) but this method of roasting is hands down my favourite. I love the technique of roasting, and find that it's especially comforting during the cooler months and I think it's the best way to really intensify and highlight flavours of both meat and vegetable dishes. I've also used this technique to make flavourful moroccan inspired chicken legs, which are so good.

Yields 8-10
Perfectly Roasted Chicken Thighs
Crispy and flavourful these simple chicken thighs will be a weeknight staple.
5 minPrep Time
38 minCook Time
43 minTotal Time
5 based on 1 review(s)
Ingredients
8-10 bone-in, skin-on chicken thighs, excess fat trimmed
2 tbsp olive oil
2 tsp dried oregano
1 tsp onion powder
1 tsp garlic powder
1/2 tsp dried basil
1/2 tsp black pepper
1/2 tsp salt
Instructions
Preheat the oven to 475.
Brush both sides of chicken with olive oil.
Sprinkle both sides of chicken evenly with spices, herbs, salt and pepper.
Roast, skin side down, on a wire rack on a sheet pan for 18 minutes.
Flip chicken over and roast for another 20 minutes or until cooked through.
7.8.1.2
159
https://www.livinglou.com/perfectly-roasted-chicken-thighs/
This recipe is definitely one of my favourites and my family absolutely loves it! We hardly ever have any leftovers because we eat them all – I recommend doubling this recipe if you want extra.
Before you know it, these Perfectly Roasted Chicken Thighs will be making a regular appearance on your weekly rotation.