Make perfectly roasted chicken thighs in the oven every single time! These chicken thighs are crispy on the outside while being tender and juicy on the inside, cooking at a high temperature for 40 minutes this. Post includes affiliate links. (This post was originally published in 2013).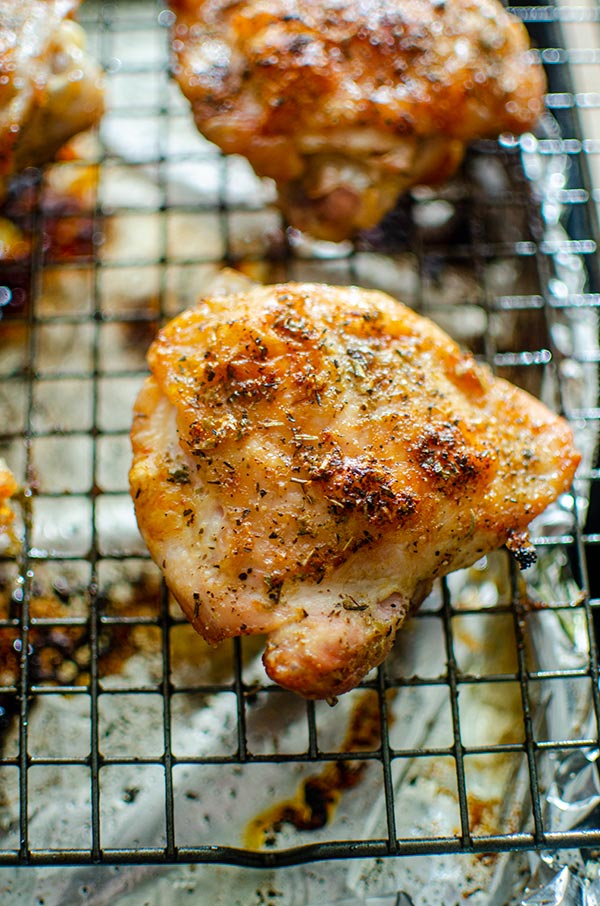 There are a few staple meals that I make on a regular basis and these perfectly roasted chicken thighs are one of them. This is a method that I first started using with crispy chicken drumsticks and I've been using it for chicken thighs ever since.
Bone-in, skin-on chicken thighs are one of the most budget-friendly cuts of chicken available, so whenever they are on special, I'll pick some up and throw them in the freezer.
What is the secret to perfectly roasted chicken thighs? It starts with brushing with some olive oil and cooking at a high temperature, I'm talking 450F. The next secret?
Roasting on a write rack on a rimmed baking sheet. This allows the air to circulate around the chicken in the oven, mimicking the kind of cook you'd get from an Airfryer.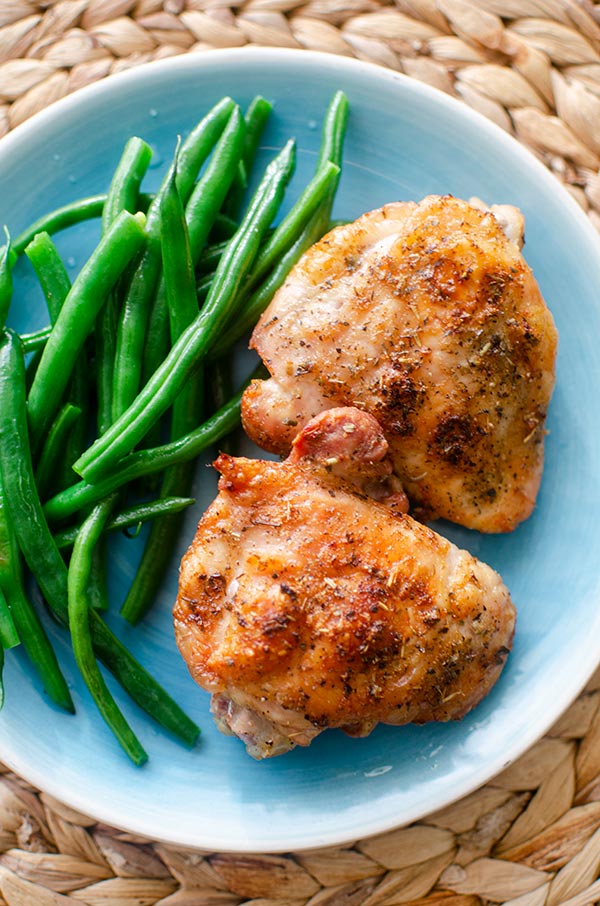 What I love about this recipe is that it's literally just for the chicken thighs. It's the answer to your panic at 3pm: "What should I do with those chicken thighs I took out of the freezer?".
One tip to keep in mind is that these crispy chicken thighs are best fresh—the crispy skin doesn't reheat well, so plan on eating them the night that you cook them. If you do have any leftovers, I'd use the leftover chicken in a chopped salad, or thrown into a quick stir fry.
For this recipe, I opted to use dried herbs (read my thoughts on dried vs. fresh herbs) because the chicken is cooked at such a high temperature, fresh herbs just wouldn't withstand the heat as well; I went with oregano which is one of my favourite herbs (I'm Greek after all).
Oregano is an herb that, in my opinion, gets more flavourful when dried and is one of the herbs that stands up to this dehydration process – woodier herbs like rosemary and thyme also do well when dried.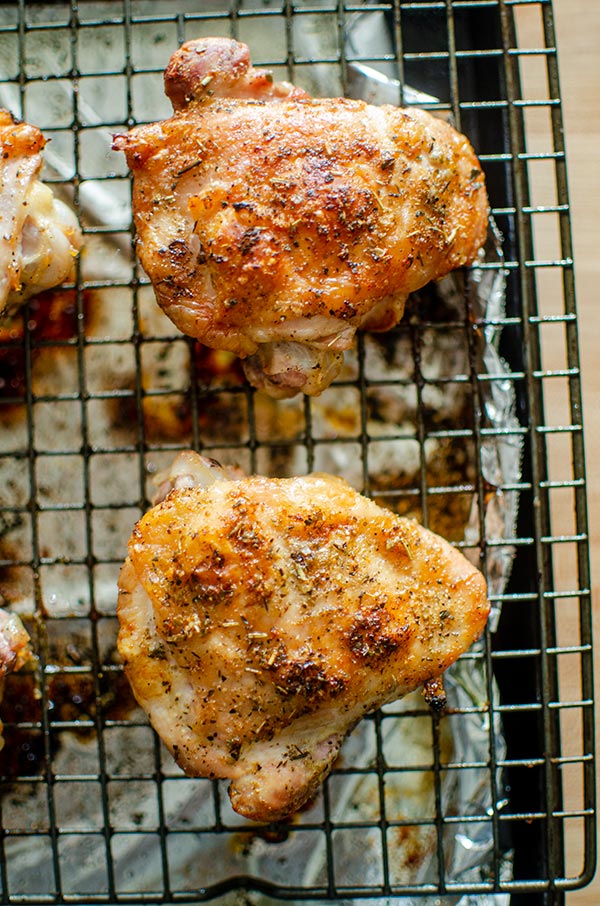 Louisa Clements
Yields 4 servings
Perfectly Roasted Chicken Thighs
5 minPrep Time
38 minCook Time
43 minTotal Time
5 based on 2 review(s)
Ingredients
8-10 bone-in, skin-on chicken thighs, excess fat trimmed
2 tbsp olive oil
2 tsp dried oregano
1 tsp garlic powder
1/2 tsp salt
Freshly ground black pepper
Instructions
Preheat oven to 450F.
Brush both sides of chicken with olive oil and sprinkle both sides of chicken evenly with oregano, garlic powder, salt and pepper.
Roast, skin side down, on a wire rack on a sheet pan for 18 minutes.
Flip chicken over and roast for another 20 minutes or until cooked through.
Nutrition
Nutrition Facts
Amount Per Serving

Calories

267

% Daily Value*



Total Fat:

27 g

41.54%

Saturated Fat:

4 g

20%

Cholesterol:

0 mg

0%

Sodium:

1168 mg

48.67%

Potassium:

120 mg

3.43%

Total Carbohydrate:

7 g

%

Sugar:

0 g

Protein:

1 g

Vitamin A:

0.92%

Calcium:

65 mg

6.5%

Iron:

2 mg

11.11%
7.8.1.2
159
https://www.livinglou.com/perfectly-roasted-chicken-thighs/
This recipe is definitely one of my favourites and my family absolutely loves it! We hardly ever have any leftovers because we eat them all – I recommend doubling this recipe if you want extra.
Before you know it, these Perfectly Roasted Chicken Thighs will be making a regular appearance on your weekly rotation.