Make a full English breakfast in one pan with cherry tomatoes, bacon, sausages, baked beans and eggs.
I don't love going out for brunch because I actually prefer to make it at home. I find brunch in the city to be so expensive for something that isn't that special. I'd rather go for dinner than for brunch when I can make an equally delicious eggs Benedict or poached eggs in tomato sauce at home. And I know I make the best chocolate chip pancakes so why bother going somewhere else?
Coffee on the other hand, that's an offer I can't say no to. I can't get enough of a good Americano these days. A good cup of coffee is never to be missed.
I know, I'm basically going against the code of all 20-somethings who live and die by brunch. That's ok, this is a position I am ready to take (and defend).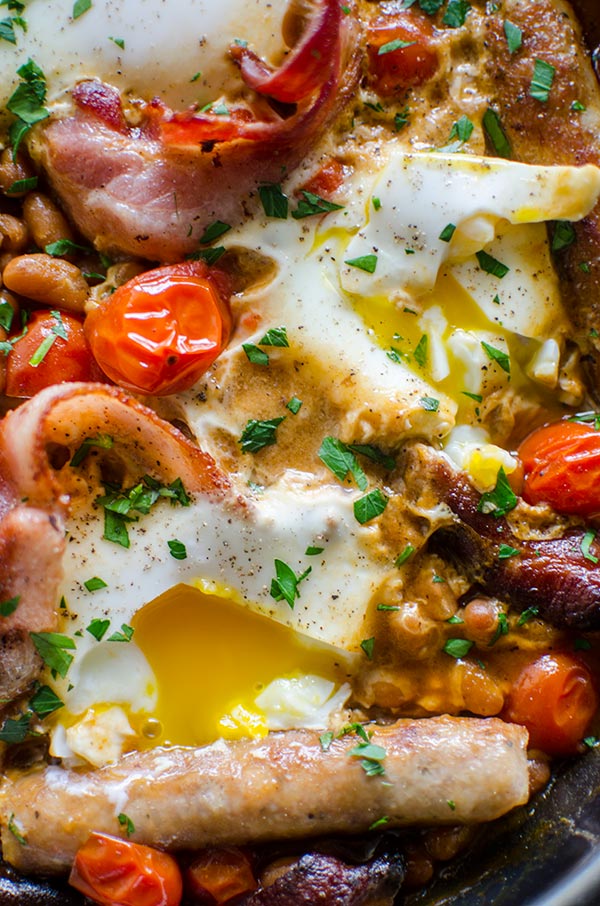 Now, what are the ingredients for a full English breakfast? Well, I went straight to the source of the countless English breakfasts I ate growing up–my British mother! Bacon? Check. Sausages? Check. Eggs? Duh. Baked beans? Yes. From a can? 100%. No one is making their own baked beans for breakfast. This recipe literally uses five ingredients. It's that easy. AKA if you've been out the night before and need something to bring you back to life, we have a winning brunch recipe.
The big question was, mushrooms or no mushrooms? We decided it didn't need mushrooms, and we also agreed that swapping out slices of tomatoes for blistered cherry tomatoes was a welcome change.
Now the English aren't necessarily known for their food, but if there is one thing they are known for it's their breakfast–and for good reason.
Depending on how hungry everyone is, I find that this recipe can serve four, especially if you're serving it with toast. It's pretty hearty and filling.
One-Pan English Breakfast
Make a full English breakfast in one pan with cherry tomatoes, bacon, sausages, baked beans and eggs.
Pin
Print
Ingredients
4

slices

bacon

4

breakfast sausages

1

cup

halved cherry tomatoes

398

ml

/ 14oz can baked beans

8

eggs

1

tbsp

chopped parsley

,

optional for garnish
Instructions
Heat a medium frying pan over medium heat, add bacon and cook until crisp, about 5 minutes, flipping once. Remove from pan and set aside. Add sausage, cook, turning frequently, until fully cooked and browned on all sides, about 5 minutes. Remove from pan.

Add tomatoes and cook 2 minutes until blistered. Reduce heat to low, add baked beans, Return bacon and sausages to pan. Create eight wells in the beans and crack eggs into pan. Cover and cook until eggs are partially set, about 4 minutes. Sprinkle with parsley if using.
Did you try this recipe?
Leave a comment + rating and let me know what you think!
Let me know if you give this one-pan English breakfast recipe a try in the comments below.