Enjoy a light and bright fish for dinner with this simple recipe for lemon parsley roasted trout. 
It's been quite a while since I shared a recipe for fish (the last recipe was my one-pan roasted salmon steaks with broccoli) but if you wanted to get even more specific, I haven't shared a recipe for trout since 2011(!). Isn't that crazy? It's not that I haven't eaten trout in five years, it's just that it's not something I eat on a regular basis so it hasn't really been top-of-mind when I'm planning my content.
Plus, fish can get pretty pricey and I've definitely become more budget-conscious over the years, but whenever there is a good deal on trout or salmon you can bet I'll pick some up.
I do this thing where I get really obsessed with something for about a month. It could be a song (most recently, the acoustic version of James Bay's When We Were On Fire), an album (most recently, Mumford & Sons album Wilder Mind), an ingredient (I'm weirdly into fresh parsley right now, which is definitely not an opportune time for this out-of-season herb), a TV show (most recently, Suits), even an Instagram account (TasteofStreep is the funniest thing I've seen in a while).
So, what does this have to do with this lemon parsley trout recipe? Well, this recipe got me obsessed with cooking fish again – like I was scouring the grocery stores for deals on fish because I wanted it for lunch and dinner. I guess I just forgot how quick and easy it is to cook and delicious it is.
I typically go more of the Asian route when I'm cooking trout or salmon. I find it just goes so well with sesame oil, ginger and soy sauce! When I was deciding what kind of recipe I wanted to make with these beautiful fillets of trout, I challenged myself to go in a different direction. I started with a beautiful bunch of parsley that I had in the fridge and went from there, adding some lemon zest and chili flakes for a touch of heat.
The first time I made this recipe, it was way too spicy. I think I put a couple of teaspoons of hot chili flakes in the parsley mixture, which was a bit of an overkill, even for me (and I love spicy food).
For the next test, I toned down the chili flakes and it was absolutely perfect. This is the kind of perfect dinner for the spring because with the burst flavour from lemon zest and parsley is incredibly refreshing and light. If you don't have trout, this recipe would work perfectly with salmon as well. The decision is yours!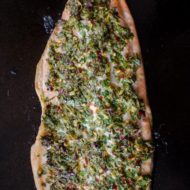 Ingredients
2

trout fillets

,

about 80g/3oz each

½

cup

chopped fresh parsley

¼

cup

olive oil

4

tsp

lemon zest

4

tsp

lemon juice

1

tsp

chili flakes

¼

tsp

salt
Instructions
Preheat oven to 400F, lightly grease a baking sheet with olive oil.

In a small bowl, whisk fresh parsley with olive oil, lemon zest, lemon juice. chili flakes and salt.

Evenly distribute parsley mixture on both pieces of trout.

Roast for 12-15 minutes or until fully cooked.
Did you try this recipe?
Leave a comment + rating and let me know what you think!
Let me know if you give this lemon parsley roasted trout a try in the comments below.